Clergy, Korede Komaiya Highlights The Numerous Gains Of Early Marriage Based On His Personal Experience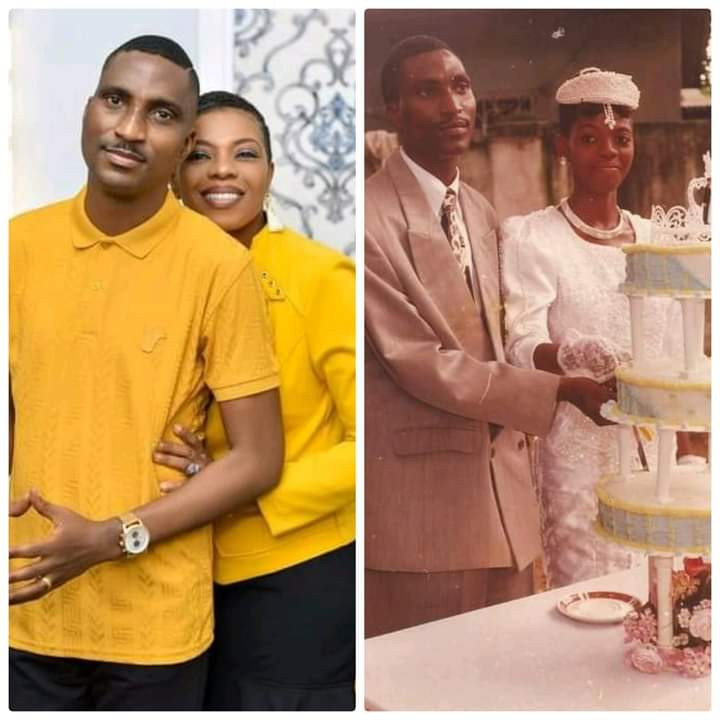 Nigerian clergyman, Korede Komaiya, has advised people to marry early as he highlighted some of the disadvantages of getting married late.
Using himself as an example in a post he shared on social media, the man of God revealed that he got married when he was 26 and his wife, 25.
The proud dad-of four grown ups went further to reveal that it is best if people can settle down early because there are numerous benefits, adding that nothing can compensate for late marriage.
He then noted that with early marriage, you are positioned to see your children's children and that is a generational blessing, adding that he's yet to see anyone that has seen their children's children that married late.
According to him, not even Abraham, the father of all faith was alive to see the children of Isaac, his son, because he gave birth to him late.
Read his post below…
"THE POWER AND PRINCIPLES OF EARLY MARRIAGE:

To marry and settle down early has numerous benefits. I married when I was 26 years and my baby was 25 years. Nothing can compensate for late marriage if care is not taken.
READ ALSO: "Married At 19, Had First Child At 20, 9 Grandchildren At 51 : Moffat Ekoriko Highlights The Gains Of Early Marriage
The Word says you shall see your children's children; surely there are biblical prophecies once you marry late you can no longer be a beneficiary of them.

Not even Abraham the father of Faith was alive to see the children of Isaac because he gave birth late. Abraham slept not too long before Isaac got who to marry. Early marriage has a lot of benefits;

– You are positioned to see your children's children. Generational blessing!

– Acceptance of responsibility and maturity early in life.

– Settling down with the spouse of your youth to face life early enough.

– Generational thinking and planning.

I am yet to see anyone that has seen their children's children that married late. Kenneth Hagin married when he was 21yrs and many others too. If you desire to see your third generation, early marriage is the beginning of it amongst others. It is never too late to get it right.

Be determined. Be very decisive. Be committed and grow into maturity on time. Be mentored also to accelerate your growth. Trust God to make up for lost years. Be generational and futuristic in your thinking.

Blessings in Jesus Name."
Celebrating their 24th wedding anniversary in June, the clergy listed 5 Nuggets to boost effective communication in a marriage:
"Communication is the live-wire of any relationship. Communication is vital to the sustainability of every thriving home and marriage. There is no marriage or home with CRISIS that doesn't first start with COMMUNICATION GAP. If you see a couple at loggerheads, being distant or a presence of family tension here and there, check it; COMMUNICATION is DEAD.
ALSO SEE: See If You Agree With Media Personality, Mallam Figo's Stance On Why Men Should Marry Early
Here are 5 Communication Boosters;

1) Deal with your own Heart first – Make sure your heart is open. Ensure the reason for communicating isn't about fighting for your right. If the purpose of the communication is to fight for your right and prove that you are right, you will meet a major brickwall with your partner.

2) Learn to Feed yourself – If you must communicate effectively in marriage, learn to feed yourself. Stop expecting your spouse to feed you. Stop expecting your spouse to give you what only God can give you. You need to constantly validate yourself and drive your happiness. Your happiness is influenced from inside-out and not the other way round.

3) Enter your spouse's world – Spend conscious time and energy seeking the key to the heart and mind of your spouse. You must study your spouse to a level of understanding. Engage in critical questions; is it his/her upbringing that makes them unapproachable? Instead of fighting and throwing tantrums, seek to know the stuff your spouse is made of.

4) Draw out your spouse – Bring out your spouse from that inability to communicate by simply INSPIRING them. Forcing someone to communicate is different from inspiring them to communicate. Create a safe place for your spouse to share and unburden himself or herself. It must be safe for your partner to communicate with you. SAFETY PROMOTES COMMUNICATION!

5) Be a Quick Listener and Be Sensitive- There are verbal and non verbal communications. Often times, your partner can be communicating something vital using non verbal approach, be quick to pick such vibes. Be sensitive to unspoken words. Make eye contact. Be attentive when he/she speaks. Maintain an open mind. Don't be defensive or argumentative. Ask positive questions.

©️ Korede Komaiya."