'When Your Husband Dies, Your Contract In The Family Is Fully Terminated' -Man Sparks Debate Following His Take On Family Tussle Over Collapsed Ikoyi Building CEO's Properties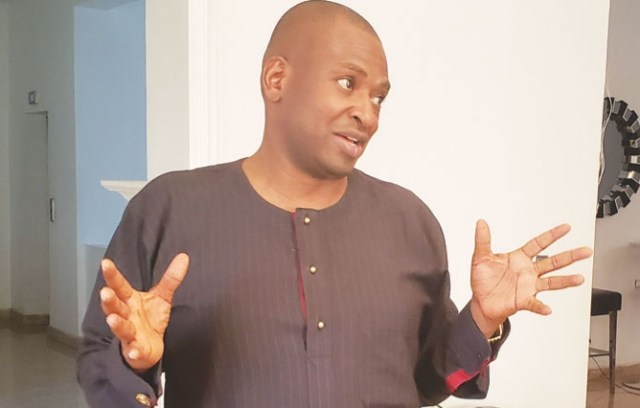 A Nigerian man has sparked debate after tweeting that a woman's contract in the family ends as soon as her husband dies.
The man whose Twitter username reads "Let God know God", said this while reacting to the news report alleging that the wife and siblings of Femi Osibona, owner of the collapsed Ikoyi building who died in the rubble, are fighting over his properties following his death.
Sources close to the family spoke with SaharaReporters and revealed that the wife, who had just flown in from the United States, tried gaining access to her husband's apartment in Ikoyi but was denied access by some of his brothers.
It was gathered that Mrs Osibona who has four children for the late Femi is presently in a fight-to-finish with the brothers who are laying claim to the deceased's array of exotic cars, bank account details and other assets.
The family allegedly denied the wife access to the deceased's apartment because there were bundles of money, keys to expensive vehicles and others in the house.
According to the sources,
"The brothers and wife of Femi Osibona are fighting over access to bank details of the deceased and keys to expensive vehicles.

This is despite the fact that the man has a wife and four kids. The body is yet to be buried; they are already fighting over his property. His wife was at the site yesterday, shouting at his brothers. I think there are loads of cash in the house.

Femi's brothers have stopped his wife and daughter from getting into his apartment. It is such a mess that money has become the root of all this evil. The brother asked the wife to go and stay at the hotel and she claimed she has no money to go there.

The woman came to the house with MOPOL; the family also engaged the services of MOPOL. On each side, there were about twenty people shouting on one another. They have also engaged a popular lawyer on the matter."
SEE ALSO: Widowed Mom, Chinwe Oforduru Pens Heartbreaking Open Note To Late Husband, Narrating Her Horrible Experience With His Family Since His Death
In an exchange on Twitter, the user argued that the wife of the deceased whom they had four children together is in no way entitled to any property as her 'contract in the family has ended already'.
He tweets:
"As a woman, when your husband dies, just have it in mind that your contract in the family has been fully terminated. Know this and know peace. Nne."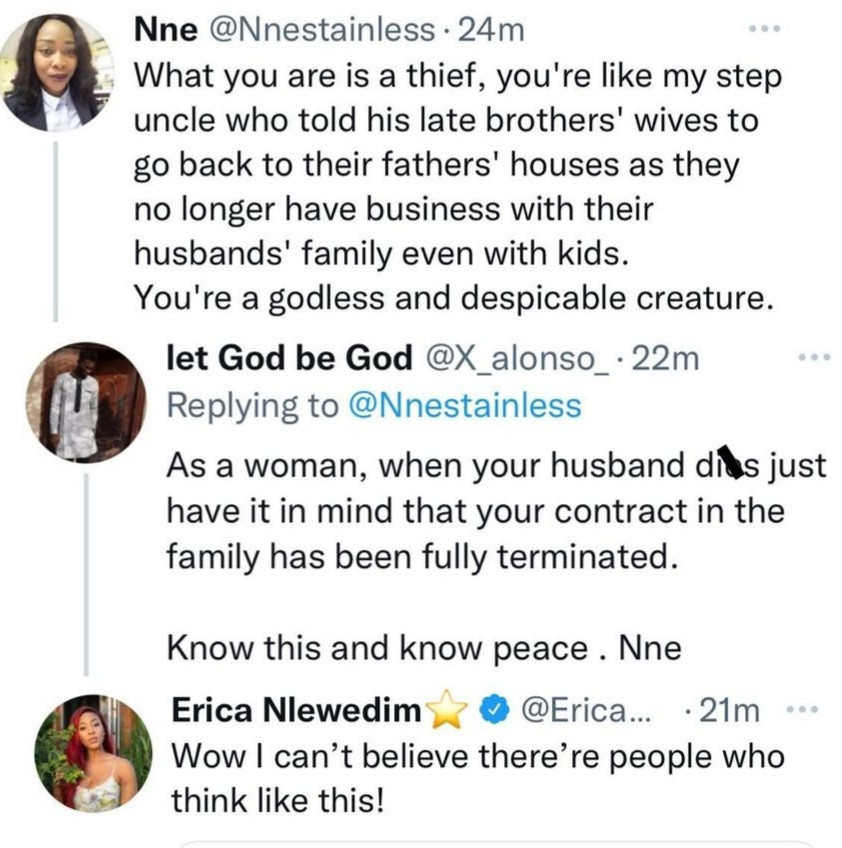 His tweet received support from some who liked his post but he also got massive criticisms.
ALSO SEE: Supreme Court's Decision Upholding The Right Of Female Children To Inheritance Divides The Igbos
Yet, the man stood his ground, insisting the siblings should take the deceased's properties, as the wife has no right to her late husband's properties. He added:
"I am an Igbo man and my omenala (custom and tradition) gives me full right over the properties of my siblings when they're no more."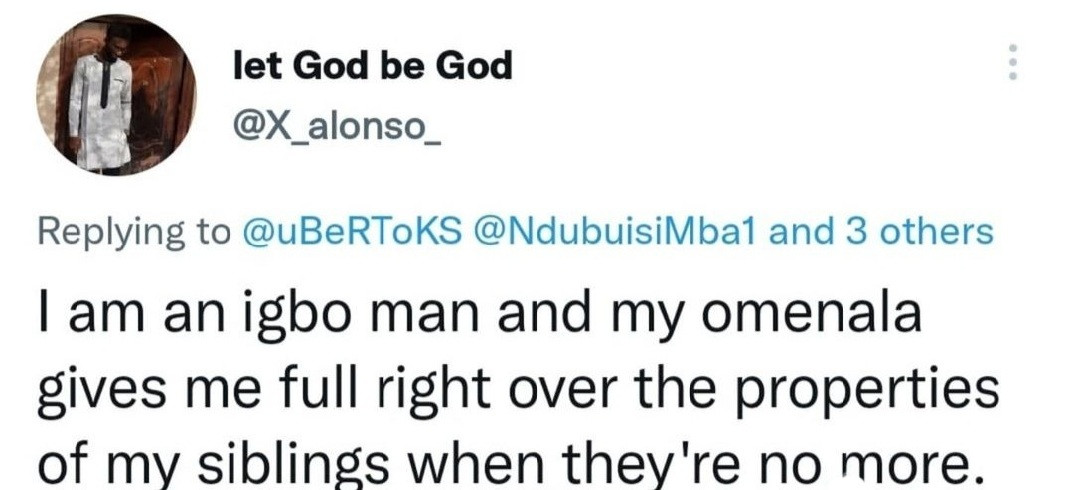 See more reactions below…