#Justiceforsylvester: 'A 12-Year-Old Has No Business Attending A Boarding School' -Actress Uche Ebere's Comment Sparks Discussion Among Celebrity Parents
The death of 12-year-old Dowen College student, Sylvester Oromoni Jnr., who died after being allegedly beaten and tortured in school by his seniors, has stirred diverse opinions about boarding schools on social media.
In reaction to the death of the young boy, Nollywood actress, Uche Ebere chided parents who send their young ones to boarding schools.
Reacting, Nigerian actress and filmmaker, Mary Remmy Njoku and her colleague, Walter Anga have objected to Uche Ebere's stance.
Uche had made the comment in reaction to the tragic death Sylvester Oromoni Jnr., after he was reportedly tortured and bullied by his seniors for refusing to join their cult.
According to Uche, a 12-year-old has no business attending a boarding school except his/her parents are divorced, the mother is dead or there's no one to take care of them.
See her post below,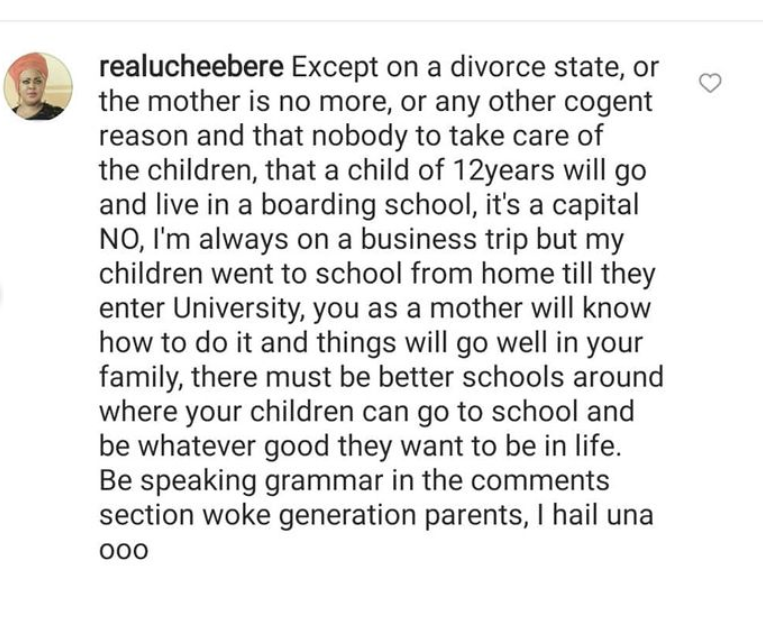 Mary Njoku however faulted the claim, adding that "no one has the manual on how to raise a child". The mother of three stated that people must not raise their kids same way as there are rapists and robbers that were homeschooled.
She wrote;
"As a mother, I disagree with you. No one has the manual on how to raise a child.
Different families, different circumstances, different income, different children.
I mustn't raise mine like yours. Las las there are still rapists and robbers that were homeschooled."

READ ALSO: Sylvester Oromoni's Death: Singer, Simi's Mum Dishes Out Some Valuable Advice That Will Proof Useful For All Parents
Actor, Walter Anga, who also has a contrary opinion about boarding schools, disagreed with Uche, stating that boarding schools help the child grow stronger and understand a whole lot.
The dad of four noted that the underlying problem is the upbringing of a child and the environment. He wrote:
"All of una dey "MENT" for say a 12yr or less is not supposed to be in boarding school bla bla bla…It has nothing to do with the child's age, rather the problem 1, is upbringing 2, environment (school) Most of us passed through the system and also received bullying then in school but now we are forming what I don't know.

I have refused to comment on this matter cos I have 3 boys and a girl 17+ 11+ 8+ and 2+ weda dem like am or not dem go pass through the system.

Boarding schools actually help the kids to grow stronger and understand a whole lot. So make these our Nollywood peoplerest I beg."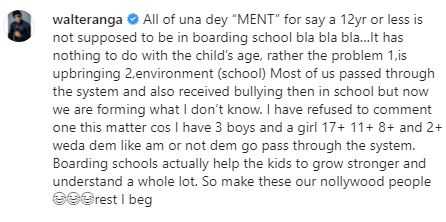 See reactions from Nigerians…
She is entitled to her opinion. Many of you people only dreamt of going to boarding school. Even when you don't have the experience yet you won't want to learn from those who experienced it. I will never allow my kids to go to boarding school.

Many of us who went to boarding school can never wish our kids go to one. If you see any brilliant student who joins a cult…there is 98% certainty that he was a boarding house student in secondary school. So listen when others talk out of experience.

A boarding house student grows to become a protective father and one who is prone to attack teachers who mess with his kids. He just won't take it lightly because he has firsthand experience of what can happen to kids without their parents….and you can surely get that in boarding school.
ALSO SEE: Grieving Mum Screams Justice After Her 14-Year-Old Daughter Died From Condom Infection In A Popular Boarding School, Abuja
Another wrote:
I swear 12 years old is not ripe enough for boarding school. In the 90s even though many of us entered boarding house at age 11 and 10, I still won't allow my kids to make same trip at that age. We were like errands to seniors.. imagine running errands for seniors from SS1 to SS3.

Some of us were bullied and that turned many of us into bullies too. We were abused! Many of us were mocked because of their looks, stamped bad nicknames on them, broke their confidence with no parent to intervene. Some parents would have to bribe a tough senior for him to be like a father figure to their wards.

What are the parents teaching them indirectly? When many of those seniors were just 16 or 17 years old. Yeah we survived but I want to point out to you that in the university days, most of us who became cultists right from 100 level were boarding house students back in secondary school.

Boarding school has educational positives but negative side is that it toughens you and then you see university as extension of your high school. The fear of being bullied again resurrects and if someone introduces you to Cultism at that stage, you just might never ever say NO.

I'm particular about 100level or first year students joining cults, majority are boarding house students in secondary school. They've understood what power looks like by once being bullied. They've understood the pains of being bullied by personal experiences.

So they see Cultism as a way. My advise is that any school with boarding facility should not run JSS1 to SSS3 classes. Only schools that run only JSS classes or only SSS classes should be allowed to run boarding houses. Boarding house is best for peers. Jss1 to 3 or SS1 to 3.
I think we need to start accepting responsibilities for our choices and poor judgement rather than making excuses for them. No matter your circumstance raising children is primarily the responsibility of the parents-divorced, separated, single etc. How do you successfully parent a child who is away from you more times than he is with you.

A lot of times we make excuses like, I went to boarding school and turned out alright, My parents beat hell out of me and I turned out alright, boarding school is good to toughen up people-it is for their own good. meanwhile most times it is not for the child's sake it is actually for the parents sake.

Indeed there is no manual for parenting but you need to be the one training your kids so that tomorrow they don't end up killing another persons child. which school will instill the right morals in your kids? the principal has not finished training her own its yours she would come and be training-you must be joking.

She can only leave your child to a 16 year old senior who knows nothing about life themselves to help. Mary Remy is just making excuses because her kids are probably lined up for boarding school so she can be free to work on her business. spend time with your kids very soon parents will start being liable for their childen's crimes then some parents will start fixing up but we are not ready for that convo or the truth.