Unscreened Breastmilk: Paediatricians Share Vital Information With New Moms Who Have Difficulty Lactating Immediately After Childbirth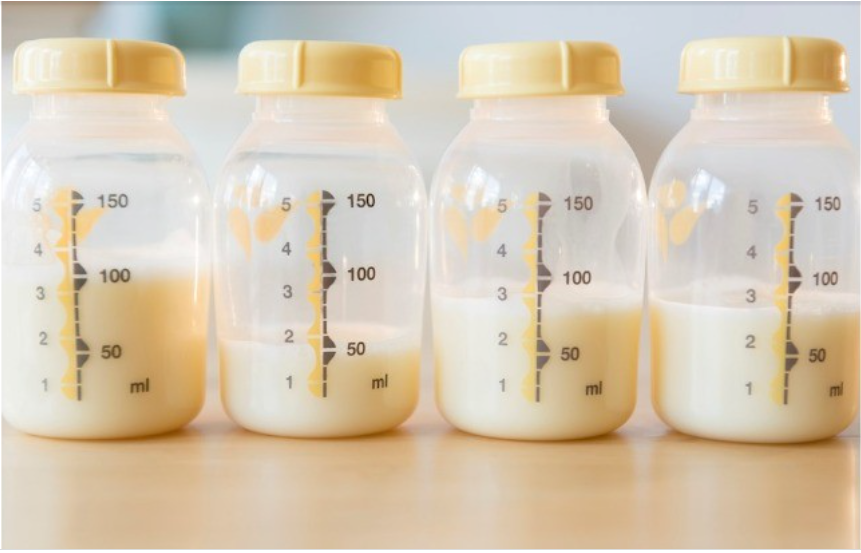 Paediatricians have warned new mothers who have difficulty lactating immediately after giving birth to be careful about the kind of breastmilk they procured from other mothers to give their newborns.
The experts urged the new mothers to screen breast milk they receive from other mothers before giving their infants, noting that unscreened breastmilk can lead to infections in newborns.
According to the experts, feeding babies with unscreened breastmilk is dangerous as it can infect the baby with diseases from the donating mother.
Furthermore, the paediatricians stated that while breastmilk is important for a newborn baby, it is essential that mothers are careful so that they do not transmit diseases from the donor to their new child.
Speaking with PUNCH HealthWise, the experts, Consultant Paediatricians, Prof. Angela Okolo and Dr. Aishat Saka noted that having a breastmilk bank for the newborn is crucial for their health and proper growth.
Prof Okolo who works with the Federal Medical Centre, Asaba also noted that having a breastmilk bank in the country would help to reduce the death rate of preterm babies in the country, adding that it would also assist new moms who have difficulty lactating immediately after birth. Okolo said:
"I don't think it is quite right for mothers to borrow milk from other mothers in a clandestine manner because the donor has not been tested.

"This is because there are diseases that can be transmitted through breastmilk and if such is found in the donor then we can't give the breastmilk to babies.

"They should go and get tested so that they are sure of the breastmilk and are sure that the donating mothers are free of diseases. This should be done under medical supervision."
READ ALSO: This Amazing Discovery About Breast Milk Will Blow Your Mind
However, the professor clarified that the screened and donated breastmilk does not replace the breastmilk from the birth mother as it is only a substitute until the mother starts lactating. Okolo added:
"The mothers are helped to identify a surrogate and that surrogate must be fully screened for the various diseases that can be transmitted through breastmilk and when the surrogate is found successful, then we can accept the breastmilk.

"But it doesn't replace that woman's breastmilk. It is to give her time to meet up with the demand of the baby because when babies are born and admitted, we start feeding them within the first four hours because they must have that human breast milk.

"Even when their mothers are not yet producing enough, we must still try to get from them because we need to ensure these babies have a connection with their own mother's early produced milk called colostrum.

"You get the mother's colostrum and put it in the baby's mouth and that becomes the baby's first vaccination because it is every baby's right to receive his own mother's vaccination."
She also urged the country to work towards creating a breastmilk bank, noting that such a bank would be essential in providing breastmilk for newborn babies whose mothers are not able to produce breastmilk immediately and also those whose mothers are dead.
Corroborating the position of Okolo, Dr. Saka, who is a Consultant Paediatric Gastroenterology with the University of Ilorin Teaching Hospital, said that there are specifications that need to be met before a donor's breastmilk or a surrogate is accepted.
ALSO SEE: Hurricane Harvey: This Mum's Unusual Act of Kindness Will Warm Your Heart
This, she said, is to ensure that breastmilk is free of diseases like HIV and others. Speaking further she said,
"In settings where breastfeeding is impossible, we have what we call breastmilk banks.

"When you are a mother and you have very good expression, if you are expressing so much, you could express and donate to the bank provided you have been screened of all these diseases and found to be healthy. This is stored in the bank and given to other babies.

"Babies in this category that can benefit are babies that have lost their mothers and would still want to ensure that they get the benefit of breastmilk because breast milk cannot be substituted with other milk; it has its peculiarity.

"Once it is ascertained that the mother is healthy, she could donate.

"Apart from the breastmilk bank, the other component is surrogacy, when the child loses the mother.

"You can have another breastfeeding mother free from diseases that would be willing to also breastfeed that baby along with her baby. That is also acceptable"