Teju Babyface Shares On The Birth Of His Twins After Years Of Waiting, His Views On Fatherhood And Parenting Experience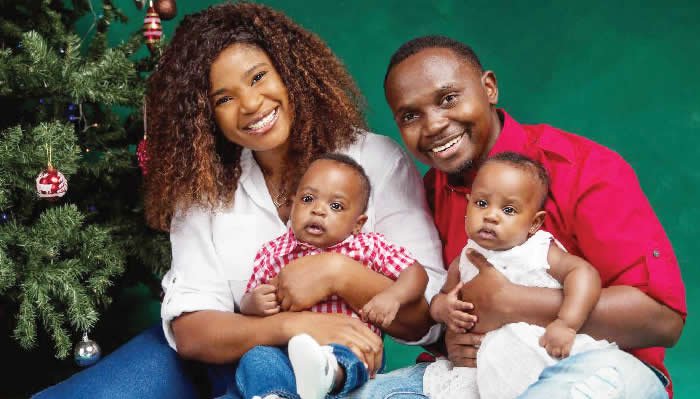 Stand-up comedian and television host, Olateju Oyelakin, popularly known as Teju Babyface, has shared his parenting experience and how it affected his work.
In a recent interview with PUNCH, the dad-of-two also shared his thoughts on fatherhood. The comedian went on to reveal what he loves the most about fatherhood and he stated that it is the fact that he is called a father.
What is your view of the concept of fatherhood?
I believe that God works in generations. That is to say one single lifetime is nowhere near enough for God to finish what He wants to do in a lineage and therefore He continues in one's progeny.
Thus, my view of fatherhood is that it is sacred trust to raise the next generation of Gbade Oyelakins in line with the divine calling of our lineage.
What do you love most about being a father?
There is nothing more fulfilling than hearing that "Daddy! Daddy!" every time I walk through the door after I have been gone for a while.
Your brand name, Teju Babyface, has overshadowed your real name. Do your children call you by the name too, maybe sometimes?
(Laughs) No, they don't. But for a few weeks, they called me Teju. That was expected, I suppose, given that that was what they hear their mom call me. On the flip side, they also called their mom Tobi too. I put my foot down one day though and surprisingly they got the message almost immediately.
Is there a difference between the way you were raised and the way you are raising your children now?
Are you joking? It's night and day! For one, I was speaking Yoruba way before I ever learnt English language. For another, I never got to commandeer the TV over my dad. For another, I never got to travel outside Nigeria until I was in my late 20s and that happened when I went to Cotonou to buy a car! There are too many differences to list.
But are there tips you picked from the way you were raised that you have found useful in parenting your own children?
The importance of letting your kids know God from the very beginning cannot be overstated. It is critical to the development of the ideal child.
When the Bible enjoins us to train our children in the way they should go and that they will not depart from it in maturity, it is more than a suggestion. That advice is life itself and those who refuse to heed it can tell you the steep price that they paid or are paying.
What part of your parenting experience will you describe as most challenging?
Raising twins is not a joke! Just think of all the stress and attention that one child demands and then multiply that by two. Everything must be duplicated: toys, clothes, hugs, kisses, piggyback rides, illness, among others. Yes, illness. When one falls sick, you can almost always expect the other one to follow suit in a matter of days.
Do twins run in your family?
Yes. My wife's mom is a twin. She was the 'Kehinde' (the second of the twins).
How did you determine it was time to start a family when you did?
I was 33 years old and I considered that that was already hitting the late mark. Secondly, my father had just died before I got married and I was hoping to have a child to comfort the family. You know how it is in Africa, that to be a 'proper man', one has to be married.
Can you share the love story that culminated into the marriage with your wife?
I met my wife circa 2008 and she completely ignored my advances. Having tried to get her interested in all the things Teju Babyface did and failed spectacularly, I also took to ignoring her until we met again at a friend's party, and she suddenly was nice and accommodating. Love does occur in the strangest places!
How did you feel when your wife told you she was pregnant?
(Laughs) She didn't have to tell me anything. I was over her shoulder looking at the result of the pregnancy test as it dried out. She burst into tears and I ran into the next room so that she wouldn't see my tears. It was the end of an era and the beginning of another.
My wife conceived in the fifth year of our marriage. The number five is the number of grace. Grace is 'Oreofe' in Yoruba. That's how we arrived at the kids' names. Their names are derived from the root concept of grace.
SEE ALSO: Teju Babyface Recounts How His Wife Withstood The Pressure of Childlessness for 6 Years
Can you remember how exactly you felt holding your first child in your hands?
Oh my goodness! He looks just like his grandpa! This boy is the spitting image of Gbadegesin Oyelakin!
Some people are particular about the sex or gender of their first child. What was the situation for you?
I was so worried and child-sick by the time the kids came that I didn't really care. Before then, as a young and single man, I used to boast that I wanted only boys (sigh).That was the arrogance and ignorance of unfettered youth.
Has becoming a father changed anything about you?
My! My! My! What hasn't changed would be a better question. Perhaps the greatest singular thing is that I am more patient now. Every day, a little more impatience dies in me.
Will you say you were really ready for the experience of fatherhood when your children came?
I felt like I was exactly ready. I don't mean to say that I thought I would be perfect or anything but I figured I was as ready as anybody could reasonably be.
Are there values you've imbibed over the years that are now coming in handy in your parenting duty?
"The glory of children is their father" (Proverbs 17:6). Everything that will make these ones and the dynasty that flows from them remember me and bless God for me and my eventual memory is what I strive and pray for.
What impact has fatherhood had on your career as a media personality?
Fatherhood has had me taking an extended sabbatical actually. I was not willing to leave the raising of my kids to the help of third parties. That is the much importance I place on our family's divine calling.
Thus, their arrival has given me the unanticipated but very welcoming gift of some much needed time off to catch my breath and get ready for the biggest stage of my career, which, by God's grace, is just about to take off.
Are there habits fatherhood has taken from you?
Not really. At the risk of sounding immodest, I must say that I have been quite a stand-up guy/husband for a few years actually (laughs).
You moved overseas with your family. What has the experience been like raising your kids over there? Would it have been any different if they were in Nigeria?
Moved overseas? Interesting. I am not quite sure that I told anybody that. Well, I do spend a lot of time abroad these days, true, but I haven't quite declared yet that I have "moved". Let's just say we are expanding operations.
Do you speak Yoruba to your children?
Of course, yes. In fact, that is about all I speak to them. They have their mom to thank for whatever English they speak.
When was the last time they were in Nigeria?
Well, that is a secret. We must be circumspect about broadcasting our movement to the world in these strange times, but they have not been far from Nigeria, trust me.
What are some of the aspects of the Nigerian 'street culture' you would have wanted them to learn should they be in Nigeria?
Nothing I can think of really. Again, alluding to my last answer, they haven't been as far away from Nigeria as you might think. I am a master of stealth.
How do you handle conflict among children so it doesn't seem like you have a favourite?
Equal shouting, equal praising; equal threats, equal affirmation; equal chastising, equal loving; equal time-outs, equal rewards.
Is it healthy for parents to have favourite children?
Not if the biblical Joseph has anything to say about it or his father Jacob for that matter. Don't do it. Love them equally.
ALSO SEE: Teju Babyface Reveals Why it Will be Difficult to Cheat on His Wife
Given that you would be busy for most of the time, how do you create time for your family to bond with you?
Aha! Now you get the point of my earlier answer about taking an unanticipated sabbatical to be a family man. I am so confident in the endowments that God has given me and the legacy that I have already achieved that I was willing to take time off to invest in raising these kids.
A few years invested in raising great kids are nothing but a drop of water in the drum of one's life.  To miss the growing or 'wonder years' of your kids because you were too busy playing superstar is just a disaster! It is a catastrophic loss and I have nothing but sympathy for those who gave preference to work over family.
Have you seen any trait that any of your children will follow your career footsteps?
These ones are only concerned about TV time and the goodies of life right now.
What method of discipline have you adopted in correcting your children when they err?
It depends on what offence we are addressing per time. We greatly avoid hitting them though. Spanking is a last resort to be used sparingly and with love. They are great kids though, so that almost never happens.