Korra Obidi's Estranged Husband, Justin Dean Clears The Air About His Marriage Crisis To The Dancer And Their Kids Paternity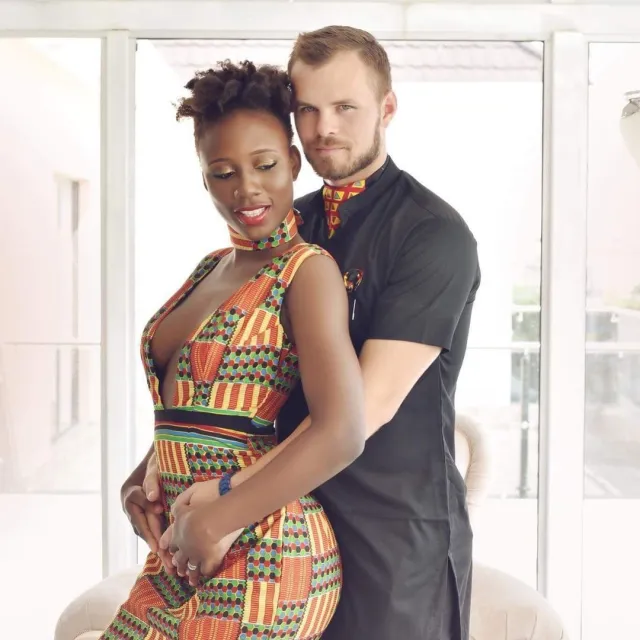 Justin Dean has taken to social media to clear the air about his marriage to popular dancer, Korra Obidi and his kids' paternity.
This is coming after accusing his wife of cheating and maltreatment.Recall that a few days ago, Justin who shares two kids with Korra Obidi, had said he was divorcing his wife because he is tired of the "narcissism, cheating, and lack of accountability".
The doctor stated that he was filing for divorce from the dancer as he can't condone being mistreated. He added that he tried his best to make the marriage work until he gave up.
In his words;
"Korra Obidi and I are getting a divorce. It's over! I won't be treated this way longer. I did my absolute best to make it work. I didn't want this. I did my best. My heart is broken.

I supported her. I loved her. I don't deserve the way I was treated. I am tired of the narcissism, cheating and lack of accountability, I have been trying since 2018 to save our marriage and if I don't do exactly what she says she divorces me."
READ ALSO: Prank? Dancer, Korra Obidi's Husband Announces He's Divorcing Her Just One Week After Welcoming Their 2nd Child
However, he has now said in a new video that the comments he made about his estranged wife being a "chronic cheat" were inaccurate.
Justin went on to apologise for the comment, adding that she only cheated once at the start of their relationship and he forgave her and they moved past it.
On his kids' paternity, Justin rubbished speculations that he is leaving Korra because the kids are not his.
He said the kids are his and he loves them. He went on to say that every other statement he made about Korra in his post announcing their divorce are correct.
"All other statements that I made in that post are accurate and correct," Justin said.
READ ALSO: Dancer, Korra Obidi's Husband, Justin Dean Gives More Details About The Cause Of Their Marriage Crisis | She Reacts
Justin apologised to the Obidi family for the cheating claim he made. He said he will always be there for his kids.
His concluding statement appears to give the impression that he is going ahead with the divorce.
"June and Athena are my children and I love them. I will be there for them everyday even if I'm not married to Korra."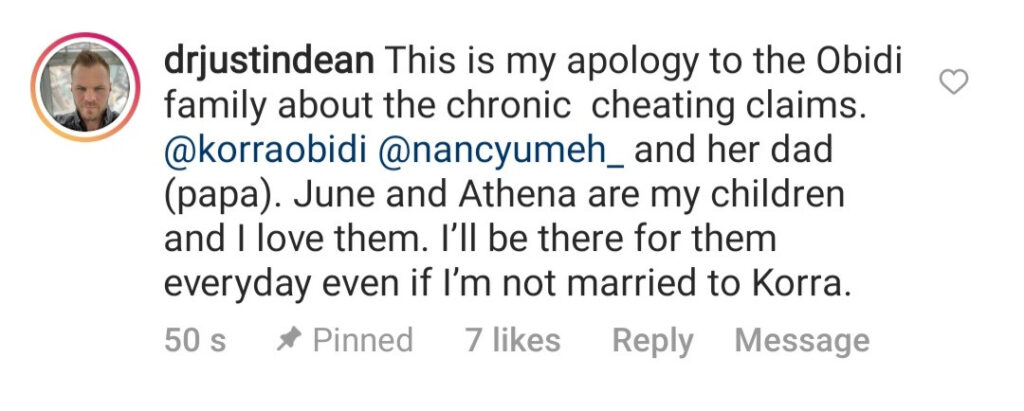 Watch him speak in the video below…