Close Friends And Colleagues Go Wild As They Expose How Gospel Singer/ Mom-Of-4, Osinachi Nwachukwu Suffered Domestic Violence That Led To Her Death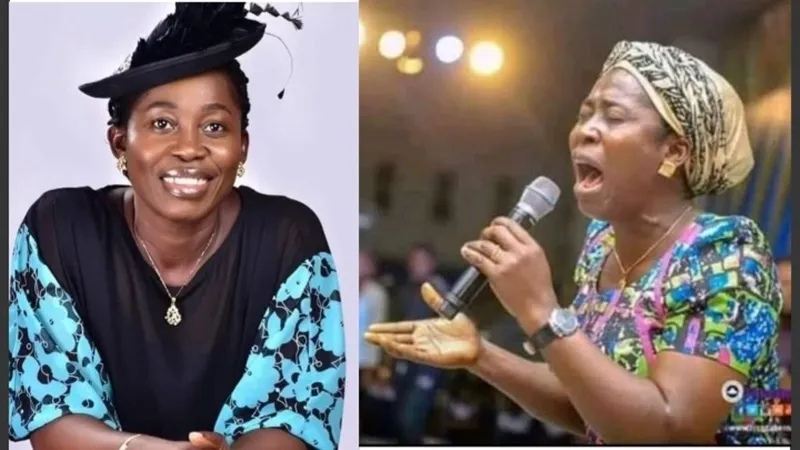 Two days ago, the sad news of popular gospel singer, Sister Osinachi Nwachukwu's death was shared online after battling throat cancer.
According to reports, the Nigerian-talented singer and a leading chorister at Dunamis International Gospel Centre has been on life support for the past two months before she finally gave up the ghost in an Abuja-based hospital on Friday April 8.
Sister Sinach who is known for her angelic voice is popular for the track, Ekwueme. She was 42 years old and is survived by her husband and four children.
Following her shocking death, Osinachi's close friends and colleagues have called for the immediate arrest of Mrs. Osinachi's husband.
Several reports had it that the late Osinachi was in an abusive marriage. Sources affirmed that the church at various times intervened in the case, but the husband was not ready to listen to anybody.
In a post shared on Facebook by one of her close friends, Gold Martins, Osinachi was suffering domestic violence in her home and had confided in some other friends about what she was going through at the hands of her husband.
However, being a gospel minister, Osinachi was afraid of what the world would say if she ended her marriage after four children.
Martins further alleged that the church would not be ignorant of what Osinachi was passing through in her home, stating that if she could tell a total stranger, then her pastor must be aware.
She poked the conscience of the church, in her submission
"While praying last night, all I was praying for was for God to touch the heart of people around her. Let them come out and speak.

That woman personally told someone I know what she was passing through in the hands of that her husband.

According to her "if not for the church and what people will say, I would have left this marriage.

Even in their presence when that man called her, he was calling her names like "steeewpid" and "fuuuuul*ish"

If minister Osinachi could tell a total stranger her story, how much more her church? Do you want me to believe that her church and pastor didn't know what this woman was passing through?

Can they come out and swear that they are ignorant of the fact that she was living with her enemy?

What did they do to help her? The church has failed us The church has failed the society. Religion has failed the society. Can we all start practicing humanity? Can we?."
Another Facebook user, Gloria Solomon also alleged that she hosted Osinachi for a program in 2019, and it was a terrible experience with her husband when she arrived for the programme.
According to Gloria, the late gospel singer shared scary marital issues with her and how she had to sneak out of her home to honour the invitation.
She added that Osinachi's husband threatened her on the phone and assured her that his wife would not return to his house.
SEE ALSO: "Domestic Violence is Spirit Destroying" Joke Silva Tackles Abuse and Seperation in Marriages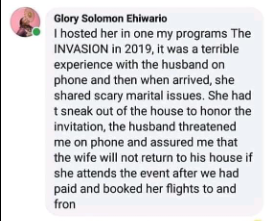 Gospel singer, Frank Edwards also reacted to the demise of his colleague. Frank in his post stated that an "Unreasonable human being" put off Osinachi's shinning light. He wrote;
"So that Unreasonable human being finally put off a shining light. I won't say much now , I'll let the former Nddc director ( AUNTY Joy ) who did everything possible to stop this from happening talk 1st, but it still happened. we tried to stop this"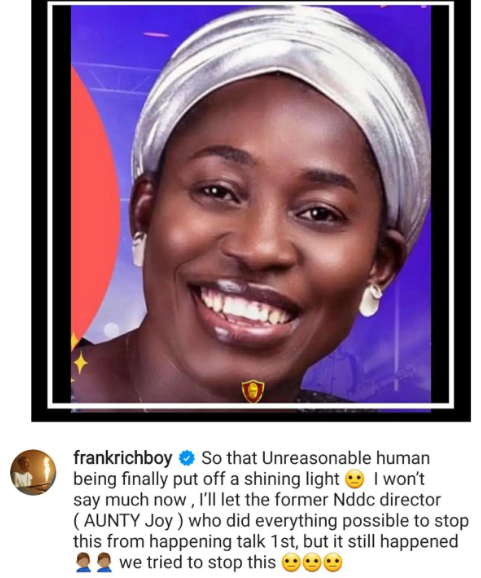 Bar Chidinma, also called Chidinma Ego, said to be a friend of Osinachi, in a post claimed that her husband called Peter Nwachukwu had been beating and maltreating Osinachi and that she had been dying in silence.
According to the post, Osinachi was hospitalised after Peter kicked her in the chest.
"She's been on life support for five days and finally died."
Chidinnma claimed Peter had been arrested and prayed that "he rot in jail". She ended the post by advising women.
"I say this often: who you marry is more important than marriage itself, my people."
In another post credited to her, she revealed that there was a time Peter tied Osinachi and instructed her children to cane her.
Rhema Channel, a christianity-focussed news website commented on Saturday on the domestic abuse stories making rounds about Sister Osinachi.
"We have received a lot of news as to how the husband of this lady has been maltreating her.

She confessed with her mouth one time that her husband would lock her up in the room and never allow her to go for ministrations even after being paid for her welfare.

He made himself her manager and made it difficult and unpleasant for people, churches and organisations to invite her for ministrations.

The final news is that, the husband has been beating her and she had always kept it private and secret.

Reportedly, the husband; Mr Nwachukwu, while beating her, he kicked the woman on her chest and she's been on life support for about TWO MONTHS and finally gave up the ghost yesterday being 8th of April 2022.

It is with a heart full of regrets that we make this notice."
Pastor Kaycee, based in Warri, who also commented on Osinachi's abuse by her husband, listed a torrent of tormenting, accusatory questions for Peter Nwachukwu.
Kaycee had met Osinachi before and the husband, who acted as her manager.
"Mr Peter Nwachukwu are you sure you will be forgiven for this thing you did? I don't like posting demise pictures, but this one pain meeeeee,I was sooo patient with you before I could bring this woman to Warri,

I never knew you were more than that..Mr Peter why did u do this,did u ever tot of the millions of people ur wife might have affected positively, did u ever tot of the pain you will put the body of Christ?

Mr Peter, I was wondering why this woman was sooo scared of you even while she was not with you, Mr Peter why did you do this to me and the body of Christ, Mr Peter, you would have at least drove her and force her to leave you, Mr Peter, you made this woman almost started loosing Relevance with the too much Anointing..Mr Peter,why?

Mr Peter will you still see money to collect? Mr Peter, Mr Peter, Only you put Millions of people in pain..

Mr Peter Nwachukwu, God blessed you with a humble, down to earth, submissive woman, even while you were doing all those things to her, she was still humble to you, bearing,, which I know, no woman will take such..

Mr Peter, you din't tell me this was wat you were doing to this woman of God, and I was comfortable with you on phone most time, even wen I know your very difficult but becos of mama, I have no choice…Mr Peter, I know you will be regretting now, saying how wish…Mr Peter you made me cry…..Mama Osy…it's well. I wish this never happened.. it's well it's well it's well."
Reacting to the reports, popular Nigerian gospel music minister, Asu Ekiye, called for the immediate arrest of Osinachi's husband.
Ekiye, a renowned Niger Delta artiste and one of the leading stakeholders of the Fellowship of Gospel Music Ministers Of Nigeria (FOGMMON), is one of the multitudes mourning the demise of Osinachi at the unripe age of 42.
According to sources, the late singer went into a coma after her husband kicked her in the chest and she collapsed. Reacting to the sad news, Ekiye said the police should waste no time in arresting the man for questioning.
Ekiye statement reads as follows;
"If what I hear about Domestic abuse is anything to go by, then I hereby endorse the call for the arrest of the husband of Osinachi immediately for questioning."
Watch the video…