'None Of My Children Will Go To School Again' – Parents Of Slain Deborah Samuel Break Silence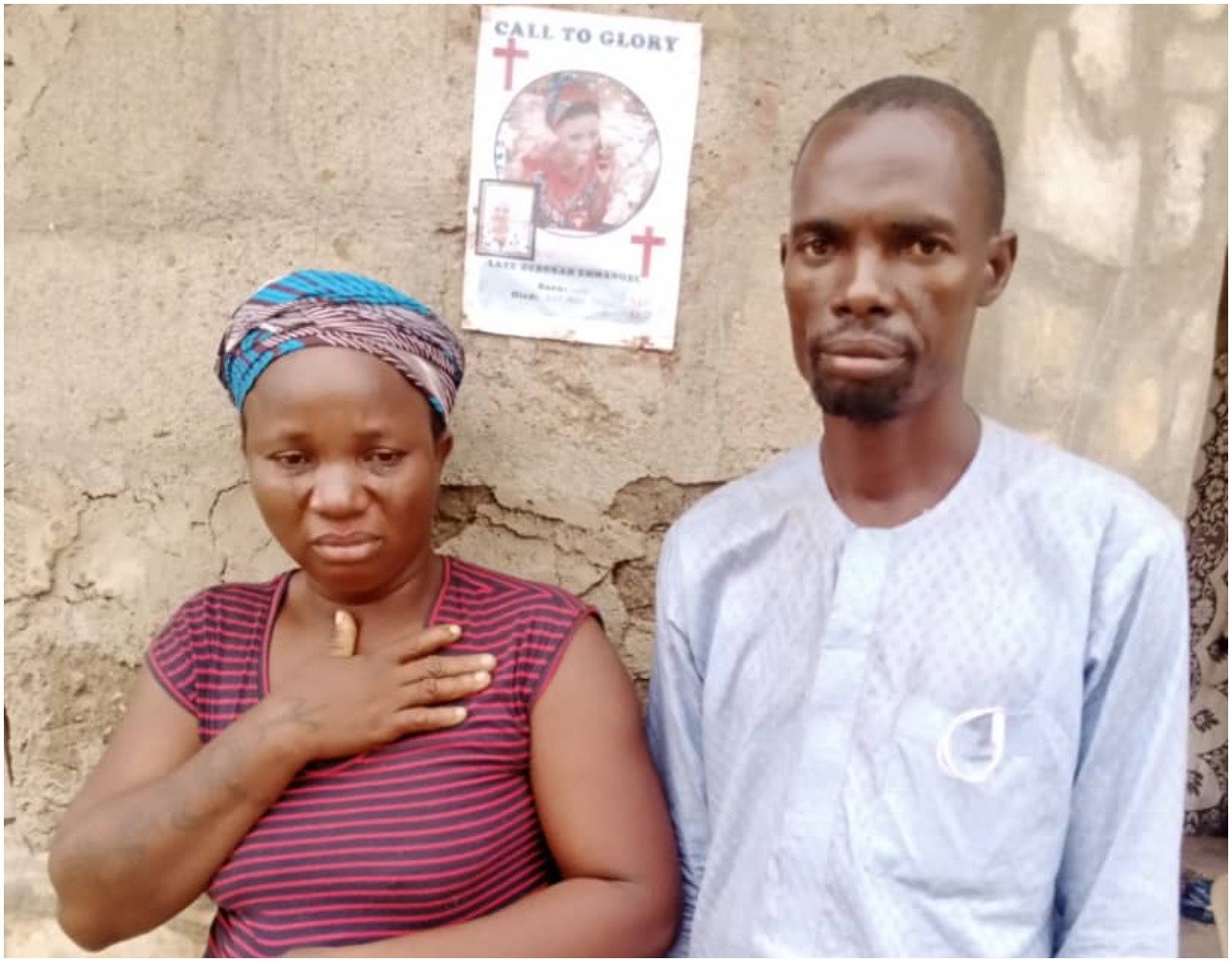 The parents of the late Deborah Samuel of Shehu Shagari College of Education Sokoto, Sokoto State have described the death of their daughter as sad and painful, saying they have left her killers to God.
Deborah was murdered in cold blood by Muslim fundamentalists at the College of Education in Sokoto over alleged blasphemy against Prophet Mohammed.
The 200-level Home Economics student of the school was said to have made a comment in her school's WhatsApp platform which her Muslim colleagues considered to blaspheme Prophet Mohammed.
As a result, she was killed with stones and planks on Thursday, May 12, and her body was set ablaze. Deborah's remains was laid to rest in her hometown, Tungan Magajiya in Rijau Local Government Area of Niger State,  Saturday evening.
Reacting to the death of their daughter, the bereaved parents said they have nothing to say or do regarding the loss of their child, but have decided to leave everything in the hands of God.
Speaking in an interview with Vanguard, the distraught mother of the deceased Mrs. Alheri Emmanuel, added that she and her husband who are practicing Christians, have resolved not to seek any redress from court over the loss of their daughter. She said:
"What has happened to me is my cross and I will surely carry it but none of my seven surviving children will go to school again."
On what she wanted from the government, she simply said;
"I don't want anything from government. In fact, the family is not expecting anything from government. Almighty God will take control."
The mother-of-8, who has just been discharged from the hospital over the shock, however, said she was recuperating and assured that she would soon get out of the shock. Late Deborah was the eldest of the eight children of her parents.
Also speaking with DailyPost, Mrs Emmanuel said that it's so sad to have lost her daughter, whom they were relying on to help support them in the future, at such a young age. She then vowed never to send her remaining seven children to school.
Amid tears, she  stated,
"I have nothing to say, I am grateful to God and for your efforts. I have given God my heart and may God strengthen me. We have nothing to say.

"Because of what happened to me, I will no longer send my children to schools where so much money is involved. Because of her education, the education of some of her siblings suffered as it is so difficult to care for them all at the same time. And, now things are difficult for us."
SEE ALSO: Blasphemy: 'Don't Send Children To Northern Schools' -CAN Issues Directive To Parents As It Condemns The Gruesome Killing Of Deborah Samuel 
Also speaking, the father of the deceased, Mr Garba Emmanuel, who couldn't hold back tears spoke about the agony he went through to transport the corpse of his daughter from where she was killed for burial in Niger State.
Mr Emmanuel, a security personnel with the Niger State Water Works Cooperation at Tungan-Magajiya said the killing of Deborah is a big cross to bear.
Beside receiving the shock over the gruesome death of his daughter, Mr Emmanuel said he had another bitter experience to go and personally transport Deborah's corpse from Sokoto to Niger State.
According to him, he paid N120,000 to ferry remains of his daughter home for burial.
He said,
"The family will not go to court over the matter. Go to court to challenge human being or Almighty God over the issue? This is completely ruled out. God does not sleep. He knows what to do at the appropriate time and as the creator of everybody, we leave the case for Him to judge.

Certainly, it is a big cross to bear but what can we do than to carry the cross and accept our fate in all totality as it has come.

Beside receiving the shock over the gruesome death of my daughter, I had another bitter experience to go and personally transport her corpse from Sokoto to Niger State. It was the saddest moment of my life to go and pick the corpse of my daughter and brought her home in a chartered bus, for which I paid N120,000.

I pleaded at the hospital that since the corpse had been burnt, they should help me with the remains, so it doesn't decompose completely for us to bury her.

I also pleaded with the DSS and they reasoned along with me and agreed to release her remains to me after signing some documents. Which moment can be as sad as this in one's life? However, it is all over and it has become history."
Watch them speak below…