Nigerian Crossdresser, James Brown Maintains His Stance Against His Biological Mum: "I've Moved Beyond Having A Mother Figure In My Life"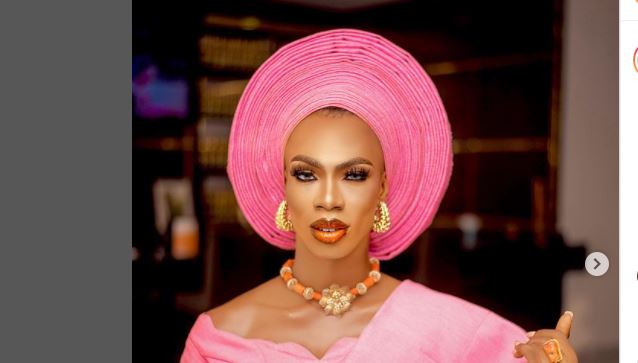 Controversial crossdresser, James Brown is maintaining his stance against his mother who he claimed dumped him in the trash immediately after she gave birth to him.
According to him, he has cut all ties with her over how she ill-treated him when he needed her the most.
In an Instagram post last year, James who became popular for saying "they didn't caught me", explained that his mother's sister wanted her to abort him as he was "unplanned".
He added that they tried all they could to terminate him but he was kept because they got a message from a prophet that his mother would die if she attempts an abortion.
The crossdresser further disclosed that he never experienced a mother's love and care, and he wasn't breastfed by his mother. According to him, his grandmother was the one who raised him and later told him his birth story.
James, during a recent interview with Chude Jideonwo disclosed that his mother now wants to reconnect with him because he is now doing well but he has moved past that stage in life.
In his word:
"Right now my mom wants to connect but the thing is, I'm not ready. I've moved beyond having a mother figure in my life, I don't need it.

The thing is, what people need to know, what they need to care about is that I'm doing well, I'm okay with my life, life is moving on and I'm happy with my life literally."
He further disclosed that he is proud of the new family he created and wouldn't like to touch wounds that have healed.
"I've actually healed, I'm okay. But I don't just feel like it's the time to start putting myself into that situation because someone that has messed you up before will definitely do it again."
READ ALSO: "I was an unwanted child" – Nigerian Crossdresser, James Brown Tells His Story
On being a crossdresser, he said:
"The thing is, I don't know what the future holds for me. Some have asked, are you going to be a transgender bla bla bla, I don't know. I don't want to put your hopes up, I don't want to blab on things I might not end up doing, I'm just living me life.

You see, that gender thing, just leave it. It depends, it depends on maybe I find a partner, or I see someone or something triggers me. But nothing has triggered me so I'm still the same. Just that I'm so crazy with so much ideas I want to put out to the world and if I don't do that I won't be free."
Earlier, the transvestite recounted all his grandmother did after his own mother rejected him when he was just 2 days old.
According to him, his grandma took him in, breastfed him, and raised him. He added that his mother returned when he was 6 and still didn't want him so his grandmother continued to care for him.
He also added that when others didn't understand his personality, despite not understanding it herself, she fought for him and defended him when he was bullied because of his gender identity.
"This is the only woman who took me in when I was rejected by my mom back then when I was just 2 days old , this woman breastfeed me ,clothe me, gave me Shelter , knowing fully well that I'm just her granddaughter /son.

Back then I thought she was my biological mom for 6 years, even after my biological mother finally surface, I was still not accepted. My grandma took me back loved and supported me as always. I stayed with my grandma and my great grandma almost all my life."