'Spent Over N30m Looking For Help' -Halima Abubakar Spills On Battling Unknown Ailment After Her Deadly Affair With Apostle Johnson Suleman, Threatens To Release Evidence
Nollywood actress, Halima Abubakar has confirmed the rumours about her deadly relationship with the General Overseer of Omega Fire Ministries, Apostle Johnson Suleman.
Halima also opened up about battling a deadly ailment for the past five years after allegedly sleeping with the controversial cleric.
This comes after a controversial anonymous blogger, GistLover called out the actress for dying in silence and lying about giving birth to a baby. The Instagram blogger also disclosed that the actress was involved in a relationship with the apostle, who is allegedly fetish.
The blogger further claimed that Halima's romantic relationship with the popular Nigerian pastor crashed after she got pregnant for him.
According to the source, the clergyman allegedly insisted that Halima should abort the pregnancy but she refused and began bleeding as well as developing protruding stomach after some months.
Halima's womb was reportedly cut off after losing the pregnancy but her protruding belly refused to heal despite spending over thirty million for the unknown ailment.
The faceless blog also unveiled numerous secrets and top celebrities allegedly involved with Apostle Suleiman.
A few hours after the reports emerged online, Halima, via her Instagram story, claimed that there would be a disaster if she opened her mouth to confirm the rumours.
SEE ALSO: Halima Abubakar Sheds More Light On Her Pregnancy Journey In New Interview
She wrote: "If I start to talk Nigeria will close. Hmmmmmm."
The actress further threatened to disclose more secrets on social media if anyone tried to bully her with unnecessary messages.
She added:
"None of you idiots scare me.. None of you.. none, none, none. Dm rubbish and I will post it."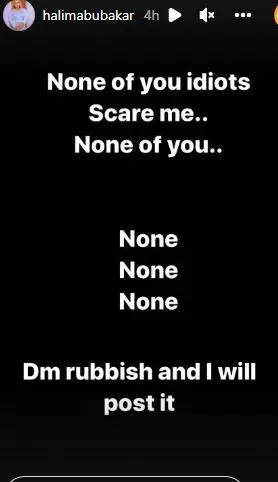 ALSO SEE: New Mum, Halima Abubakar Explains Why She Used The Photo Of Another Woman's Baby To Announce The Birth Of Her Child
A new update that is making rounds on social media is Halima's confirmation of the past events to Gist Lover.
In a chat with the blogger, Halima showed a video of her current condition, stating that she wears makeup whenever she wants to make a video online.
The actress further confirmed using the situation to claim she was pregnant and had given birth to a baby.
She added that she still feels pains in her stomach and is currently on prescribed drug which helps her to sleep.
The controversial blogger shared some screenshots from the conversation he had with the actress, accompanied by numerous videos of her present situation.
ALSO SEE: Apostle Suleman Scandal Update: Stephanie Otobo Writes Petition Against him for "Illegal Procurement of Abortion, Threat to Life and Attempted Murder"
Check below to see screenshots of the conversation…