After Years Of Searching For A Life Partner, Here's How Olympian Lolo Jones, 40, Is Taking Control Of Her Fertility Journey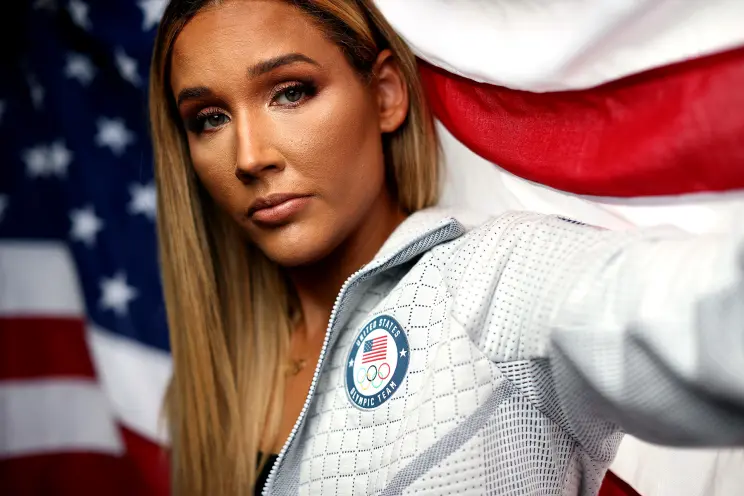 Olympian and bobsledder, Lolo Jones is speaking out about taking control of her fertility journey, a story she wishes someone had told her when she was younger.
The 40-year-old American hurdler told ABC News' Juju Chang in an exclusive interview that she hopes to be a mother one day.
Jones said:
"Being a good mom is very difficult, especially in today's society. And so, it has me nervous. Like, do I have the capabilities, the skill set to care for someone? But I'd like a chance."
Jones is no stranger to challenges, having competed on the Olympic stage in not one but two sports — bobsledding at the Winter Games and hurdles at the Summer Games.
When it came to her personal life and her path to parenthood, Jones decided not to wait any longer after years of searching for a partner and started researching how to freeze her eggs.
She added:
"You keep having hope that you're gonna meet someone and then every year that goes by, you're like, 'Oh, I'm not, like, meeting my husband,' like, you start to get more anxious. And then here's the crazy thing about all this.

I have been crashing a bobsled at 90 miles an hour. … I've had hamstring injuries, spine surgery, and nothing was more terrifying than starting to even look up the process of egg freezing."
Jones has since peeled back the curtain and is giving fans and followers on social media an up-close look at the egg-freezing process.
"People undertake this treatment if they're trying to get the ticking time clock out of their head, trying to take the stress off of their dating decisions and be able to really feel like they might have an insurance policy in the freezer,"
Dr. Ellen Goldstein, a fertility specialist and medical director of Beverly Hills Fertility, told "GMA."
SEE ALSO: How To Go About Preserving Your Fertility Against When You Are Ready For A Baby – Fertility Specialist, Dr Abayomi Ajayi
For the egg-retrieval process, Jones had to give herself multiple hormone injections for 11 days in a row before undergoing surgery to extract the eggs.
Jones' doctors have helped her retrieve 27 eggs, 17 of which were determined to be mature and viable for fertilization in the future. Goldstein, who wasn't involved in Jones' treatment, said:
"With numbers like that, she has much higher statistical power of having a success with that group of eggs."
But even with the 17 eggs, the road ahead isn't a promised one. Jones further said:
"This is the thing about egg freezing that people should know: It is not a guarantee to have a kid."
The eggs can be frozen and stored without a loss in quality, granting Jones more time to date. The Olympic athlete has been open about keeping her virginity until marriage and said she wants to become a parent with a partner.
"Trust me, I've been on some amazing dates, it just … has not worked out. But if the right person is for me, they will be willing to stick through it all. I want a guy who's gonna love me through it all,"
Jones added.
ALSO SEE: Why Young Women Should Think Twice Before Donating Their Eggs -Fertility Experts Explain
Jones happens to have strong, and for some, controversial, views on sex. She is very public about her dating life, openly sharing over the years that she is a virgin and intends to stay one until she's married.
In May, she took to Instagram to be transparent about her most recent dating struggles in a lengthy post, being open about the test of faith it has been to keep having her heart broken in her search for love and marriage.
The three-time World Champion wrote in her post:
"Tonight I blocked the guy I was talking to for 8 months. My heart just couldn't take it anymore. He gave me so many mixed signals. He would talk about marriage and kids but then keep me in the friend zone. He would never make time to see me. My heart is so heavy."
Jones said that she has prayed for God to help her find a "Godly" man and husband. She then went on to say she at one point asked God to remove her desire to get married if a husband wasn't in the cards for her.
Ultimately, she wants to get married and have a family of her own and that desire continues to grow, despite criticism she receives. She says:
"I get teased all the time because I won't have premarital sex. Guys will [direct message] me that I'm old. I'm washed up I should just put out already. So I'm just crying out.

Where are you God? Your word says John 14:14. If you ask me anything in my name, I will do it. I'm asking God to please honor the desire of my heart.

Your word says two are better than one. Ecc 4:9-12 I'm just asking God to honor my heart because faith is hurting right now. I'm tired of getting teased. I'm asking God my father, my protector, my provider please show up. Please honor me."
Jones has been talking about wanting to wait until she gets married to have sex for some years now. Almost a decade ago during an interview on HBO's Real Sports with Bryant Gumbel, she said her virginity was a "gift I want to give to my husband."
"There's virgins out there and I want to let them know that it's the hardest thing I've ever done in my life,"
she said during the segment.
"Harder than training for the Olympics. Harder than graduating from college has been to stay a virgin before marriage. I've been tempted, I've had plenty of opportunities."