Man Who Became A Dad After 6 Years Of Marriage Counsels Men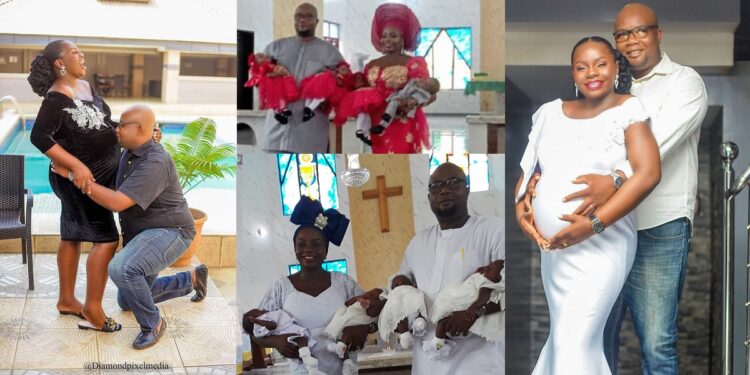 A Nigerian man, Arinze Uzoagu, who recently became a father after six years of waiting has shared some wise counsel with his fellow men on their roles during their wives' waiting period.
Uzoagu from Anambra State and his wife, Chinaza Blessing, welcomed quadruplets, three girls and a boy, in early April 2022, after six years of waiting.
In a recent post shared on his Facebook, Uzoagu said it's the man's duty to protect his wife from social pressure and the stigma attached to the issue of infertility.
He also advised couples still trusting God for the fruit of the womb, urging women to always strive to make their home a peaceful environment and not let frustrations as a result of infertility turn them into wrecks.
According to him, infertility is a big enough problem for a person or couple going through it, and they do not need further pressure from family and friends.
READ ALSO: 'Virginity Is No Guarantee For Fertility' -Nigerian Pastor's Wife Who Welcomed 1st Child After 15 Years Shares On Her Years Of Waiting, The Lies, Mockery She And Her Husband Faced And More
The proud-father-of-four wrote on Facebook:
"Infertility is enough problem for a person or couple going through it. Infertility is enough pressure on people going through that phase in life.

"They need happiness and love to conquer. What they don't need is further pressure from family and friends. You can suggest possible solutions for them but do it with love and subtle approach.

"Exclusive to men(this paragraph). It is your duty to protect your wife from pressures of the society and your family or even her family or friends.

"Exclusive to women as well, do not let frustrations as a result of infertility turn you into a wreck. Always strife to make your home a peaceful environment.

"Infertility is enough pressure, show love to people around you who are in this situation…..never mock a man or a woman because they do not have a child."
ALSO SEE: Prayer Of Dad Who Welcomed Quadruplets After 6 Years Of Waiting Will Gladden Your Hearts