Six Married Nigerian Men And Women Tell Their Amazing Love Stories And Why They Choose Their Spouses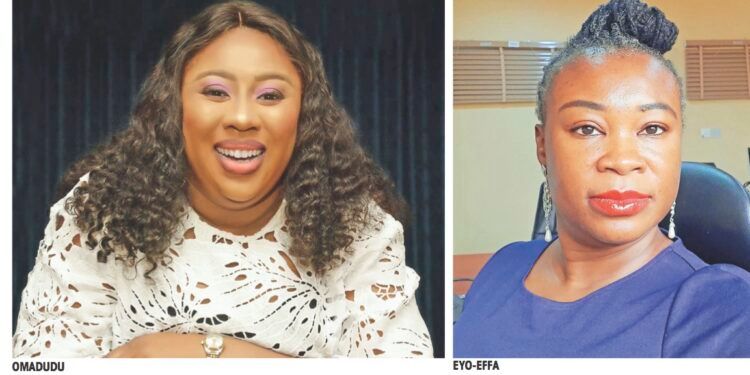 We all go into relationships for different reasons but getting married is a serious life decision. When choosing life partners, men and women look out for qualities that will make their marriages stand the test of time.
Emilia Eyo-Effa said she married her husband because he was kind and allowed her be herself. She stated that he always came to see her in her own place so that she could be comfortable. She said:
"He shifted grounds a lot and was more interested in the future more than the present when we were dating. He made so many adjustments to accommodate me." 
Going down memory lane, Eyo-Effa stated that she and her husband attended the University of Calabar at the same time and were members of the same local government students association. But they never spoke to each other.  
Eyo-Effa who is a sexual violence counsellor who volunteers her time with Cross River State Referral Centre, told Saturday Sun that initially, she didn't see him as someone she could date and he, on the other hand, felt that she was already engaged. She said that when they both finished school, they met as she was leaving for service.
She added:
"He asked if I was seeing anyone, I said no. I had just gotten out of a long-term relationship. I went for youth service and we started talking. By then, I considered dating him and the rest is history."
Eyo-Effa  who currently leads gender integration on the USAID Integrated Health Programme (IHP) in Ebonyi State revealed that even though her husband was good-looking, that wasn't the reason she decided to marry him.
She stated that their love story wasn't love at first sight because she grew in love because of what they were able to build out of their relationship.
"I knew what I was looking for in marriage. I needed a kind man who agrees with what I stand for. I wanted to build a career because I work in the women's sector and don't want many children. I made my issues clear from day one before we got married." 
Eyo-Effa stated that she knew she would marry her husband because she discovered that his communication skills were apt but on the other hand, she had serious issues with communication skills. 
She said that he was open to adjusting or accommodating her suggestions about life and what their future would look like. She added that because he stayed away from her money, and doesn't control how and when she makes money, they are going strong in their union.
Eyo-Effa said because she travels a lot due to the nature of her job, she couldn't have married a man who insists she won't travel or leave home for a number of reasons. 
"I have been on the road for one or two months straight and my husband has held forth easily. We combine our schedules and fortunately, he does a job that allows us to do so. We have been married for almost eight years."
A human rights activist, Nkechinyere Obioma met her husband when she was 17. She said they met in church during a programme and he was one of the prayer warriors.
Obioma said he kept staring at her during the service and smiled at her when she returned his gaze once. She added that at a point, she became uncomfortable and gave him a mean look but he merely laughed.
According to her, they started seeing each other often in church and one day, he approached her and told her that he wanted to marry her.
"I started laughing. I looked at him and told him that I wasn't ready for marriage and if I was, I wouldn't marry him because he wasn't in my class. He smiled and told me to think about it. He said he would wait for me no matter how long it took for me to make up my mind."
With a huge smile on her face, the mother of three said that she didn't know that life had something else in store for her after that marriage proposal.
She said that her father was rich, and she had plans to go to the university for her first degree, travel abroad for her master's degree, and work for a while before getting married.
Obioma revealed that life made a mess of all her plans when her father died and his family members took his possessions and threw them out. She said that it was a dark time in her life as things suddenly changed for bad for her and her siblings. But the man who proposed marriage to her stood by her. She shared further:
"He consoled me, encouraged me, told me not to give up on my dreams, and helped me with money even though he wasn't making much as a church worker.

I can't even tell you when our relationship started but I am glad I ran to him for help. He was my saviour. He carried me like a baby and made me the woman I am today."  
Obioma who has been married for 15 years said that she got married to her prince charming at 21. She said they got married two years after she gained admission into the University of Lagos and she had their first child at 23 while still in the university.
She stated that marrying her husband was one of the best decisions that she made in life because he was always looking for ways for her to improve herself and her work.
Shedding light on why she decided to marry the man she initially turned down his marriage offer, Obioma stated that she knew she would marry him when he supported her life goals and genuinely helped her to get an education. She added:
SEE ALSO: 15 Women Share The One Red Flag They Wish They Hadn't Ignored At The Start Of Their Relationship
"My love for him grew over time. I saw a man who wanted the best for me. He didn't see my ambition as a threat.

He wasn't a university graduate when we met and after we got married but that didn't stop him from pushing me to get my first degree and my master's degree after I was done with childbearing. I'm glad that he went back to school and got some education too." 
A lawyer based in Lagos, Godwin Imoke also stated that he married his wife because she took care of him when he was sick to the point of death while they were still dating.
Imoke said that they had been dating for a year when he suddenly became sick. He stated that she took care of him, fed him, washed his clothes, stayed with him in the hospital and even paid part of the hospital bill from her meagre salary then.  
Narrating how they met, he said:
"I just graduated from law school when we met at an eatery. A man was being rude to her because she told him not to jump the queue and wait for his turn.

This man called her different names but she ignored him. I confronted the man and told him off. She smiled at me and thanked me. We exchanged numbers and started talking. Two months later, we started dating." 
The father of two said that a year after they started dating, he became sick. He said at the time, some of his family members and friends abandoned him but the lady didn't leave his side.
According to him, she was the only constant person who took care of him while working at the same time. He added that he spent two months in the hospital and he was surprised that his girlfriend then paid part of the hospital bill.
"I told myself there and then that I would marry her. I didn't make my plans known to her immediately but I was more serious with our relationship.

I made sure she didn't lack anything when I got a better job because I lost the one I had when I was sick. We dated for two more years before I asked her to marry me." 
Even though his family didn't agree with his decision to marry someone from another state, Imoke said he stood his ground. He said that he refused to leave a woman who didn't leave him when he was almost dying.
"We got married seven years ago and I tell you that marrying my wife was the best thing that happened to me. She gives me peace. She loves and respects me. She makes life easy for us." 
Awele Odiakose Edmund-Omadudu is a network marketing influencer and entrepreneur who met her husband through a business platform. She said that they were first business partners and then they became friend, "but he proposed marriage out of the blue and left me confused."   
According to the team leader of a Bioscience company, she agreed to marry her husband because of the way he respects her and others around him.
She said that the way he treats people, his passion and energy for business success, service to God and humanity made her realise that he was to be kept. She said she was also attracted to his passion for helping people.  
Taking a trip down memory lane, the lifestyle consultant and event planner said she met her husband for the first time when he came to Lagos in January 2016 for a business meeting and their conversation still continued in the business direction.
"By November 2016, I visited Port Harcourt to support him during the opening of his Port Harcourt office. By December 2016, we were in Warri, Delta State for our company's end-of-the-year party/awards. All of a sudden, he proposed to me and I was confused."
Edmund-Omadudu, who also runs an event management company as well as a travels and tours business, said she was still asking herself what was happening.
She said she wondered how someone who was her business partner would be proposing marriage to her without informing her first. She added that the people at the party were screaming in excitement and encouraging her to say yes and she said yes. 
The graduate of Marketing from Enugu State University of Science & Technology (ESUT), Enugu, Nigeria said that her husband proposed to her on December 22, 2016 and that was the day they officially started dating.
She said that on June 1st and 3rd 2017, they got married. She said it's been five beautiful years of riding the journey of life with her husband and she wouldn't have it another way.
ALSO SEE: Newlywed Actor, Samuel Ajibola (Spiff) Shares How He Knew He Had Found 'The One'
Mr Eric Bamidele, a father of five, also narrated that he married his wife two years after they met because she was the only woman who could tame his wild side. He shared further:
"I don't know how she did it but my wife is the only one who can calm me down whenever I start misbehaving. I guess she was hand-picked by God for me. Sometimes, I pity her because I don't know how she copes with my sudden mood swings." 
The 46-year-old digital marketing expert revealed that he met his wife when he had lost hope of settling down because the women he dated couldn't cope with his erratic nature and constant mood swings.
He said that when he got married, some of his friends were worried that his marriage wouldn't last. He recalled that the lady he dated before he met his wife told him that he had a mental problem and needed to get cured by a psychiatrist. He said:
"She told me that only a mad person would marry someone like me. I didn't know whether to laugh or cry after her outburst." 
Bamidele, who has been married for 18 years, said his wife complements him, supports him and doesn't judge him. He said she gives him space whenever he feels like being alone and offers to help him whenever he needs to get something done.
Bamidele added that his family members and friends are amazed at how cool-headed he had become after getting married. He said:
"My close friends call my wife a miracle worker. Whenever they visit us, they praise my wife for putting up with me for nearly two decade.

And whenever there is a misunderstanding between us, and my wife reports me to my family, they blame me for stressing her and advise me to make amends with her immediately."
For Hilda Giwa, the decision to marry her husband of six years was almost instant because of his good qualities. She said that she decided to marry him because he was kind, thoughtful and patient.
According to her, he insisted on driving her home from work when they started dating, even though she lived close to her office. She said that till today, she still calls him her gentleman. 
"I am not emotionally strong so I needed to marry a man who was patient and thoughtful. My husband won my heart with the way he treated me when we were dating.

He was always looking out for me. He was concerned for my health and safety. He didn't allow me to stress myself over things he could handle."
The human resources manager based in Abuja further said that even though they don't have children, her husband doesn't make her feel bad about not being a mother yet. She said her husband doesn't like seeing her unhappy just because they have no kids yet.
She said:
"Whenever he sees me worried because of our inability to have children, he lifts my mood. He goes out and buys me a gift I can't reject or he takes me out to somewhere beautiful so that I can get my mind off our infertility issue. We have been certified medically okay by doctors so I don't know why I can't get pregnant."