Alleged Domestic Violence: Controversies Trail The Tragic Death Of Wife Of Popular Lagos Businessman, IVD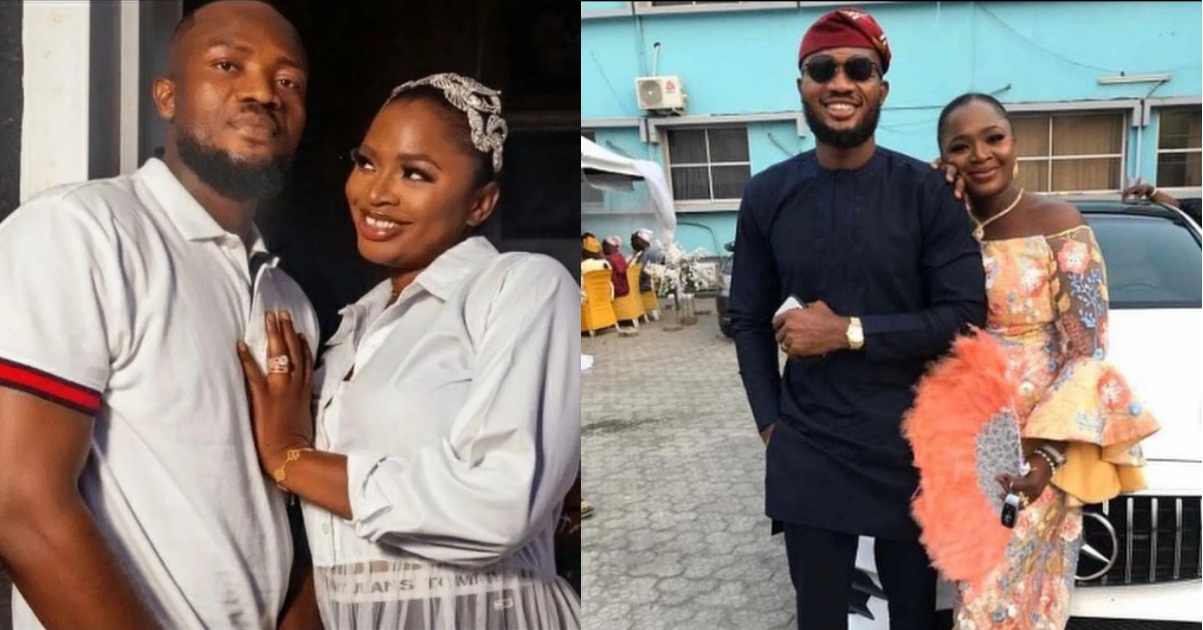 Bimbo, the wife of popular car dealer, Ikechukwu Ogbonna, better known as IVD, is dead. Her sister confirmed her passing on social media yesterday.
According to reports, Bimbo, a mother of five, was rushed to the hospital a few days ago after suffering severe burns during a violent incident at their residence in Megamound estate, Lekki, Lagos.
Sources claimed Bimbo confronted her husband IVD on Wednesday, October 12, 2022, over the constant beatings she received, and a fight ensued.
The fight resulted in their house being set ablaze. IVD was said to have escaped with minor burns while Bimbo suffered severe burns and was rushed to the intensive care unit. Sadly. she lost the battle to live.
Announcing Bimbo's passing on social media, her sister wrote;
"Bimbo is gone-Bimbo is gone-My sister is gone
The fire  is burning me haaaaaaaaa
IVD you killed my only sister
Abimbola IVD KILLED MY SISTER IVD KILLED MY SISTER IVD KILLED MY SISTER IVD KILLED MY SISTER IVD KILLED MY."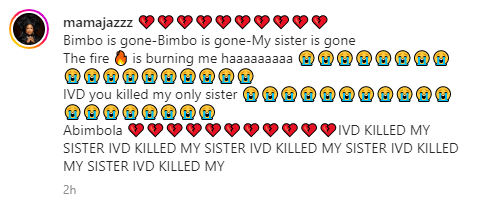 In another post, she accused IVD of killing her sister. She wrote;
"Abimbolaaaaa, My Bobby, this was never our agreement
Unspoken words you've left behind
Undone things we'll never do together why why why
You have left me heartbroken
Perfect peace has fallen upon your head
A taste of sorrow we have been fed with…….
I will really miss you, if you can hear me pls wake up Bobby
Till we meet again."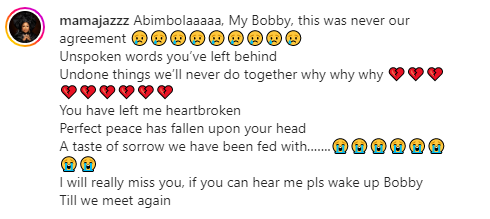 Hours later, the deceased's sister with the handle @mamajazz on Instagram accused IVD of pushing Bimbo into the fire outbreak in their home, watching her burn, and filming her burning in the fire.
In a viral video, Bimbo's sister said;
"IVD! You pushed my sister into the fire. You watched her burn. You videoed her. You watched her burn. You pushed her into the fire. You were videoing her…burning…Chimoooo!!"
After being called out on social media by the deceased's sister, IVD shared never-before-released videos showing what likely transpired between him and his deceased wife on the day of the tragic incident.
SEE ALSO: Close Friends And Colleagues Go Wild As They Expose How Gospel Singer/ Mom-Of-4, Osinachi Nwachukwu Suffered Domestic Violence That Led To Her Death
In one of the videos he shared on his Instagram page, the businessman revealed that he and Bimbo had an argument the previous day, and he returned from work to find his house upside down.
The video also showed parts of the house that were damaged and set on fire which he claimed was done by his wife.
According to him, his wife was fond of unleashing violence anytime they quarreled. He also said his wife had been damaging their house items for the past two weeks over an undisclosed issue.
He noted that his brother-in-law and their son were witnesses to what transpired.
One of the videos also showed his wife damaging his cars. In the video, his late wife could be heard in the background saying "You're a small man, HIV positive, ritualist."
In another video he shared, the celebrity auto-dealer could be heard saying "all this will end today." He also threatened to beat his mother in-law.
He also shared a post where he disclosed that he will be hurt if his wife receives praises from guests at her funeral.
He also wrote,
"My greatest hurts will be at my funeral, everyone will be like… Bimbo was such a fantastic human, a clown, she's that one person you had on your sos call, she had the biggest heart, very smart, she looked out for her family…. Bobby yen yen yen….. My corpse will wake up and shout "SHUT UP ALL OF YOU AND PUT ME INSIDE THE GROUND LET ME BE WITH LORD" Bobby yen yen yen…. Pablo escobar na my mate. You didn't get his memo and eulogy at his funeral. I am laughing at my dumb ass. You see why I am still Alive, I don't even take myself seriously."
ALSO SEE: Stella Damasus Educates Nigerians On The Right Approach To Help Victims Of Domestic Violence
Following the videos, late Bimbo's brother Oyindamola Martins, called out IVD. Oyindamola made new revelations in the Instagram posts he shared.
He alleged that IVD is HIV positive and also the one who shot people at a club where award-winning singer, Burna Boy and his crew were accused of engaging in a shootout over a married woman earlier this year. He also shared videos to back up his claim.
Martins further alleged that IVD threatened to shoot him on sight after he released evidence to prove that he is responsible for his sister's death as he seeks justice.
Her demise comes after many years of physical abuse she suffered from her husband and the father of her children.
In May 2019, Bimbo regained consciousness after she was allegedly beaten to a coma by her husband during pregnancy. She was 8 months pregnant at the time.
Then, on October 4, 2020, IVD released a video of him reconciling with his wife days after she released an exposé explaining how she allegedly suffered domestic violence from him for 19 years.