'You Were So Good To Outsiders But Your Own…' -Heartbreaking Biography Of Deceased Nigerian Father By His Children Goes Viral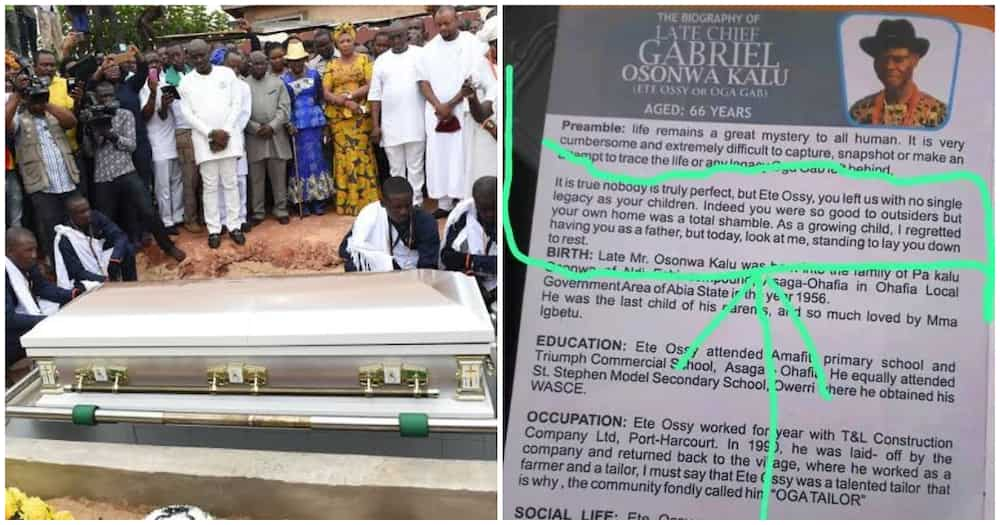 Family of a deceased man didn't mince words in expressing their disapproval of him in his funeral brochure as he was recently buried in Ohafia, Abia state.
His bereaved family made it clear that their father, Chief Gabriel Osonwa Kalu, alias Ete Ossy who passed away at the age of 66, wasn't an exemplary father.
His children revealed that they regretted having him as their father while growing up, but are there at his funeral to perform the necessary rites of burial.
The man's children said that though no one is perfect, their father left them no legacy. They slammed the deceased for being good to outsiders while neglecting his home.
Social media reactions
Isaac Inwang wrote: "If it will please God to make me die at old age, may my children not describe me the way this man's children described him. "May my children celebrate my fatherhood both in my lifetime and upon my death."
Charles Ndubuisi said: "I had the most wonderful father anyone could have wished for but even if reverse was the case I would never have dragged his name and memory in the mud like this."
Awang Patrick commented: "I don't blame them at all… I know the pains of having an irresponsible father who is a beast at home but an angel to outsiders… I can totally relate to this… Those children no get joy sha but the man wherever he is will be on a serious hold up to heaven."
Adebayo Bello added: "This is a message to all big men children who refused to hustle but are putting their mind on inheritance. This is how your father will disappoint many of you."
Cynthia Michael Okpamen said: "Most father's are like this. Very good to outsiders but bad at home. If u fail ur children as a father then don't expect their love even in death. Parents play ur role well and see if ur kids can stay a day without hearing from u. That u are lucky to have a good dad doesn't mean another was. The child spoke his or her bottled pain. RIP SIR."
Nduka Agunyai: 'If family and friends do this, a lot will change for the better. People actually look down on their family and act as King and saviour to strangers.'
ALSO SEE: Actress And Mom-Of-3, Chioma Toplis Reveals Why She Will Not Attend Her 'Useless' Father's Burial When He Dies And It Is Heartbreaking!