JJC Skillz's Son, Benito Reacts To Rumour Of His Dad's Lowkey Wedding Few Months After Separation From Funke Akindele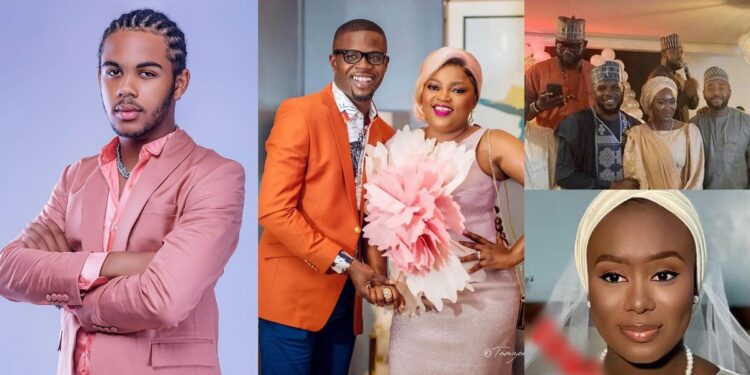 Benito, the son of Nigerian rapper, Abdulrasheed Bello, popularly known as JJC Skillz, has reacted to an alleged report of his father's remarriage.
A few days ago, it was alleged that JJC skillz, who was previously married to famous actress and politician, Funke Akindele, before their split in June 2022, has found love again and remarried.
The entertainer reportedly tied the knot in a lowkey ceremony with an Ebira woman from Kogi state whose name was given as Falilat Raji.
An Instagram blogger who dropped the exclusive report claimed that the wedding occurred in Kano on Friday, February 10th, 2023, with close friends and a few family members in attendance.
The blogger also shared pictures of the alleged bride and a wedding invitation card that carried the name of the rapper and his new wife.
READ ALSO: JJC Skillz Announces Dissolution Of 6 Years Marriage To Funke Akindele: 'It's Beyond Repair Now'
See below,
"I finally got something on JJC Skillz and his new wife. He only attended one event, and came with his photographer. They live in Abuja Life Camp and the wife works with an NGO…

Allegedly."
Reacting to the news, Benito, JJC Skillz's son with his first wife Mella, mocked his father's decision to marry another wife, and said he feels sorry for the woman. However, he did not reveal why he feels pity for her.
"Wifey number 100, Kmt I feel sorry for her", he commented.
ALSO READ: Marital Crisis: "Funke Akindele And JJC Skillz Both Cheat On Each Other…" – Stepson and Son, Benito Spills
In June 2022, JJC Skillz announced that he is no longer with his wife, Funke Akindele.
JJC and Funke have two kids together and he admitted that the last two years were difficult for them even though he tried his best to fix things.