Joyful Ending As Nigerian Couple Welcome Triplets After 23 Years Of Waiting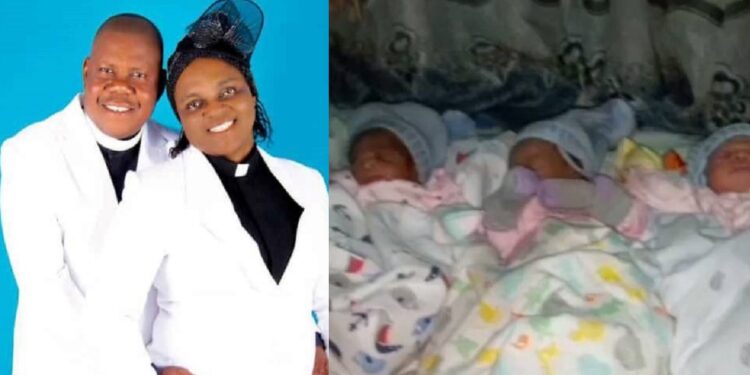 It is a joyful ending for this Nigerian couple, Pastor Reverend Dr. Wisdom Asefole, and his wife, Ufuoma, who  welcomed a set of triplets, three daughters after 23 years of marriage.
Rev. Asefole is the General-Overseer of the Chariot of God's Fire and Healing Church in Ofor-Udu, Delta State.
On March 2, 2023, friends and churchgoers took to Facebook to celebrate the wonderful story and congratulate the new parents.
Blessing Ugbede wrote;
"After 23 years of waiting faithfully and patiently for these, bundle of blessings finally the wait is over they've arrived isn't God faithful? My friends join me bless the name of the lord for My Pastor and his beautiful wife."
Apostle Praise Akpokiniovo, added;
"Na we day pray , but na God day run am. Big congratulations to my papa and mama Wisdom Asefole Ufuoma Asefole. After 23 years of waiting, triplets is d reward. BOUNCING 3 BABY GIRLS"
Vivian Onyeka commented;
"Please join me celebrate this my wonderful pastor, he was blessed with triplets after 23 years of marriage. Nothing impossible with our God. Jehovah overdo. What God cannot do does not exist."
ALSO READ: Nigerian Mum, Micah Edun Who Welcomed Triplets After 21 Years Of Waiting Shares Her Message Of Hope To Other Expectant Women