Mum-Of-2 Wants Singles To Take A Cue From Her And Her Husband As She Reminisces On How It Started And How It's Going After 20 Years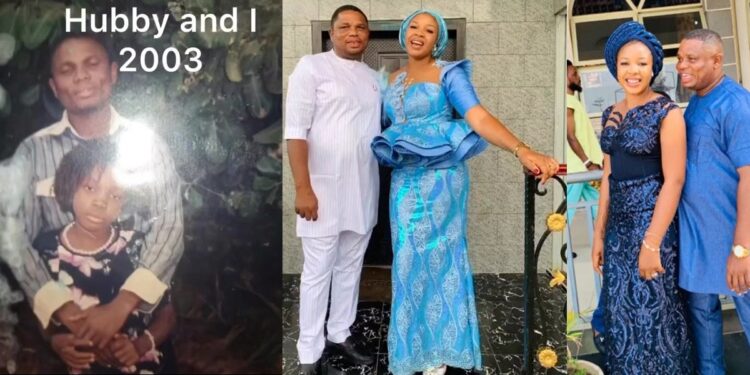 A happily married mom has advised singles to take a cue from her and her husband as she shares their unique love story.
The mother of two, simply identified as Steph stirred reactions on social media after she shared a video montage showing her and her husband's beautiful transformation after 20 years of marriage.
The woman took to TikTok to share photos of herself and her husband when they first met in 2003 and what they looked like now.
She revealed that she met her husband in the village but didn't start dating until a year later, 2014, and they had their traditional wedding the following year, 2015.
In the post, she expressed her gratitude to her husband, whom she described as her best friend, while revealing he sponsored her education and supported her dream.
According to her, after they welcomed their second child, her partner insisted that she go back to school and complete her education.
The mother of two dubbed her husband a "supportive and loving partner" and advised people to marry their friends.
READ ALSO: Happily Married Nigerian Dad, Emmanuel Okorie Advises Fellow Men To Take A Cue From How He's Gracefully Living By His Marital Vows To Wife
ALSO SEE: Nigerian Couples Reminisce On How Marriage Changed Their Lives
The post was accompanied by heartfelt captions, which read,
"Marry your friend oo. E get why. I got married to the absolute love of my life. Never knew we would get married but let's call it destiny. It is one thing to be married and it's another to be married to a supportive and loving partner.

I went back to school after 2 kids with the help of my hubby . He practically supported and encouraged me.

I wrote my final exams recently and currently waiting for NYSC . Am so grateful to God, hubby and my little kid. It's never too late to go back to school , with determination and hard work, you can achieve your dreams."
The post immediately went viral, with many people sharing their thoughts on the photo of the couple in 2003.
A Twitter user asked,
"Is that her best friend or her uncles best friend? cos the first frame looks like he's wayyyyy older, she looks wayyyy younger too.."
@theguyfaceless wrote,
"The throwback picture screams 'paedophilia' but let's agree that they were best friends then and the guy wasn't so much older than her."
Another user @king_shacole added,
"This is inappropriate, judging from the old picture this guy is very much older than her, how can a matured man be your best friend at that age wait are y'all seeing this or I am just the one exaggerating?"