Rescued Chibok Girl Narrates How Late Boko Haram Leader, Abubakar Shekau Forcefully Married Her Off To Three Terrorists
A few days ago, two Nigerian women abducted as schoolgirls by a jihadi militant group nine years ago were rescued, the west African nation's military had said.
One had a one-year-old baby, while the second gave birth to her second child days after being freed.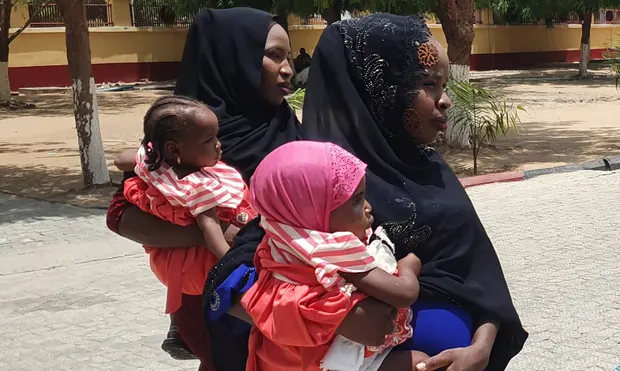 Hauwa Maltha and Esther Marcus, both 26, were among 276 schoolgirls abducted by Boko Haram militants in April 2014 from the government girls' secondary school in the village of Chibok.
Speaking with newsmen on Thursday, May 4, Hauwa Maltha said the late Boko Haram leader, Abubakar Shekau forcefully married her off to three terrorists within nine years after their abduction in 2014.
The Theatre Commander, North-East Joint Operation, Hadin Kai, Major General Ibrahim Ali, said Hauwa and Esther were rescued in Sambisa Forest on April 21, 2023.
Hauwa expressed delight with their rescue, explaining that the military rescued them when they went out to fetch water in the forest. Narrating her experience in captivity, Hauwa said:
SEE ALSO: Good News: Nigerian Army Finds Two Abducted Chibok Schoolgirls With Their Babies In Borno
"Yes, Shekau married us to them (terrorists). The first husband went away. Unfortunately, he never returned and Shekau said the marriage had collapsed since they chose to be infidels.

"We did not do it intentionally. I married three different men. There, I married another fighter at the village, and he died after a fight between the Shekau soldiers. I have two children with him before the last one."
While briefing journalists at the Maimalari Cantonment in Maiduguri, Maj.-Gen. Ibrahim Ali, said that Hauwa and Esther, both serial numbers 2 and 103 in the list of the missing victims, were rescued by troops of 114 Taskforce Battalion Bitta at Lagara, under the 21 Armoured Brigade Bama during Operations.
He said that Hauwa Maltha and Kibaku by tribe from Jila in Chibok Local Government of Borno State, and her 3-year-old baby were rescued.
He explained that while in captivity, Hauwa got married at Gulukos, a village in Sambisa forest, to one Salman, a cameraman to Abubakar Shekau. He said:
"Salman later died in Lake Chad. Thereafter, Hauwa Maltha got married to one Mallam Muhammad in Gobara and had two children for him who later died due to sickness.

Muhammad, her second husband, was also killed in Ukuba terrorist enclaves in Sambisa forest during clashes between Boko Haram/ISWAP.

Hauwa who was about eight months and two weeks pregnant during the time of her rescue delivered a bouncing baby boy on 28 April 2023 while undergoing thorough medical examination along with her baby Fatima at 7 Div Medical Hospital and Services."
ALSO SEE: One Of Former Abducted Chibok Girl, Palmatah Mutah, Blazes Trail In America
Ali explained that while in captivity, Esther was forcefully married to one Garba, also known as Garus, a Boko Haram fighter who was killed during troop's offensive operations on terrorists' enclaves. He continued:
"She was later married off to another insurgents, Abba, in Ukuba terrorist enclaves in Sambisa forest until her rescue by troops of Operation Hadin Kai.

Since their rescue, they have undergone thorough medical examination along with their babies and are adequately resuscitated and will be handed over to the Borno State government for further administration.

These results are evident as troops have rescued about 14 Chibok girls recently. The girls rescued so far include; Aisha Grema, serial number 11 on the abducted Chibok girls list, Hannatu Musa, number 7 on the list, and Sera Luka, number 38 on the list.

Others are; Ruth Bitrus, number 41, Mary Dauda, number 46, Hauwa Joseph, number 18, Falmata Lawan, number 3, Asabe Ali, number 12, Jankai Yamal, number 20, Yana Pogu, number 19, Rejoice Sanki, number 70 and Hassana Adamu, number 35."
Reacting to the development, the District Head of Chibok, Engr. Zanna Modu Chibok said he was elated with news of the rescue of more girls but he wished if they had all come out.
"It is a thing of joy to all of us that hope is not lost, we sincerely thank all who have made this possible. We salute our gallant troops for this feat and more. We shall continue to pray for the safe return of others who are still captives,"
he said.