See Why These Couple's Love Story Is A Bit Unusual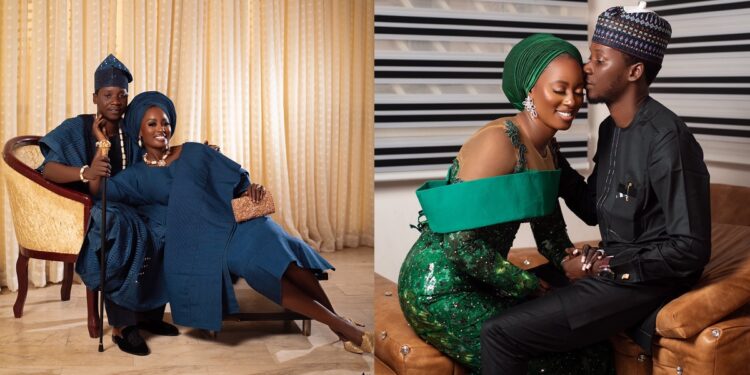 A newly wed Nigerian woman has narrated how she was in a serious long-distance relationship when she met her husband.
Sharing their love story, the new bride revealed that he had called and requested a meeting, she assumed it was for business purposes because she was a jewelry seller.
She informed him that she was seeing someone else when he showed up at her place and expressed his affection to her but he persisted on taking a chance and said she wouldn't have a lasting connection with her partner.
As it turns out, she ultimately gave in to him after she and her partner began to argue, and on November 24, 2021, after she had split up with her ex, her husband proposed.
The post reads;
"COVID-19 came and the world was in great despair but it's the beginning of Sweet love in My life.

I was serving in Ibadan then, I had to come home for few days to do something. The day after I got home, I received a call from a guy asking me if I was at home, and I told him yes and asked him if he knows my house and he didn't reply.

The next thing was that he called few minutes after that he's outside the gate, I went out to meet him thinking he wants to buy bracelet ( don't mind my business spirit ) and the first thing oga said was 'I like you 'I was like "mad o".
SEE ALSO: 'From House Hunting To Getting A Husband' – Read The Unusual Love Story Of This Nigerian Lady And Her Beau
I was in a relationship then so I didn't even take him serious but oga no gree, he kept coming everyday. I planned to go back to Ibadan after a week but God is the master planner (lock down started and NYSC official told us to go home, I was already at home so I kuku stayed at home)

We were seeing each other everyday. I told him I have a boyfriend but he said " you guys will break up, don't worry" and as God will have it, my boyfriend started annoying me, fight every time (mind you, he isn't in the country)

He picked me up everyday to follow him to his store, I started correcting him on some things he need to change about his business and he listened. My then bf and I broke up at a point.

Lorokan sha, I started developing feelings for Mr Man and I can't even remember how I said yes to him (we just knew we can't do without each other) Our dating days were amazinggggggggg, My proposal was heavenly!!! It was on my birthday.

The First surprise I got was from Royal hugs (My favorite surprise plug ), I couldn't stop crying ( note: something entered my eyes ni o ) Happy was an understatement for how I felt that day.

Night came, he said he wants us to go on a dinner date with his friends and brother on a yacht not knowing he has planned my proposal, I got proposed to and said yes to him on my birthday, November 24, 2021.

He advised me to start selling Bridal shoes and purses, also casual slippers and hand bags. I listened and started selling.

He contacted my supplier and surprised me with goods to add to My stocks on my 2022 birthday  We dated for 2 years and few months and got married on March 19, 2023. And it has been happy moments everyday. Thank you for reading."