'It Was The Strangest Gift I Have Gotten' -Celebrity Couple, Stan Nze And Wife Make A Big Announcement In Emotional Video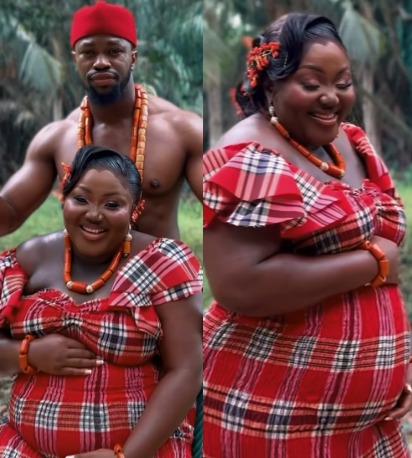 Congratulatory messages are pouring in for popular Nollywood couple, Stan Nze and his wife, Blessing following their huge announcement in the early hours of Monday, September 11, 2023.
The couple announced via their Instagram pages that they are about to become parents. The actor and YouTuber let the public in on the double-decker good news because not only are they expecting a baby, they have also hit their second wedding anniversary milestone.
He posted a swoon-worthy video of himself and a heavily pregnant Jessica walking and dancing in a garden, showing off the growing baby bump. They were dressed in matching red attire and traditional beads, basking in the euphoria of their growing family.
In Stan's caption, he highlighted that getting married was the best decision they ever made. He also noted that their third year as a couple would be their year of nurturing.
It read,
"2 years today; Still the best decision of our lives. I don't know what we did right to deserve this kind of love. We are grateful Jesus. Our 3rd year is definitely a unique phase – Our year of nurturing. Please say a prayer for us. Happy 2nd Anniversary to Us."
In a YouTube video making the rounds, the excited couple recounted the moment they found out about their new bundle of joy.
The parents-to-be gave their fans and followers a sneak peek into the couple's pregnancy journey on their YouTube channel.
In the video, the couple recounted how they found out about the pregnancy individually. Blessing revealed that she found out she was two months pregnant days before her birthday, which was the 6th of May, 2023.
READ ALSO: 'I Was Criticized For Getting Married To A 42-Year-Old Woman' -Nollywood Sweetheart, Stan Nze Reveals In New Interview (video)
According to her, she had stood in for her husband at one of their friend's showroom events, where she confided in her friend that she was having a headache and feeling pain.
A friend had asked her to run a pregnancy test, which she declined because she didn't want her hopes to be dashed.
She eventually succumbed to her demands and did a pregnancy test, which confirmed she was pregnant. The soon-to-be mum disclosed that she shed tears of joy for hours as she had already been praying for the fruit of the womb.
Her husband, who wasn't in the country at the time, found out that his wife was pregnant on her birthday.
He recounted how his wife and their close friends all surprised him with a box of baby gifts, which he considers the strangest gift ever.
A puzzled Stan, couldn't fathom what was happening until Blessing made it known to him that she is pregnant.
Sharing in their happiness, Omoni Oboli, Destiny Etiko, Juliana Olayode, Juliet Ibrahim, and others sent love to the couple.
ALSO READ: Star Actress, Blessing Obasi On Why She Married Her Younger Lover, Actor Stan Nze And Her Greatest Fear As A Married Woman
The couple's love story goes back to 2017 when they met at the Eko Film Festival, however, Stan didn't notice her then.
It was during his birthday that year that he took note of her after they were acquainted by a mutual friend, and that same year they started dating.
They got married in 2020 in a glamorous event attended by influential celebrities. The award-winning actor even surprised his wife with a performance by Timi Dakolo at the reception.