'When I was about to marry, 8 women wanted me' Blind PhD Holder Tells His Inspiring Story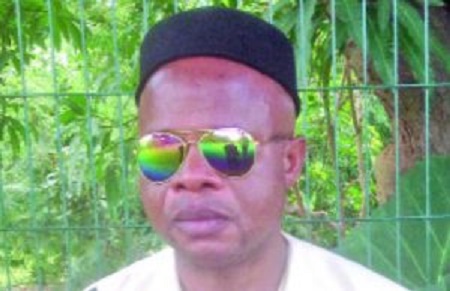 A Ph.D holder who wants to become the president of Nigeria has revealed how his life changed when he suddenly became blind while attending university.
In an interview with Daily Sun, Christopher Nwanoro revealed his dream to become president of Nigeria as he gave insight on how 8 women are now fighting for his affection.
Tragedy struck on April 5, 1995 at about 1.00pm when he suddenly became blind inside the lecture hall.
He was in his third year, as an undergraduate of History/International Studies at the University of Uyo.
Nwanoro, who is now a PhD holder, explained that his world suddenly changed on that fateful day.
Not allowing his disability to weigh him down, he has since broken several barriers to carve an enviable niche for himself both in Nigeria – as an awardee of the Presidential National Honours – and in the United States where he currently heads the Trade and Investment Department in the Nigerian Consulate.
Read excerpts from his inspiring story below:
On how he became blind
He said: "I was born normal with my two eyes, but I suddenly lost my sight in my third year on April 5, 1995. It was a sudden drop in vision that I could not see again while in a lecture hall at the University of Uyo.
"I didn't have any eye problem before the incidence. I did everything like every other person until that fateful day during a lecture on Research Methodology. I had some sensation in my eye and by the time I realised it, something like a dark cloud covered my vision and I couldn't see again.
"I thought it was a joke and didn't know whether to shout or cry.  I tapped my friend and told him that I could not see again; he became worried and hinged it on the sun. There was no premonition, there was no fiction or accident, there was just nothing."
On coping with life as a blind man
He revealed that he planned to committing suicide initially when confronted with frustration arising from his blindness. According to him, blindness is synonymous with poverty and hopelessness.
"I wasn't enlightened or aware that blind people can go to school then. The blind people I used to meet on the streets were usually beggars and hopeless people. What would have killed me was how I could cope as a blind man," he stated.
However, left with no option, he braced up for the realities and challenges of redirecting the ship of his life by returning to kindergarten school with other visually impaired people to learn alphabets with the kids.
He said: "After several failed efforts to restore the sight, I finally left the university. People, friends and well-wishers came to sympathise with me and after few months, somebody informed me of the blind school in Umuahia, Abia State.
"At first, I didn't know how to start all over with the children to learn alphabets and numbers. The people there were shocked to see an undergraduate joining them. They would size me up and ask me questions. I had no option. But the blind people were very happy people. They would dance jubilantly.
"I resolved that if these people could survive it, I would survive. I started adapting, though it wasn't easy. Everybody wanted to be my friend – the teachers, the people and visitors; I became the rallying point and everybody showed me love.
"They were all interested in teaching me that I didn't even have time to sleep. One would teach how to type and another would teach me mobility because I couldn't move from one spot to another then. It takes about three years to learn Braille but because I was determined, I learnt Braille and typing within six months. In fact, I even type faster than my teachers. I perfectly mastered the keyboard of the manual typewriter within a short period,"he informed.
On coping with stigmatisation
Dr. Nwanoro confessed that he had got a fair share of stigmatisation. "In Third World countries, there are people willing to show you love, but most Nigerians, out of ignorance and illiteracy, think sight is their making. They refused to understand that it could be anybody.
"On the flip side, there are people so compassionate, especially the women. They are ready to assist and sacrifice for physically challenged people, even to their own detriment. Sometimes, people want to pay my fare and would feel bad when I reject such assistance," he noted.
Speaking on the fate of disabled persons in the developed world and in the Third World, he thundered: "The gap is wide apart. The disabled are treated like kings with special provisions inside the buses, trains, banks and other places. The state and country provide for them and will never trample upon their rights.
"Most of my colleagues working in Nigeria face many difficult challenges that we don't experience in the US. They marginalise the disabled in the offices in Nigeria. The machine I use in the US is not even in Nigeria. We have so many benefits overseas.
"The cell phone I use now is a special customised iPhone. It is more than a phone to me because everything is encompassed in it. But how many blind persons in Nigeria can afford $1225, well over N300,000 to buy a phone?"
Unfulfilled ambition
In spite of his achievements, he regrets that he can no longer fulfil his childhood ambition of becoming a trader.
"As an Aba boy, I like trading. I had made up my mind that schooling was just to obtain a degree and that I would start a business at Ariaria market.
"That was my dream as an Aba boy, but the blindness became a turning point in my life because I had no option than to continue studying. I got my PhD. in less than 10 years, doing all my programmes full time.
"It has not been easy, especially in Nigeria where people see disability as a stigma, curse and failure. But my happiness is that many of us have been able to turn around the impression and let them know that it is no longer so, though it is difficult to wipe it out in their hearts.
"I emerged the best out of 193 countries in the Society of Foreign Consuls in the United States. The first runner-up was sighted; he's from Paris. It was an open forum but I know that if it is in Nigeria, people will doubt my capabilities to be given the appointment," he noted.
Having scaled many hurdles to climb to the top, Dr Chris has one ambition: to become the president of Nigeria.
"I know, God willing, I will be able to find myself in a bigger elective position one day. If I find myself as the President of Nigeria, it will not be a big deal to occupy the position. I know one day, I will be privileged to be the first blind President of Nigeria. I have no iota of doubt that it will happen," he said joyfully.
Difficulty finding a wife
Usually, a blind man might have some difficulty finding a wife. But such was not the case with Dr. Nwanoro. He informed the reporter that eight ladies fought the battle of their lives all in a bid to walk down the aisle with him.
He said: "Some people have challenges about a relationship, but I didn't. When I was about to marry, I had about eight ladies waiting for me. They were all too close to me; perhaps, they saw something in me. The only problem I encountered was who to marry among the eight ladies. It was so serious that I had to even seek the face of God through prayer and fasting."
"When I met my wife, she was so much comfortable for marriage with me. But at a point, her parent, brothers, sisters refused her marrying a blind man. They wondered why a beautiful lady should settle for me. They accused me of hypnotising her with juju and even attempted delivering her from the devilish juju.
"The pressure, sincerely, was so much on her but she stood her ground. I was not bothered while the drama lasted since I had many other options. The highpoint of it was when her uncle left Abuja to convince her against the marriage, warning her that she would die poor, marrying a blind man.
"She became so confused, especially when they told her to drag me to one church or spiritual home to restore my sight. Informing me of such decision almost cost her our marriage but for the intervention of my friends. Frankly, she is a very wonderful woman and we are now blessed with wonderful and beautiful children, all living with me in the US," he said.
Advice to people living with disability
As a man, who passed through hell and burning furnace to build himself into an international brand, his wealth of experience would certainly serve as a motivation to others in what many of them would regard as a hopeless situation.
"I want to encourage the physically challenged, especially the blind and those who will still join us in future, that blindness or disability is not the end of the world. They should be happy in every situation and not look at the problem but upon God who can turn around one's life".
Photo credit: Daily Sun