"Why a woman's worth is closely tied to motherhood" –  Funmi Iyanda Shares Inspiring Note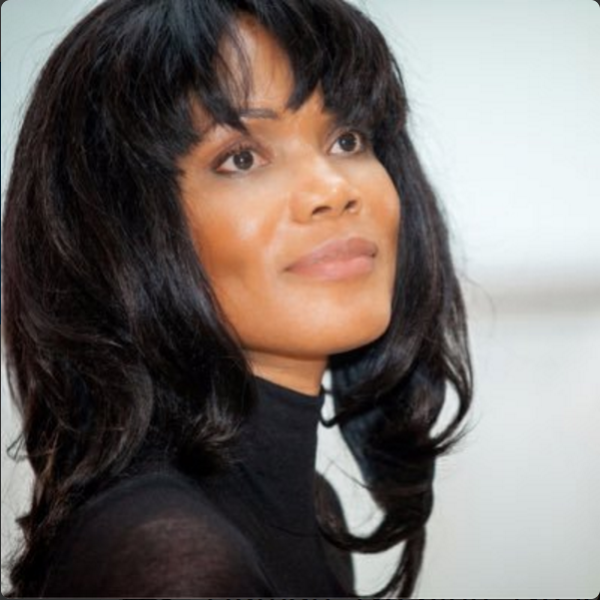 Ever since Beyonce shared the news about her pregnancy, she has been on the lips of many. Tons of celebrities and fans have applauded her for it and some have been inspired by her.
Well, media personality and mom of one Funmi Iyanda, is one who is obviously inspired by Queen Bee.
Iyanda, took to Instagram to share a very inspiring and educative note praising mothers by posting a photo of pregnant Beyonce, along side her mother and daughter Blue Ivy.
Read her words below: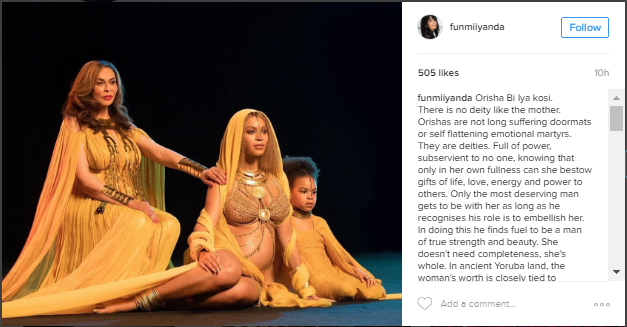 "Orisha Bi Iya kosi.

There is no deity like the mother. Orishas are not long suffering doormats or self flattening emotional martyrs. They are deities. Full of power, subservient to no one, knowing that only in her own fullness can she bestow gifts of life, love, energy and power to others.

Only the most deserving man gets to be with her as long as he recognises his role is to embellish her. In doing this he finds fuel to be a man of true strength and beauty. She doesn't need completeness, she's whole.

In ancient Yoruba land, the woman's worth is closely tied to motherhood but this is however not some simplistic, self congratulatory child birthing which lesser animal are capable of without fan fare.

It is the ability to give life, nurture, energy and love to others. An ability which is only acquired upon coming into one's full self and thus not exclusive of women who do not have or desire biological children.

It requires that the woman is able to pursue enterprise, knowledge and progress as well as ownership of resources in accordance to her gifts, desires and inclination.
READ ALSO: "Osun, Nefertiti, and Yemoja Pray Around My Head …" Beyonce's Uses African-Inspired Poem to Describe her Unborn Twins
Full power is not to be confused with possession of money or indeed wealth, although those will come. Any woman of full power is a giver of emotional, spiritual, medicinal, biological life and is thus a mother and therefore an orisha.

She is self replenishing with the support she is able to inspire from the constellation of humanity she stays connected to. She is not an isolated self sacrificed cloying emotional mouse trap for her children, biological or otherwise.

Her world is large. It is a nuanced, complex and beautiful understanding of womanhood and motherhood, more civilised, kinder and truer to a progressive human condition.

It is one l too wish l had understood or been taught earlier in life. #orisha#yoruba#grammys2017#beyoncé#motherhood#yorubamythology#nigeria"
Photo Credit: Instagram