Rewards Of Motherhood! See What This Nigerian Man Did For His Mum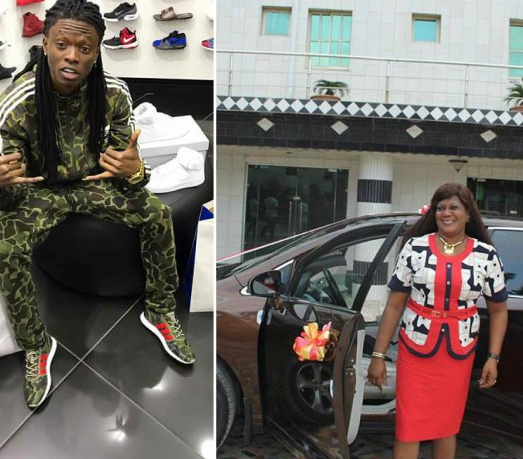 A mother's love knows no bound when it comes to her child, as it transcends forever through eternity. One grateful son rewards his mother's for the love and sacrifices he has enjoyed.
A Nigerian man, Dan Ladi, whose search for greener pastures made him sell his mum's car to travel abroad, has bought his mum a brand new car after his hustle paid off.
According to him, he may not be rich enough to buy his mum a Lamborghini , a Ferrari or a house on Beverly hills, but he just wants her to know that his gift came from his heart. Here is his story:
READ ALSO: Mother's Day Special: 6 Nigerian Kids Write About Their Mothers
"Some years ago i sold your car out of desperation and made away with the money in search for greener pastures, My Mother, Today I might not be rich enough, to buy you a Lambo , a ferrari or a house on beverly hills, but i want you to know something, that this little gift of mine comes from my heart.

It would never be worth the struggles you have gone through in life to Put up for me and my siblings, even when i put u through difficult and down times, you were always there to Forgive. I might not be the best of son you ever dreamed of, but i always want you to know that making you proud and happy would be forever be my hobby.
READ ALSO: 6 Compliments All Working Moms Love to Hear
I promise to always adore you like never before because without you, i for no de here today, God bless every mother in the world. i pray that we your children, are able someday to get the finances to be able to appreciate you all in many diverse ways.

some people got the means and finances to appreciate there mothers, but they don't have mothers, some people got mothers, but de don't have the means, So i am really thankful to God for his Grace to be able to do this for you in life, i pray that the good lord preserve all our beautiful mothers.
READ ALSO: 8 Things Only Mothers Of Boys Understand
Because without you all we are nothing. HASHTAG. MOTHER IS LIFE, MOTHER IS GOLDEN!                                               #FinestJewel#WomanWhoGaveBirthToABeast. #MyfireclessLioness #Mysweetness#MyAdorable #MySoftSpot #ThisIsJustTheBegining
#DanladiTheBoyWeyNoFitGiveUp????????."
Dan Ladi's Mom is reaping from all her motherly sacrifice. The pretty mother looked all excited in the photos.
Watch video below:
https://www.facebook.com/basxtadawurkz/videos/1582303038466747/
Mothers are a precious and priceless gift from God. The greatest joy of a mother is to see her child(ren) excel in life. God bless all mothers.