Girl, 7, Appears on British TV Show Scantily Dressed | Mother Comes Under Fire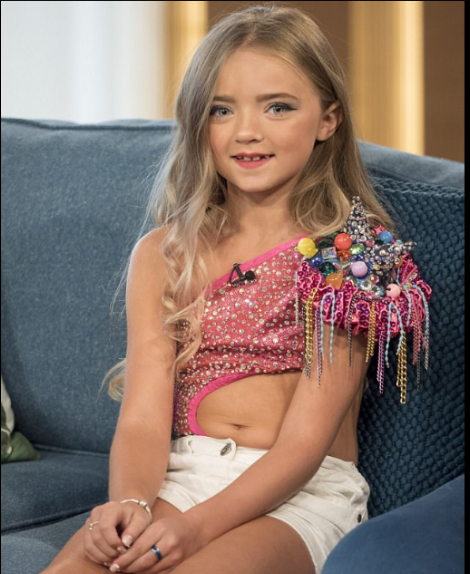 A single mother Jenna Eastland has been criticized by TV viewers after she appeared on This Morning TV show with her 7-year-old daughter Layla Thompson, who she said wants to be famous and is doing all she can to make her daughter's dreams come true.
According to the 31-year-old mum, she has spent thousands of pounds on Layla, her youngest daughter, who she allowed to appear on TV show in tiny shorts and crop top, with plenty make-up and fake tan.
She also believes her daughter is destined for a career in showbiz, Express Digest reports.
READ ALSO: Not For Kids! Kim Kardashian Responds to Backlash For Dressing up North Inappropriately
Many accused the mum of 'sexualising' her daughter especially after Jenna said she would happily let her daughter dress like that every day as she has no doubts that her daughter belongs on TV.
Family photographs capture Layla, who uses the stage name 'Layla Belle', posing in hair extensions, full make-up and midriff-baring costumes, but her mum insists there is nothing wrong with the way her daughter looks.
READ ALSO: "I started masturbating at 4 after seeing my mum repeatedly dressing up naked before me"- Nigerian Pastor Counsels on Pornography
Even the show presenter Ruth Langsford questioned the appropriateness of her sparkly pink outfit which was cut away to reveal her stomach but her mum said she would happily let her dress like it any time, any day.
READ ALSO: Gwyneth Paltrow Says she Fears Her Daughter is Dressing 'Too Sexy'
"How Layla's looking now, she's got lipstick, mascara and make-up on. This crop top, is it part of doing the dance, or would you let her dress like that everyday?" Ruth asked.

"I'd let her dress like that every day," Jenna gladly responded.

But Ruth probed further, asking: "Do you not think that what she is wearing is too adult?"

"I know she is very athletic, I think she looks beautiful," said Jenna.

"I've had comments like "oh you're a paedophile enabler". But if you're looking at my little girl in that way then I think there's something wrong with you, not Layla," she snapped.
Viewers took to social media to criticise Jenna's approach.
One wrote: 'I think it's wrong getting a 7 year old dressed like Katie Price.'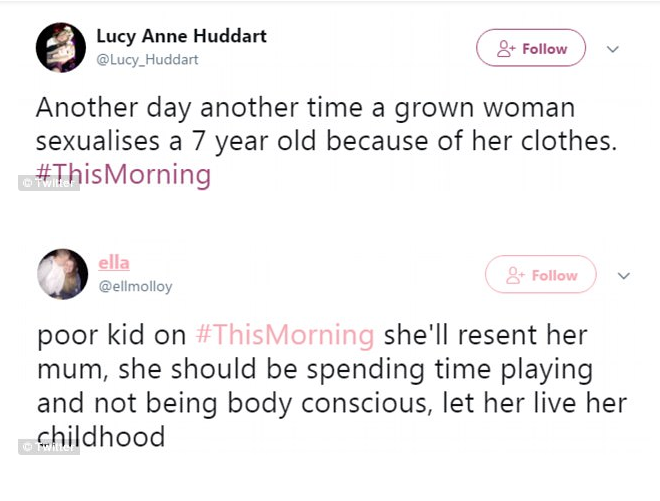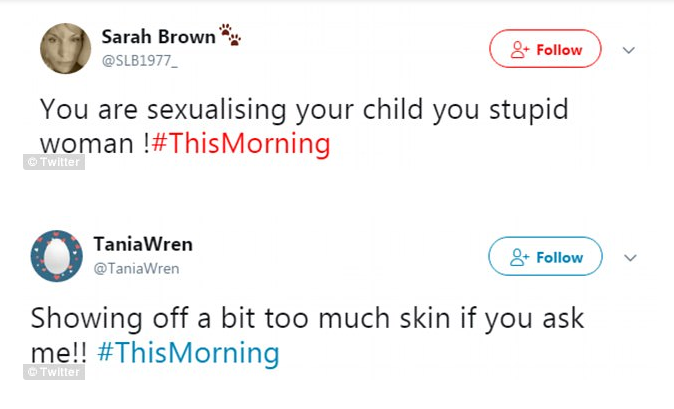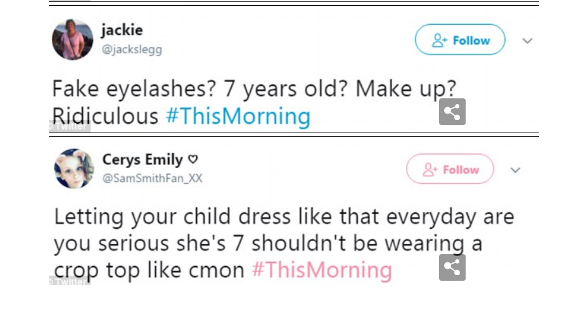 The fashionista, who is home schooled, regularly attends beauty pageants and dance competitions, often wearing spangly costumes that cost 'a fortune'.
Jenna said Layla 'has the mind set of an adult' and would rather experiment with beauty products than play with toys.
Picture credit: Ken McKay/Shutterstock