Buxom Actress, Anita Joseph Spills on Marriage Delay and Her Butt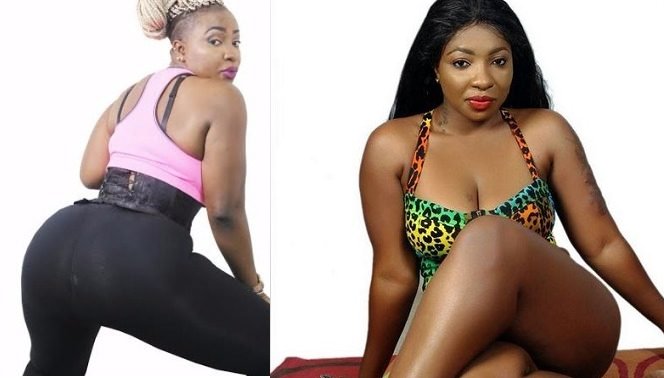 Anambra-born Nollywood actress, Anita Joseph said she is taking her time when it comes to marriage to avoid making same mistakes as some of her colleagues.
In a recent chat with Daily Sun, the controversial actress who talked about marriage, motherhood and her butts which men find irresistible, further disclosed that she's not scared of getting pregnant.
READ ALSO; Single Nollywood Actress Anita Joseph Is Discouraged About The High Rate Of Divorce
"Marriage comes when it comes. I'm not bothered about it. If my boyfriend shoots well and I get pregnant, then that's fine. Marriage crashes are everywhere but that doesn't really bother or worry me. In fact, it makes me stronger and challenged.

It reminds me that when I finally get married, I must remain in it because there are wolves out there waiting to devour the union," she said.
READ ALSO: Actress Anita Joseph Hints Being Pregnant With a Set of Twins… Shares Ultrasound Scan
Describing the kind of man she likes, Anita maintains that he must posses a charming sense of humour, along other qualities.
"My kind of man must be spirit filled. He must fear Jehovah God. There's nothing more attractive to me than a man that loves God. He must also make me laugh a lot; charming good sense of humour.
READ ALSO: "I'm Tired Of Buying Expensive Aso Ebi" – Anita Joseph on Trend of High Divorce Rate
My husband must be a power dresser, smells nice. I don't like loud men. I don't like a man that picks or blows their nose anyhow, especially in the public.

I love a man that I can fart in his presence and he will tell me 'well done princess'. He can fart in my presence too, no problem. I don't do cinemas; I prefer to stay indoors with my man.

After all, I have television at home; all I have to do is to buy popcorn and Fanta, then off the light and enjoy the moment with my man," she gushed.
READ ALSO: Nollywood Actress Anita Joseph Shares Her Domestic Violence Experience & How She Overcame It
Recalling her unforgettable moment as a celebrity, the diva who is known for flaunting her ample cleavage and sexiness, said:
"Hmmm… it was when some guys tapped my bum. I guess they found my butts irresistible. I can't forget that day. I wanted to remove my heels and pursue them, but the actress in me held me back. If not, they would have seen the other side of me."
Photo credit: Instagram