A 'High 5' From the Womb! Mum-To-Be, Libby Shares Amazing Ultrasound Photo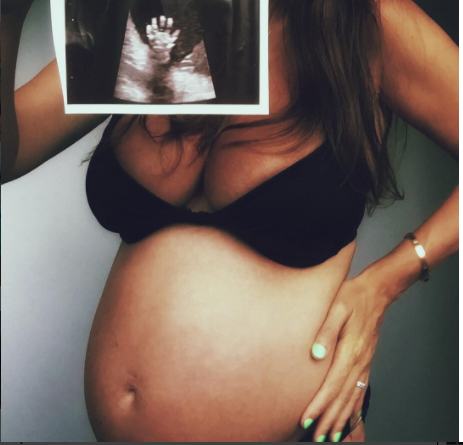 Libby and Mathew Vlasic were overjoyed to learn that their 6-year-old son Miles was to become a big brother after giving up hope of having another baby.
And at just nine weeks pregnant, the happy pair found out they were expecting a baby girl.
But it was at their 20-week ultrasound scan that the expectant parents got their biggest surprise when they saw their cheeky unborn baby gave her mum a high-five in an amazing image taken.
READ ALSO: Serena William Anxious About Motherhood: "I am about to be a real woman now"
"I'd pretty much given up hope of having a second baby, but life works in mysterious ways and I miraculously found myself pregnant again.

On the day of the scan, I wasn't physically feeling the best, so it took me a little while to realize what had happened. However, the scan technician was very excited about it at the time and now I realise how special it was," Libby said.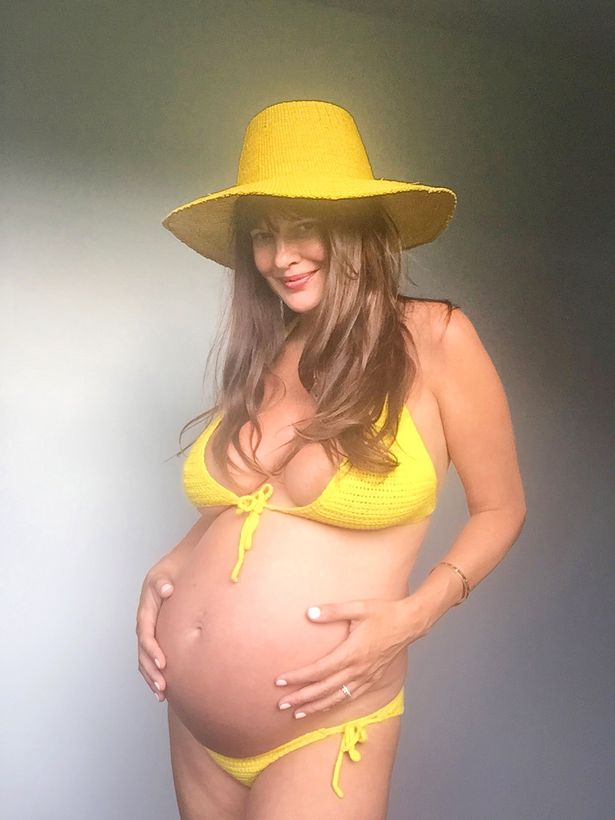 After the scan the couple shared a picture of the incredible moment on social media and it has since gone viral.
Libby, who is now 31 weeks pregnant, has shared on her pregnancy journey and the fears of having home birth as her due date approaches.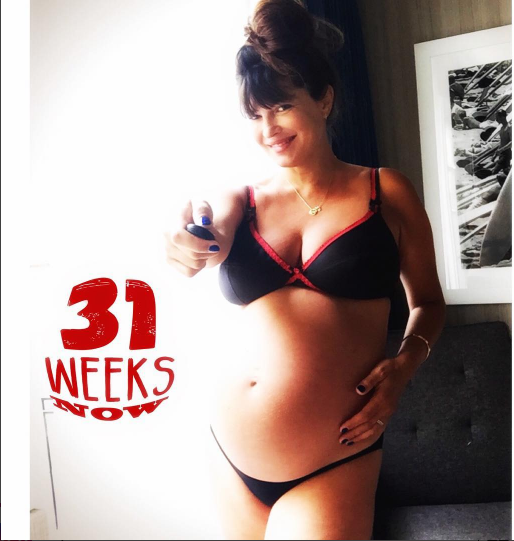 READ ALSO: 9 Healthy Activities To Kill Time as Your Due Date Approaches
"31 weeks today!! I'm feeling WAY better as far as my mood, which is great, and I've managed eight 5KM walks and yoga into my realm over the last 10 days… this sun, surf & sand in California are doing wonders!! ☀️☀️

But, I am becoming concerned about my birth plan that I don't have ????, with my ob-Gyn suggesting a planned c-section a week before my due date… for no particular reason just that she prefers it.. I know, I know, welcome to America.

Update – I just spoke to a midwife & she told me, due to my previous csection, I'd be at increased risk of a uterine rupture & if that happened the chances of my baby surviving with home birth are slim.
READ ALSO; SuperMUM who gave birth at home without epidural
Up till this convo, I had mixed feelings & was considering a home birth much to my husband's displeasure, but clearly this isn't an option anymore.

But, I'm still very worried about the mandatory injections that are required in NY hospitals like the hepatitis which contains aluminum, hydroxide & thimerosal mercury, & the vitamin k which on the package insert reads "WARNING – INTRAVENOUS USE Severe reactions, including fatalities, have occurred during and immediately after the parenteral administration of AquaMEPHYTON® (Phytonadione)."
READ ALSO;  Actress Uche Elendu Shares about her Struggle with Endometriosis as she Marks Daughter's 1st Birthday
This scares me so much as I know vitamin k drops are just as effective, without the dangers, and I don't see why I can't give these to my baby instead.

I mean how can this be right, I've done absolutely everything I can to have a pure pregnancy, then as soon as my baby is born to be forced to give her these shots??? Side note, a midwife just told me, by law across the river in New Jersey, a mother can opt for drops instead over the shot.

I'd also like to do delayed cord clamping and not wash the vernix from her body straight away – both offering many benefits and further protection to newborns. Alas, NYC hospitals don't really fly with this…… like I said I am really concerned, it is so hard.

However, I have an appointment with my ob-gyn in a few days, and I'm chatting with midwifes, so hopefully things start to become a little clearer, and I still have 9 weeks to figure out that birth plan????."
Photo credit: Instagram/ Fortitude Press