Dear Mimsters: My Marriage is an Ordeal and My Husband is Depressing. How Do I Win?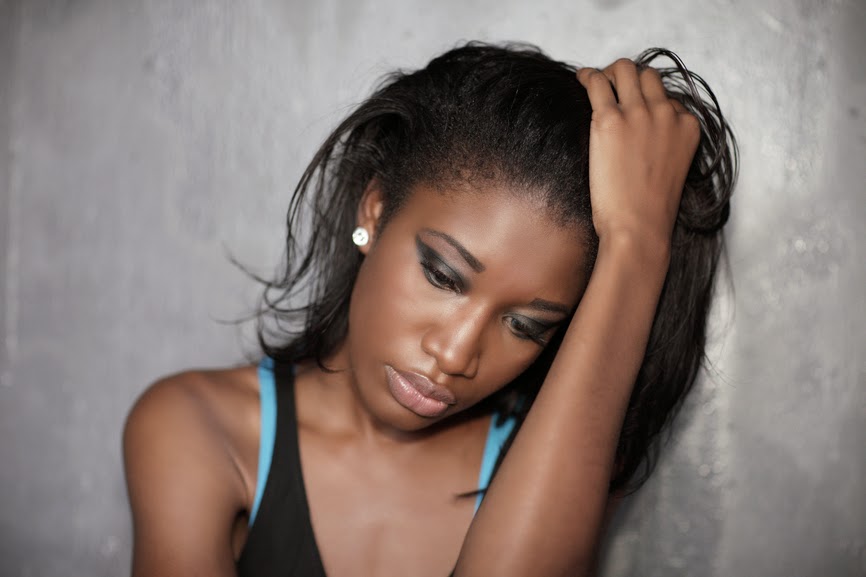 Hello everyone, my heart is heavy and full of pain, but I will try to summarize my ordeal.
My husband and I have been married for two years; we are blessed with one child, a girl. She is 11 months old. Ever since I got married, I can't say that I have been happy. We courted for one year before we got married, after our marriage he completely changed. He promised to give me some money to start a business, when I asked him for it, he said that he cannot give me the money anymore because people will laugh at him.
He made it a habit to insult me for every little thing, it became unbearable, and so I sought help from an old friend of mine who liked me. I told him I needed a job and he helped me get one. That still did not satisfy my husband, if I bought a pair of shoes for work, he would insult me still. I changed the window blinds in our parlour, bought kitchen materials, that still wasn't enough.
He kept on insulting me. I saved up some money overtime, my husband told me he was broke, out of love, I gave everything to him. He however degrades me at the slightest opportunity.
SEE ALSO:Dear MIMsters: How Do We Break Free From Our Abusive Relatives?
Now, the person that gave me the job started asking for my body, coupled with the fact that that was when I fell pregnant with my daughter. So my husband and I agreed that I should resign. My pregnancy was bad: I was always sick and vomiting, but my husband did not care. I could not even watch TV. When I held the remote that was when he wanted to watch TV.  He will beat me with my pregnancy. There was a time I was so weak, I had cooked stew & I pleaded with him to help me buy rice at the Junction. He refused, saying men don't buy rice, it's a woman's job, and he left the house. I stayed all day, seven months pregnant with no food.
His family doesn't like me, but when they see me, they pretend. I overhead his sister on one occasion, saying how much she hates me, that I am the reason their brother does not give them money. His mother told him to be strict with me. She always insults me, but I play the fool. I act like I don't hear.
Before I gave birth, his sister came to live with us. They both made me a laughing stock. When I was in pains, they will mock me saying I'm acting film. Anything his family tells him to do, he does. He started hiding things from me. He has never defended me, not even once. I gave birth to my daughter, and two weeks later, I was alone. I had to do everything all on my own, my husband never helped with anything, rather, he complains.
SEE ALSO: Dear MIMsters: I Know that I am Ugly But Hearing it From Him Hurts
His cousin came to our home for a project; I was surprised when he started telling his cousin all sorts of negative things about me. When it's just the two of us he claims he loves me, but when other people are around, especially his family, he starts being mean and provoking me. His cousin has been disrespecting me, but I always keep quiet. He started going out and coming back at midnight without saying anything. I called him and told him softly, when you are leaving at least say you are going out and try not to come back late.
The next day he sent me a rude message in capital letters "MADAM ANTY AM GOING OUT". I was angry, but I controlled myself.  He came back at midnight, I opened the door and greeted him but he snubbed me. I got so angry and sent my husband a message telling him I want his cousin out of our home.
When he came back I apologised and told him I sent the message in anger. He asked what happened; I told him his cousin disrespected me. He started shouting so loud that I am a trouble maker. He said his cousin will never do that. The other day I asked the cousin if he would eat, and I was smiling. He murmured "you are smiling with whom". I acted like I didn't hear him. Then he complained that every day, I always serve rice. I insisted again before he said yes.
SEE ALSO:Dear MIMsters: Will Silence Towards a Husband Like Mine Bring Lasting Peace in My Marriage?
I'm older than him with 4 years. I have never told my husband all these because he does not trust me. So, as we were arguing I said call him and ask, instead, he accused me of wanting to destroy his family.
Now, it's worse. I told my husband that he has never defended me before, but this is the height. If he cannot make his family respect me, just because he is scared of what they will say, it means I'm all alone
and it's scary.
He cares more about what people say than what I feel. He always talks down on me. I have never believed in divorce, but I keep asking myself if I really deserve this type of marriage. I'm that type of person who keeps everything to myself, people take me for granted, but I always prefer to play the fool. It has however begun to weigh me down. I was diagnosed with high blood pressure at 27 years. So, I have decided not to keep things in my mind anymore.
Please advise me, I'm going into depression. My God and my daughter are my strength now.