Couple Trying to Conceive: "The Doctor Cut My Wife's Intestine & Tied It With Ropes"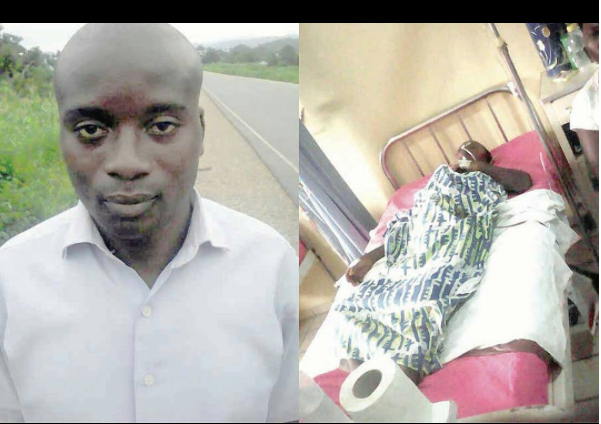 29-years old Veronica Isaac and her husband Isaac, pictured above, have been trying to conceive for 5 years, but their situation was worsened by a surgeon who allegedly cut her intestine.
Daily Sun learnt that Victoria who went to the hospital NIQUAD Clinics, at Orozo, Abuja with both her Ovarian and Fallopian tubes intact, has lost all after passing through the knife of Dr. Empson Nwarigon, the hospital's Chief Medical Director (CMD).
Long after the surgery, she has not been able to defecate as her small intestine was negligently cut and tied up with ropes or threads in several places, subjecting her to excruciating pains and discomfort.
Before the said operation was carried out on her, the scan result from Everyday Scan Services Limited, Karu, dated July 31, 2017, showed that both her left and right ovaries were intact including the Fallopian tube.
Mr. Isaac, led by his lawyer, Hameed Jimoh, narrated the ordeals of his wife in a 73-paragraphs affidavit he deposed to the Commissioner of oaths, FCT High Court, Abuja, pursuant to the requirements by the Medical and Dental Council of Nigeria (MDCN).
READ ALSO: Parents Narrate Horror of Losing Only Child, Blames Hospital | See Details
"We have been married since 2012 till this moment, but have been without an issue (child)," the distraught husband told Daily Sun.

"The Doctor carried out surgery on my wife and in the process negligently cut my wife's small intestine organ and tied it with ropes or threads in several places and since then, she can no longer defecate.

That around the end of July, 2017, in the quest for procuring solution to my wife non-conception, we visited a medical clinic known as 'NIQUAD Clinic, located at Kajaah Road, Orozo, FCT, Abuja.

We met the Chief Medical Doctor/Director of the hospital, Dr. Nwarigon. The CMD asked me to take my wife for scanning for diagnosis at Everyday Scan Services Limited, which I did on July 31, 2017.

That the scan result discovered that my wife has "Left Mucinous Ovarian Cyst" and it suggested 'HSG for further evaluation', but that the CMD asked my wife to undergo surgery in order to remove the 'Left Mucinous Ovarian Cyst.

That my wife and I were never informed by the CMD or signed any document about the implications of the surgery he was to carry out on her."
READ ALSO: #Justice4Chisom: Chisom Anekwe's Husband Speaks Out About Wife's Death During Childbirth at Magodo Specialist Hospital 
The embattled husband further narrated how the surgery was carried out on his wife on August 7, 2017, after paying the sun of N45, 000.
However, he lamented that after the surgery was carried out, his my wife could not defecate, even while on admission at the clinic and after she was discharged two days after the surgery.
He stated how the surgeon asked him to bring his wife to the clinic after complaining about the deteriorating health condition.
READ ALSO: Update on Chisom Anekwe's Death: Husband Counters Claims of Innocence Made by Magodo Specialist Hospital
"After taking my wife back to the clinic, the CMD gave me some drugs for my wife and asked me to continue to give her orange and banana.

"Some of the drugs I was given were Mako (R) Liquid Paraffin 200ml BP, BN32K7, Manufactured 4-16. Expd3-20. NAFDAC Rg No. 04-3288; Searchets of Nemel Cipro (R) Cipro Floxacin 500mg. NAFDAC no. B4-1405. Batch no. 01E.Mfg.05-2017.Exp.Date: 04-2022; tablet Dana-G; tablet Metroma x ; tablet Archy-P/500.

"However, on the evening of that Friday, August 11, 2017, immediately I gave my wife one of the prescribed drugs "Moko (R) Liquid Paraffin 200ml BP,  BN32K7, Manufactured 4-16. Expd3-20. NAFDAC Rg No. 04-3288, at home, she started breathing heavily and her body became weaker as she started gasping for breath.
READ ALSO: 8 Apps And Gadgets For Couples Trying To Conceive
"Then, I quickly called the CMD on his mobile phone and he told me to bring her to the clinic. I immediately took my wife to the clinic where she was given some injections and drips by the medical/ health staff of the CMD till the next day.

"Even after that, she still could not defecate, but I paid extra N3, 000.00 as charges for the treatment.

"When Dr. Warigon resumed work the next day, he asked me to take my wife for another scan and that she should continue taking her drugs.
READ ALSO: Trying To Conceive: 9 Practical Ways To Boost Your Fertility
"On Saturday, August 12, 2017, the CMD, however, had a change of mind and informed me that there was no need taking my wife for the scan, but that she should continue with her drugs and if the situation did not improve, he will refer us to another hospital.

"On Sunday, August 13, 2107, I took my wife to the clinic to collect a referral letter from the CMD, since her condition did not improve. We waited in vain for the CMD, as he did not show up at the clinic, but later got the referral letter from a medical staff of the clinic.

"All efforts to communicate with the CMD failed as he refused to pick my calls.

"The referral letter with reference no: NCO/12/18, dated August 12, 2017 and addressed to the Consultant Surgeon, Asokoro General Hospital, Wuse General Hospital and Maitama General Hospitals, meaning that the patient can go to any of the mentioned Hospitals.
READ ALSO: Help! I Sought Help From a Prophetess to Conceive, Now, My Baby Boy is Acting Weird
"I took my wife immediately to Asokoro General Hospital, but I was further referred to Maitama General Hospital because there was no bed space in Asokoro General Hospital.

"At the Maitama hospital, she was admitted on emergency. After an x-ray scan was carried out on her, I was informed by the hospital that a surgery will be conducted on my wife in order to urgently safe her life.

"During the surgery, I was invited into the theatre room to witness the errors committed on my wife by the surgery carried out on her by Dr. Nwarigon of NIQUAD Clinic.

"I was shocked to see by myself, apart from the doctor's confirmation, that my wife's small intestine organ, which I was shown directly in my wife's stomach, has been negligently severed by the NIQUAD Clinic's Chief Medical Doctor and was tied in different places with threads, which the doctors had to loosen in order to carry out a successful surgery.

The most surprising thing is that he never told us anything."
Read the full report Here.
Photo credit: Daily Sun