Full-Time Housewife Vs Career Woman: Celebrity Photographer, Kelechi Amadi-Obi Airs His Opinion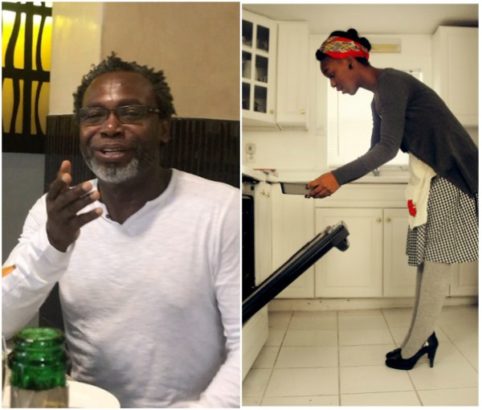 https://www.instagram.com/p/BaOVKHkHhFj/
Veteran Nigerian celebrity photographer Kelechi Amadi–Obi has shared his candid opinion on the trending issue of full-time Housewife versus career woman.
While on an outing with friends, Amadi-Obi admonished Nigerians to stop pitching career women against housewife, by saying the former is more successful than the later.
According to him, nation building starts from the home, and housewives are doing a great job at it. In addition, he said housewives need to be respected.
READ ALSO: Evangelist Olusola Adio on Why a Full-Time Housewife Is the Most Resourceful & Underrated Professional 
"Lets put some respect on housewives, they are nation builders!~@kelechiamadiobi (ace photographer) – I totally agree, some housewives raise kings while some clowns collect tithe and offering money, lend their husbands N1m out of it and then come and be preaching rubbish about it! ~FRZ – @mpraize #PhotoBomb #Tsogosun #breakfast #discussion.

When powerful minds sit to have breakfast together! – #FreeTheSheeple – #Fun #Bae #tsogosun #SSIkoyi @lol_yemsi @ekannyin @tsogosun – @tsogosun @mpraize @kelechiamadiobi @onyeeka @bodyalchemistng @insidewatchafrica_iwa @bellanaijaliving @iretidoyle – #Fun #Bae #tsogosun #SSIkoyi @lol_yemsi @ekannyin @tsogosun #Housewives," Daddy Freeze wrote alongside a video of the ace photographer.
READ ALSO: Popular Photographer Kelechi Amadi Obi & Wife Celebrate 15th Year of Marital Bliss
This comes after popular Pastor, Funke Adejumo publicly said full time housewife is full time suffering and that any woman who is a housewife and isn't able to lend her husband some sum of money is a 'colossal disgrace' (read here).
She also said a woman had to add more value to her husband other than sex and childbearing.
READ ALSO: Why Women Sacrifice Their Dreams for Marriage (Part One)
"If you are married and all you do is have sex, give birth to children and good good meals; I pity you because full time housewife is full time suffering.

So you better do something with your life because if the totality of your financial life is dependent on your husband, you are a colossal disgrace."
READ ALSO: "Why I Sacrificed My Career For My Family." Actress Opeyemi Aiyeola Opens Up As Son Turns 5
Here's the video below;
Dear Mimers, let's hear your opinion!
Photo credit: Instagram