Parents Beware! Nigerian Mom Recounts How Smart Nanny Saved Her Kids From Kidnap Attempt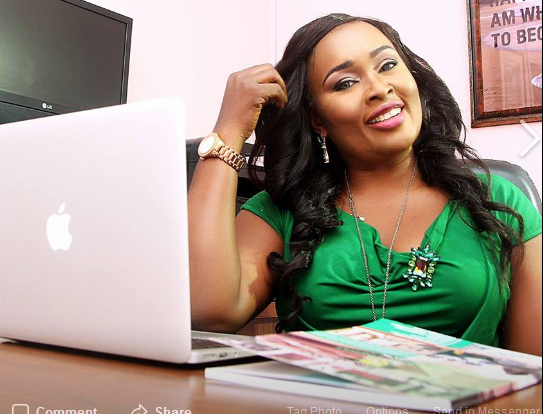 Majority of kids in Nigeria are on mid term break, and most times they have nothing to do but stay home in the care of a nanny while parents go about their daily activities. Some unwholesome elements try to take advantage of this opportunity to cause harm to these precious little ones.
We as parents/guardians have a responsibility to make sure our kids are being looked after by a responsible adult – responsible in every sense of the word. We also need to teach them to be security conscious.
Mom and interior decorator, Joy Ofili-Yebovo is thankful she taught her workers to be careful of strangers. A man took advantage of her absence at home to try to kidnap her kids by posing as a tailor but thankfully, his evil plans failed. All thanks to the actions of her smart househelp.
READ ALSO: STRANGER DANGER: 10 Things You Need to Teach Your Kids About Safety (Part 1)
Read her chilling account;
"This happened to me yesterday

Went out with my cook to get some food stuff so my maid was left with the kids at home they are on mid term break,at about 11:56 my maid called but i was unable to pick,on getting home she informed me that a guy came over to the house telling her that madam asked him to come and pick the kids for school uniform measurement.

Thank God that I have been training and telling all my workers of ways people use to gain entrance to steal,kidnap etc.my maid has been instructed not to ever open the gate to anyone even my friends if i dont call or asked them about their coming.
READ ALSO: STRANGER DANGER: 10 Things You Need to Teach Your Kids About Safety (Part 2)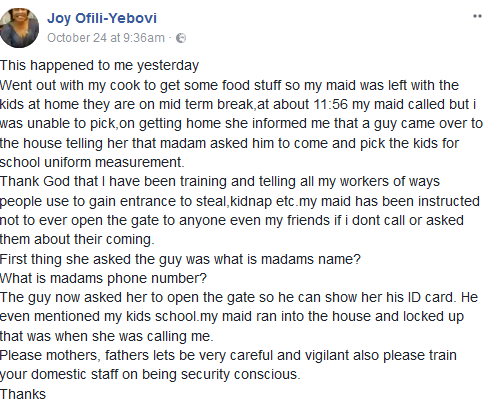 First thing she asked the guy was what is madams name?
What is madams phone number?
READ ALSO: A Mother's Warning About Kids Interaction with Strangers: "He tried to bribe them with money"
The guy now asked her to open the gate so he can show her his ID card. He even mentioned my kids school.my maid ran into the house and locked up that was when she was calling me.

Please mothers, fathers lets be very careful and vigilant also please train your domestic staff on being security conscious.
Thanks
We are glad no harm came to those kids. Please parents let's take heed!