"I cried and worried whether to keep you or not". Adaeze Yobo Reveal Details About Daughter, Lexine's Pregnancy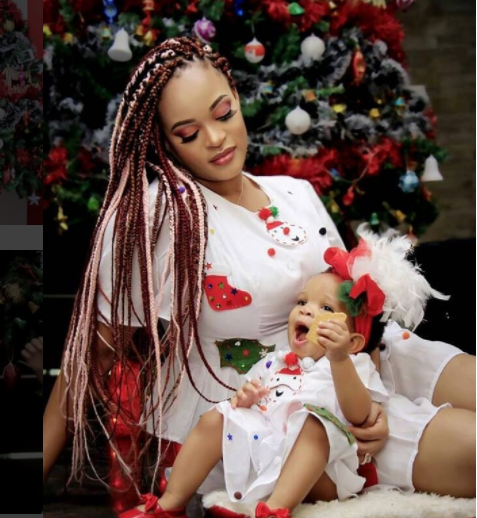 Chief Adaeze Yobo, wife of football star, Joseph Yobo, is celebrating her daughter, Lexine Yobo's birthday today, 13th of February.
To mark her daughter's first birthday, the adoring mother of two boys and a girl recounts what transpired during her pregnancy.
She writes…
READ ALSO: Adaeze Yobo Is Obsessed with Her Little Daughter… Do We Blame Her? [PHOTOS]
After a week she visited another hospital where she was told she wasn't carrying fibroid but a baby.
"#lookatmenow????
Ist scan showed it was Fibroid, 2nd scan (diff. hospital) showed it was Fibroid and pregnancy but an incomplete abortion (whatever that means) but that I had to flush you out, which I (thought) I did.

A week later, I still felt sick so I called the Doctor and I was scheduled to surgically complete removal of the remaining tissue.

On my way going, the holy spirit directed me to go to another hospital which I did and was told you were still inside and I had no Fibroid.

Instead of being happy, I cried and worried whether to keep you or not, worried if you will be normal after all the drugs and all. look at you now baby girl ????#lexineisonetoday????????#birthdaygirl."
READ ALSO: Adaeze Yobo Claps Back at Fan Who Called Her Lazy & Fat on Instagram
She also shared a photo with her husband and wrote,
"I remember saying if it comes out a baby boy, I'll just adopt a girl.#ToGodbetheGlory
#lexineison ????."
READ ALSO: Adaeze Yobo Talks Mum, Abigail Igwe's Messy Divorce From Ex, John Fashanu For the First Time
"… I remember calling and pulling all types of stunts for them to move the date for my C-sec from 13th to 14th so you can be a Valentine baby but to no avail."
READ ALSO: 'The fear of baby fat is the beginning of wisdom' – Heavily Pregnant Adaeze Yobo Says As She Hits The Gym
https://www.instagram.com/p/BfIFE10AnE0/?hl=en&taken-by=chiefadaezeyobo
https://www.instagram.com/p/BfIMlemBUFq/?hl=en&taken-by=chiefadaezeyobo
https://www.instagram.com/p/BfIHrDBgCq2/?hl=en&taken-by=chiefadaezeyobo
Photo credit: M12photography