Visually Impaired Woman Left Distraught After Hubby Moves Out of Their Home With Maid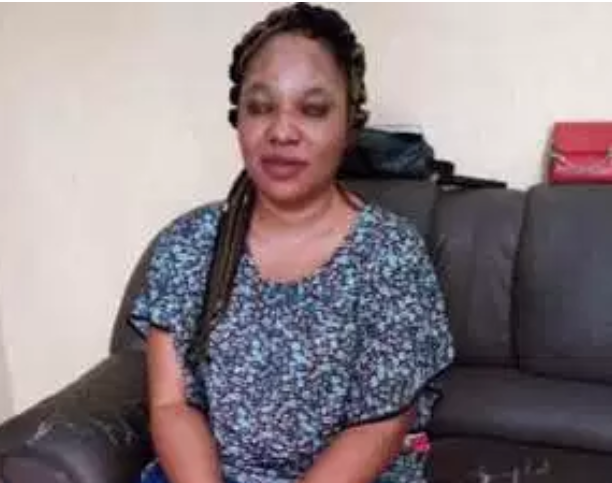 A visually impaired woman identified as Margret Uko Ekanem is currently distraught as her husband, Emeka Idika has left their matrimonial home in Port Harcourt with their housemaid and their only child and does not know their whereabouts.
The story was shared on Facebook by a man identified as Ifeanyi Calistus.
The woman, who is now left stranded with no source of income to pay her bills or rent of their home, is now crying out to kind hearted Nigerians to assist her.
Read what one Calistus shared about her story below…
READ ALSO: Be Hopeful! Blind Teacher Finally Finds Love in his 50s
"VISUALLY IMPAIRED MOTHER OF ONE CRY OUT FOR HELP.

Her name is Margret Uko Ekanem. She is totally blind. Age — 34. She has a National Diploma in Mass Communication. A native of Akwa Ibom State but resides in Port harcourt.

The whole Odessy started in 2009 while she was doing her one year internship with a media house in Poryharcourt.

Her path crossed with that of Emeka Idika — A media Practitioner himself. The relationship led to marriage which was formalised on the 19th of May 2012 in a court registry here in Portharcourt.

The Union was blessed with a bouncing baby girl —- Divine by name. Emeka Idika perceived the disability of his wife as a gold – mine to gain compassion and goodwill from members of the society. Soon Car and other material supports began to come in from people who were moved by the story of his blind wife.

It appeared that Emeka had no true love for his wife. He only wanted to used her handicap to achieve certain means.

He disrespected the wife and turned her into a punching bag. She abused and insulted her and even beat her up when she was nine months pregnant. Each time Margaret complained about Emeka's shameful and amorous escapades with other women, it earned her severe beating of her life.
READ ALSO: Woman Makes Chilling Discovery Including Finding Her Death Certificate In Hubby's Car
Emeka usually called her names and warned her never to complain as it was a favour he rendered by leaving behind other beautiful and complete women to marry a blind witch like her.

Last year, Emeka secretly packed out of the house with the house help. His present residence is not known to Margret. She was abandoned all alone in a sprawling three bedroom flat.

The rent of the house has already expired and the landlord had served her summon to vacate the apartment. She appealed to the landlord for time extension to enable her arrange for where to move in as she would be homeless if thrown out of the house now, but the landlord refused.

In fact, the Landlords desperation to throw her out of the house was clearly shown in the manner he cut off water supply to the flat and electricity. In few days from now, Margret will be homeless. She has nowhere to go as both Mum and Dad are late.
READ ALSO: Cobhams Asuquo & Wife Give Insight into The Early Days of Their Relationship
On the month of June 2017, Emeka conspired with the daughter's cab driver to take her away from the mother. It was a psychological blow on Margret as her daughter is her bundle of joy and consolation. She hasn't seen her daughter again. She reported the matter to FIDA but all her efforts were frustrated by the compromised system.

In her words " They were bunch of ' Scammists' who could be easily bought over by money". She lamented that there is so much compromise, ineptitude, mediocrity, and rot in the Justice system of this country. She said she was sorry to say it but that's facts.

Margret is therefore appealing to DPA and any one that hear her story to help her secure the custody of her only child and to save her from a life of dependency by giving her a Job or something that can enable her attain financial independence in order to help her take good care of her daughter.
Ifeanyi Calistus."
READ ALSO: 'When I was about to marry, 8 women wanted me' Blind PhD Holder Tells His Inspiring Story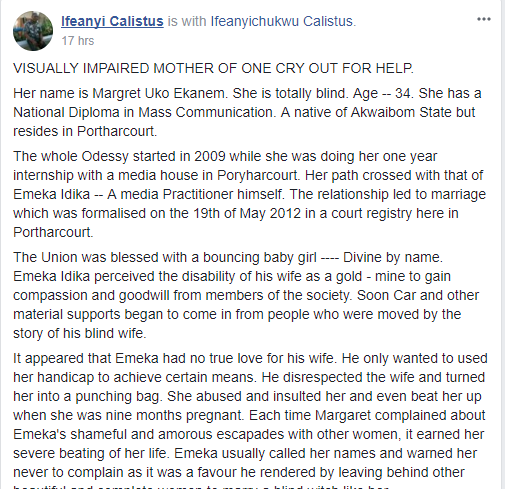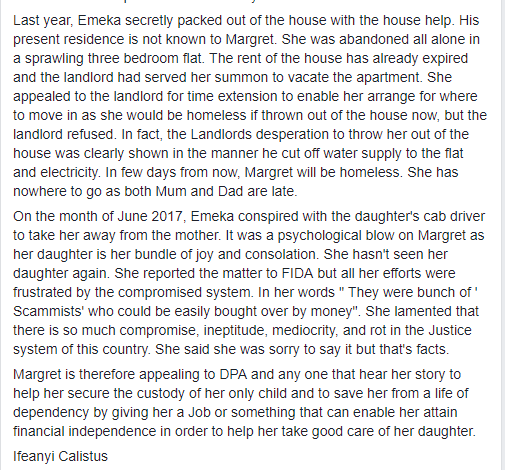 Photo credit: Facebook