The Royal Wedding Invitation is Here! A Glimpse of Prince Harry & Meghan Markle's Official Wedding Card
The official invitations to the royal wedding of Prince Harry and Meghan Markle have been issued, two months before they are scheduled to tie the knot!
According to Kensington Palace, who made the announcement on Thursday, the invites "have been issued in the name of His Royal Highness, The Prince of Wales" and also shared a photo of several of them.
About 600 people have been invited to their wedding ceremony, which will take place at St George's Chapel at Windsor Castle—a venue that had already been announced, and to a lunchtime reception at St George's Hall, hosted by Harry's grandmother, Queen Elizabeth II.
In addition, around 200 guests have been invited to a private reception at Frogmore House, hosted by the Prince of Wales.
The invitation features The Three Feather Badge of The Prince of Wales on top and black text. The guests' names were added later by a calligraphy printer.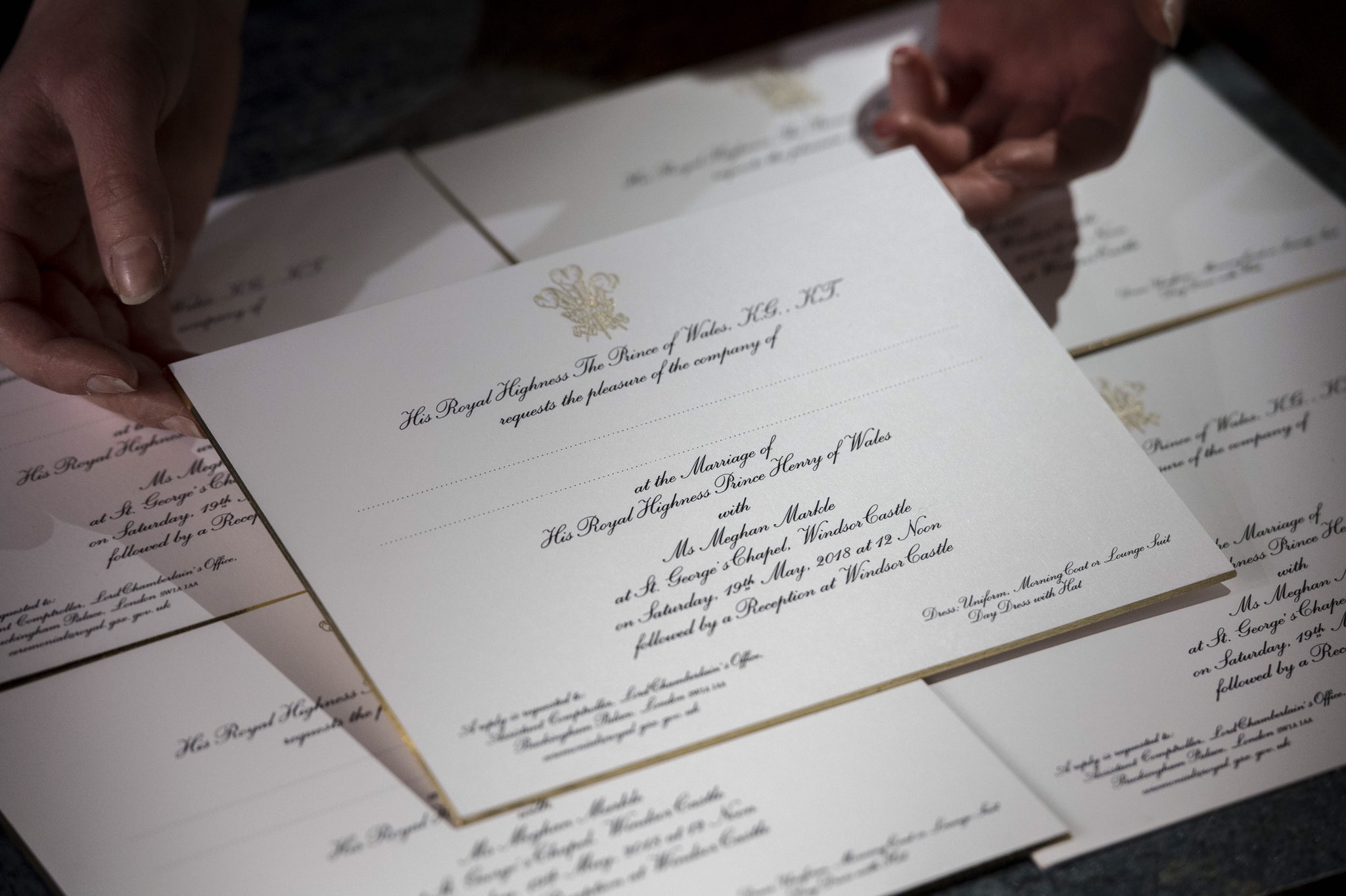 READ ALSO: "He proposed on one knee"- Prince Harry & Meghan Markle in First Interview Together (WATCH)
The wedding invitation states,
"His Royal Highness the Prince of Wales…requests the pleasure of the company of ______ at the marriage of his royal highness Prince Henry of Wales with Ms. Meghan Markle at St George's Chapel, Windsor Castle on Saturday, 19th May 2018 at 12 noon followed by a reception at Windsor Castle," the invitation states.

Dress: Uniform. Morning coat or lounge suit, day dress with hat."
Barnard & Westwood, a printing company that has worked with the royal family since 1985, who produced the invitations, said;
READ ALSO: Revealed! Why Princess Diana Feared Losing William and Harry to the Royal 'Establishment' Amid Split from Prince Charles
"The wedding of Prince Harry and Ms. Meghan Markle will be a truly special occasion and we are thrilled to be able to create equally special invitations for their guests, said Barnard & Westwood Managing Director Austen Kopley.

We are incredibly honored to continue our longstanding work for The Royal Family, and to be involved in such an important moment for the couple and their family and friends."
Counting down to the royal wedding!