Famous Yoruba Actor, Mr. Latin, Tells us Why He Won't Be Taking a Second Wife Like His Colleagues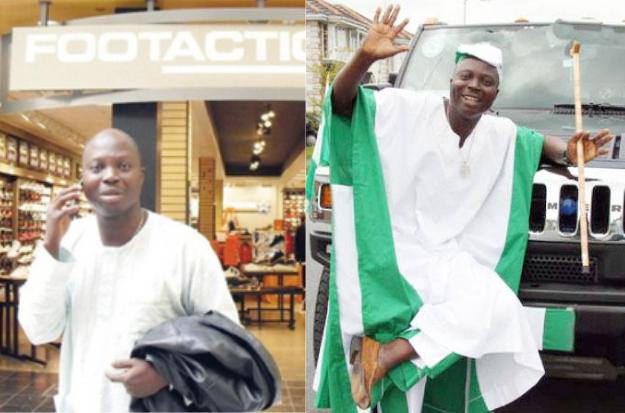 Veteran Nollywood actor, Bolaji Amusan popularly known as Mr. Latin, in a chat with PUNCH shares with us his 30-year career, marriage, background, and other issues.
During the recent chat, the comic actor and father to two children revealed why he will never marry another wife, like some of his colleagues.
According to the loyal hubby, his beautiful wife is his mother, sister, friend and confidant. She is a very loyal and trustworthy person.
Excerpts below…
READ ALSO: Veteran Musician, Sir Shina Peters Blames Fame For Making Him a Polygamist
Your wife and children live in Ireland. How do you cope with their absence?
There's no big deal about that. We speak about ten times every day. They come home regularly and I visit them a lot too. We plan together and we keep each other updated on our activities.
Have you ever been tempted to marry a second wife?
I can never marry another wife. My wife is my mother, sister, friend and confidant. She is a very loyal and trustworthy person. I don't have any reason to marry another wife.
You once stopped your child from acting because he was in school. Are you prepared to let him get into the industry now?
My son is 18-year-old now and he already knows what he wants to do with his life. I speak with him as a friend now and we relate well. I will support him in whatever he does. When I stopped him, he was much younger and naïve and I didn't want stardom to destroy his life.
READ ALSO: 'I don't pray that my enemy should practice polygamy' Jide Kosoko Advises Young Ones Against Marrying Many Wives
What can you recall of your childhood?
I come from a very poor background. We used to feed from hand to mouth but we were disciplined. While staying with my uncle, he taught me the importance of hard work.
If I didn't do well in my studies, he would flog me. However, whenever I came first in my class, he would take me to the then Bata stores and ask me to choose any shoe I wanted.
He also mandated me to always watch the news because he used to ask me questions on current affairs. As a result of that, I keep abreast of the news every day. I read the newspapers and watch the news on TV without fail.
READ ALSO: "We live together happily"- Hon. Abdullateef Abdulhakeem Talks About Polygamy & Family Harmony
Which schools did you attend?
For my elementary education, I went to Army Children Primary School, Abeokuta, Ogun State. I attended Gbogan Community High School, Gbogan, Osun State. I have also done some courses over the years. Right now, I am studying Peace and Conflict Resolution Studies at NOUN.
How did you feel when you couldn't continue your education after post-elementary school?
I felt bad because I knew that if there was money, I would have continued my education. I remember that my parents called my elder brother and me and they told us that they could only afford to sponsor one child to school. Since my brother was more intelligent than me, I decided to let him take the slot.
How often do you make time for your family?
I wake my children up every day. I have five different alarms on my phone. I also call my wife before she goes to work, while she's at work, and when she gets back home. Sometimes, I'm even the one that reminds her to pick the kids from school. That has made us very close.
This is your 30th year in the movie industry. What are the major lessons you have learnt?
I have learnt a lot of lessons in the past 30 years. When I started my career 30 years ago, the industry wasn't like this. In those days, we used to struggle to be known and our parents were not in support of what we were doing.
People wanted their children to be doctors, lawyers and other professionals. But things improved gradually and we thank God that we now have modern cameras with which we shoot movies. The industry is more exposed and there have been a lot of improvements.
You always give advice and admonitions in your movies. Is that a function of your upbringing?
My dad was uneducated but he had native wisdom. It was in our house that all conflicts in the neighbourhood were resolved.
My father never heaped blame on anybody; rather, he dissected issues analytically and the person who was wrong would know after he had finished talking.
A lot of people respected his judgment because of this. At a point, I also stayed with an uncle who was an army officer. He was a disciplinarian and he taught me a lot of things.
Later in my career, I learnt that the essence of comedy is to make people laugh and also teach them lessons.