Kemi Olunloyo Replies Linda Ikeji: Insists She is Wearing a Moon Bump | Shares More Details
Kemi Olunloyo has replied celebrity blogger, Linda Ikeji after she shared evidence of her pregnancy on social media recently.
A few days ago, while a lot of people were elated for Linda Ikeji following the news of her pregnancy on social media, Kemi Olunloyo, 53, reacted by stating that the pregnancy was fake and just a publicity stunt.
Linda reacted by sharing photos of her bare baby bump while addressing some other issues to quench the claims. But it appears that Ms Kemi is not backing down.
The controversial media personality and journalist insisted that Linda is not pregnant and that the baby bump she flaunted while not putting on any top is fake.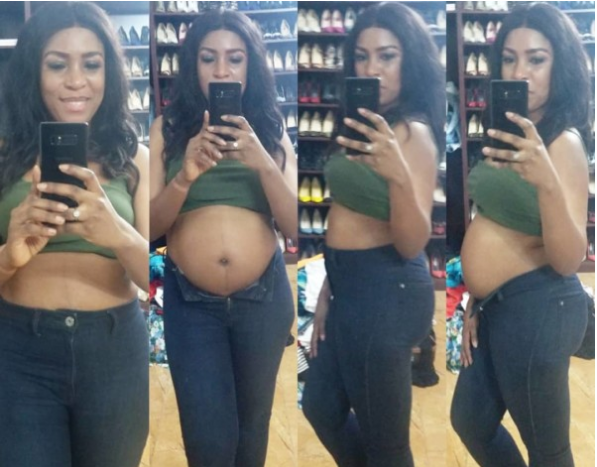 According to her, such baby bump is called moon bump. In a video she shared (see below), she spoke of how she has details of the receipt of the moon bump Linda purchased and that she's getting her information from a certain Mary Ann, a friend to Laura (Ikeji).
Kemi Olunloyo, a single mom-of-2 wrote:
"#lindaisnotpregnant @officiallindaikeji What's my business? I'm an entertainment reporter of 10 years out of my 24yrs in journalism. Public figures have no private lives. You blogged gossip about people & that got you on CNN, @hnnamanda even did a post congratulating you. PLS don't do back and forth with me darling. I specifically closed this topic last nite. Had to open a can of worms.

LINDA STOP!!????
????Stop parading your fake bump on SM. ???? Tell your fans the truth and educate them. This is the only thing I despise about you. You don't educate them, share knowledge and teach blogging. Like you said to #Charlyboy you want to "have it all" TO YOURSELF abi?

Stop gifting an unborn baby a Bentley. Be discreet with certain things. Most of ur fans have not eaten today. My fans fed me today, I went to the supermarket on Facebook @hnnafrica.

I have no money, suffering from a mental illness called #PTSD caused by my wrongful abduction, attempted assassination and imprisonment just for doing my work. On top of that my passport which is directly tied to my job still seized by a federal judge who has not dropped the case on his side because someone "wants to confess." ????

Linda honey you are a STAR!!⭐ and that's why I promote you, announced your 100k donation to my travel legal fund, called Larry page to drop a volcano on Google Nigeria to reinstate your blog at midnight and even talked to producers at CNN secretly to profile you.

I want more #HNNWomenNG???????????????? to conquer out there. Pathetic lying is a mental disease. You can buy anything today EXCEPT integrity. Sadly most of your fans are illiterates. Many are on my page today laying curses. I won't curse them back. I'm a daughter of Sango the God of Thunder. Our third Alaafin of Oyo. Struck by lightning twice and I'm still alive, when you lay a curse on me, it goes directly to the one you are fighting for.

Linda remember #AngelaOkorie who said I will die soon? Look what Sango did to her. She was almost killed on her birthday by armed robbers. Call your fans to order. ????This mental disorder I'm battling does something unusual to me. It makes me spill too much truth. I need to get away from Nigeria soon. God Bless????."
READ ALSO: Why Being A Mum is Linda Ikeji's Greatest Dream: Blogger Reveals In Lengthy Post
"The Closing Chapter. #lindaisnotpregnant
@officiallindaikeji don't do a baby bump shoot. God forbid. Nobody sane should flaunt their REAL pregnant belly online. I saw you in Lagos 12 days ago & you weren't pregnant. Dahlin, just tell people you love kids and will adopt or do a surrogacy.

Do not purchase a baby like Caroline Rhodes who lied to Punch newspapers that she and her estranged husband, Lanre had twins when she actually purchased the girls from your side in the South East then went to London, UK to hibernate for 9 months.

I met a lot of baby belle cases at #PHMax. Linda don't join these bandwagon of women liars in Lagos. I'm am investigative journalist and know them all. You are not private, your mansion interior and exterior is on the internet, we know your cars, your office and people close to you especially employees are baffled.

They also talk to media secretly. I'm a mother of three. You CANNOT SUCK in a baby bump. I'm sorry I was told that you allegedly can't have kids. It was the same with Beyonce the 1ST time but she claimed she wore the bump because she wanted to look preggo early.

#BlueIvy was carried by her surrogate aunt who wore her boubou kaftans for 9 months but at last Beyonce responded to Pergonal and Clomid and conceived two, carrying them almost to term. I applauded her and that's how I will celebrate you too when you actually carry a real baby.

#prostheticbabybump comes in different skin tones. Stop fooling your fans. They are already brainwashed and so fake. They couldn't even vote for you for the#MTVMAMAS then I warned you about role modeling.

I only mentor people. Role models fall from grace. God should be your role model. You let down a lot of young girls. You haven't taught them how to blog. You haven't shared your secrets of blogging with them. You must carry them along Linda. I have had three FREE blogging seminars in 6 years in Naija. In America we even have a #takeyourchildtoworkday.

I used to take my kids to the pharmacy and they served customers while #kayjeezy went to the radio and TV stations with me. Share that knowledge and go back to preach abstinence and protection from STD. I'm battling #PTSD now. Good luck ???? KOO."
READ ALSO: "Nah, I want it all" – Linda Ikeji Rejects Charly Boy's Congratulatory Message Over Her Pregnancy
https://www.instagram.com/p/BjHzDGqHt0N/?taken-by=hnnafrica
https://www.instagram.com/p/BjGHNjsnhcZ/?taken-by=hnnafrica