Mercy Aigbe Reveals How a Prediction By Her Friend That She Would Become A Landlady This Year Came True
https://www.instagram.com/p/BkNUqKiFrr-/?hl=en&taken-by=realmercyaigbe
Actress and single mother of two, Mercy Aigbe, is now a proud landlady as she just acquired a property in in Lagos.
The stylish mother, who left her husband Lanre Gentry over allegations of domestic abuse last year, excitedly shared photos of the house with her fans as she penned down a beautiful note.
"Throwback to my birthday…. my beautiful sis @ceolumineeofficial gave me this cake as a birthday gift and this conversation ensued between us….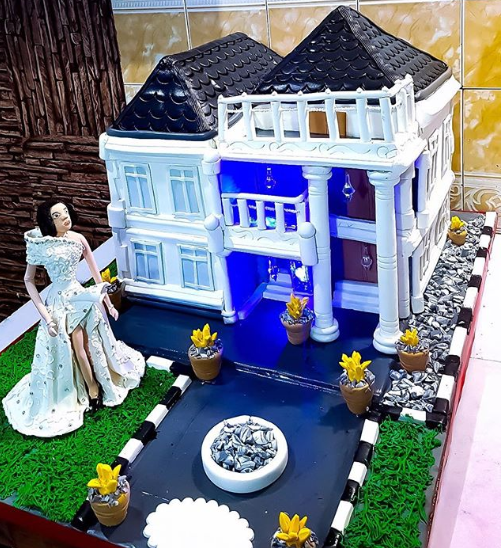 READ ALSO: "As you build with a man don't forget to build yourself" Dumped Mum-of-2 Shares Her Story to Inspire Women
Luminee – before the year runs out you will buy your own house…..
Me: Luminee pls leave me oh! The one I have been building since I haven't finished!
Luminee : Aunty mi, I am not talking about the one you are building, I am talking of the one you will buy in a beautiful choice area in lagos!
Me: Ha! Where will I get plenty plenty millions of naira to buy that one!
Luminee- Aunty mi don't worry God will bless and empower you
Me: Amen oh!!!!…. And I laughed!
Little did I know that the lord uses the foolish things of this world to confirm the wise! ….and out of Luminee's mouth, the lord gave me a testimony …….
It's the Lord's doing and it's beautiful in my sight!
Few months after that cake gift, I bought a beautiful home for myself and my kids in a choice area in Lagos!!!!!!!!
Say hello to the new LANDLADY…..

When I say Grace found me, I mean the amazing grace of the Lord found me…….
This is just the beginning……..
Latest LANDLADY in town, to God be the glory!!
#leadinglady."
READ ALSO: "….I went through HELL!" Mercy Aigbe's Shout Out to Single Mums Is Telling and Inspiring
Checkout the mansion below:
Congratulations to her!