Apt: American TV Host & Mom-Of-1, Wendy Williams Talks About The Advice She Never Took That Made Her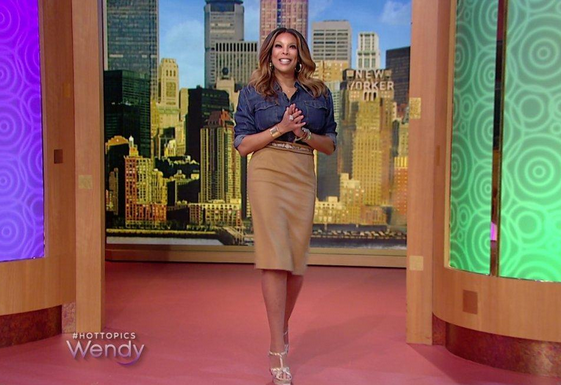 Don't we all have people who assume the position of 'god' in our lives, and try to dictate how best we should live and probably, what & how they think we would end up?
These kind of people would always want to impress their own modus operandi on others; most especially their subordinates and would want to keep them down for as long as they can get away with it.
It's also said that hurting people hurt people.
"Change who you are, because you're going to be a dinosaur"… Those were the words 54-year-old TV personality, Wendy Joan Williams Hunter recalls hearing from a former boss, which she considers the worst and the most hurtful advice that she's ever been given in her life.
The sassy talk show host 'Wendy Williams' sat down with ABC News' chief business, technology and economics correspondent, Rebecca Jarvis and shared the worst advice she never took, saying it happened during her early radio days when she moved to a new city for a new job.
Williams said she was wrapping up her first week of work when she was called into her boss's office.
"She says 'Close the door, you know, we love you and you had great numbers in New York and that's why we brought you here but… what you did there, you can't do that here,'" Williams recounted.

"Change who you are, because you're going to be a dinosaur. She reduced me to tears in her office."
READ ALSO: TV Personality & Mom-Of-1, Wendy Williams Opens Up On Her Struggles About Her Son's Drug Battles & Hubby's Infidelity
Williams said that her boss was referring to her (Williams') bold radio personality where she was simply being her authentic self.
"I'm thinking, 'Do what?…I can only be me.'"
Although initially upset by the "advice," Williams said it compelled her to prove that she could be successful by being herself.
"I just put it in my head. 'I'll show her, I'll show her,'" she said.
READ ALSO: Wendy Williams Opens Up About Battling Graves' Disease As Well As Going Through Menopause
And show her she did!
Williams didn't change and it paid off. Not only was she eventually inducted into the National Radio Hall of Fame, she also turned her radio job and big personality into a successful television career.
Williams made a name for herself on New York and Philadelphia radio, paving the way for TV stardom where she launched her show some years back.
"The Wendy Williams Show," began in 2008; and has crossed the 1,500th episode mark in 2017, it is about to launch its 10th season.
"I can't change my skin, I won't change my voice, I can't change my confidence," she said. "All I can do is pray that you put up with me long enough that you actually begin to get it. You know?"