21-Year-Old Mother Of One, Kylie Jenner Ties With Jay-Z To Become 5th Wealthiest American Celebrity Of 2018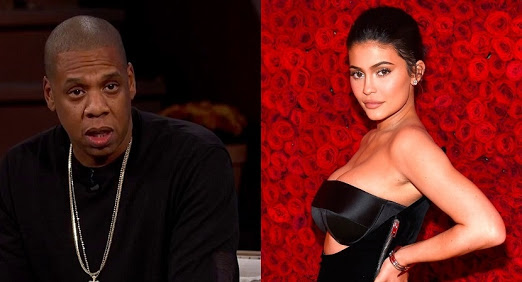 There is one extremely notable newcomer to the  FORBES 10 wealthiest celebrities list this year and it is 21-year old Kylie Jenner  .
The young mother of one earned her $900 million net worth from her cosmetics company that she owns 100 percent of, as well as supplemental earnings from social media, which puts a whopping  $1 million in her pocket with each Instagram post.
READ ALSO: American Reality Television Personality, Kylie Jenner Tells The Truth About Her Family Curse And How It Affects Her Relationship With Her Baby Daddy, Travis Scott
Kylie is the half sister of the business savvy Kardashian sisters and is doing just as expected, since the matriach of the Kardashian-Jenner family, who happens to be her mum starts them off early with an acute sense for business and money-making opportunities.
READ ALSO: Kylie Jenner on Becoming a Mom at 20
Kylie's debut on the list at fifth spot puts her in a tie with rap artist and mogul Jay-Z whose endorsements with Armand de Brignac champagne and D'Ussé cognac, along with his Roc Nation and Tidal stakes, growing his net worth to over $900 million USD this past year alone.
READ ALSO: Trouble With Kylie Jenner as Ex, Tyga, Demands Paternity Test for Newborn Baby 
The number one spot on the list this year went to George Lucas, the creator of movie series Star Wars, with a net worth listed at $5.4 billion. The second place spot goes to Steven Spielberg, who is valued at $3.7 billion, while Oprah Winfrey landed in third with $2.8 billion.
Michael Jordan's net worth of $1.7 billion placed him in fourth place, David Copperfield's $875 million landed him in seventh, Diddy's $825 million saw him take the eighth spot.
Tiger Woods and James Patterson tied for the ninth spot with a net worth of $800 million.