5 Nigerian Celebrity Parents Who Have Twins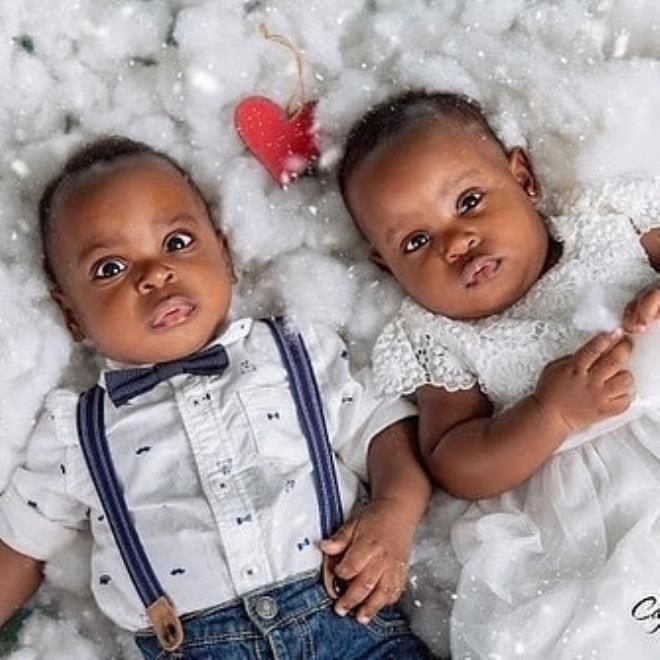 Nearly every Nigerian fancies to have twin children. You can then imagine our dismay learning that once upon a time in the south-south region of Nigeria, it took a Scottish woman, Mary Slessor to stop the killing of twins among the Efik people in Calabar in the 19th century.
Almost everyone wants twins but not everyone will get them, below are some of your favourite Nigerian celebrities who are lucky to be parents to twins.
READ ALSO: Toolz,s Husband, Tunde Demuren, Speaks On His Journey To Fatherhood
1. Teju Babyface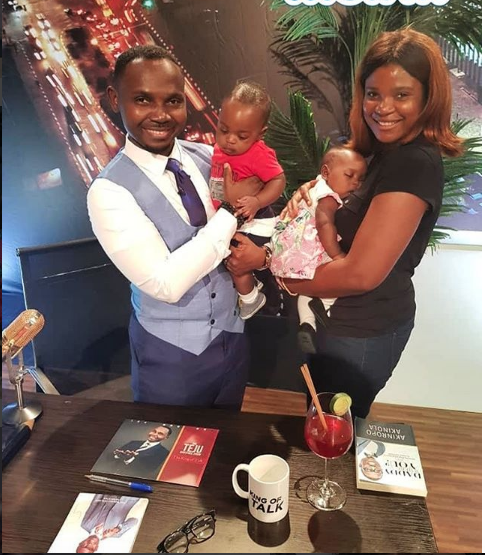 Nigerian talk show host and ace comedian Olateju Oyelakin and his wife, Oluwatobiloba Oyelakin are one of our favourite celebrity parents who have twins.
The couple got married in 2012 but having a child did not come as easily as they thought it would. They were finally blessed with their bundles, six long years into their marriage in 2018.
The couple have made no lie of the amount of strength and forbearance their journey to parenthood held.
Teju has been a particularly hands-on-dad. Very grateful for his new fatherhood role; he readily talks about what it feels like during "the wait" and the joys of parenthood afterwards.
Their little ones came all cute, a boy and a girl.
2. TY Bello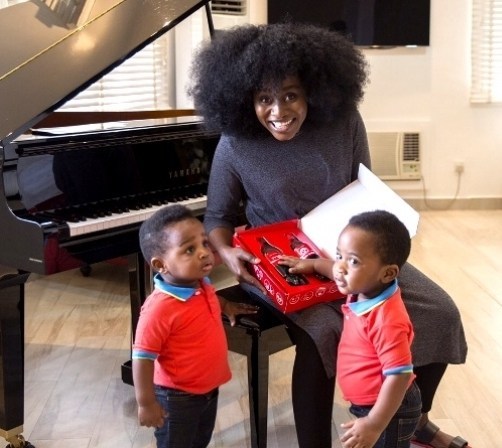 Celebrity photographer and sweetheart Toyin Sokefun-Bello fondly known as TY Bello is our next celebrity with whom we are happy to share her beautiful but hard story to motherhood.
Struggling with Endometriosis while coping with pressure from friends and family to get pregnant, she welcomed miraculously her twin boys in October 2014, 9 years into her marriage.
The journey she admits was grueling and she nearly gave up hope of it ever ending the way it finally did.
In an interview with Genevieve Magazine, she said;
"At first we didn't know I was carrying twins.

When I was going for my test, I didn't feel pregnant.

Before I went, I heard in my spirit, 'Wear something nice'.

I questioned the voice and wondered if it was nice to

dress so nicely and get disappointed, setting myself for a heartbreak.

In the end, I obeyed. I decided in my mind that whether I was pregnant

or not, I was not going to stop believing.
It ended well and the talented TY's twin sons are almost 5-year-olds already!
READ ALSO: Teju Babyface Recounts How His Wife Withstood The Pressure of Childlessness for 6 Years
3. Mikel Obi
Next on our list is Nigerian Super Eagles Captain, John Mikel Obi. This dad makes fatherhood look like an exciting adventure.
Mikel is dad to twin girls, Ava and Mia. He and his Russian partner and mother of his twins, Olga Allegro are definitely in on wholesome family values and it shows.
The couple dote on their adorable daughters and share really awesome family photos on social media that will make you yearn for a family of your own; or at least yearn for twin girls if you already have your own family.
READ ALSO: Actress, Funke Akindele-Bello, And Her Hubby, JJC Skillz, Confirm Arrival Of Their Twin Boys With New Photo
4. Funke Akindele
Everybody's favourite girl, actress and comic character , Funke Akindele, aka "Jenifa" and her music Producer husband, Abdurasheed Bello welcomed twin sons in December 2018.
The actress's first marriage collapsed barely a year into the union. Three years later, she married her current husband and heartthrob  amidst prophecies that she was not destined to have a child of her own.
She with the unwavering support of her husband, defied the odds and they welcomed their miracle twin boys, a few months after the actress's 41st birthday.
READ ALSO:"Your children will fill our home," – Proud Hubby JJC Skillz Rejects Faleyimu's Negative Prophecy on Wife Funke Akindele
5. Paul Okoye
Celebrity couple Paul and Anita Okoye welcomed their twin boy and girl a little over a year ago. The couple were obviously overjoyed by the double addition to their family.
The celebrity dad 'Rudeboy' Paul Okoye is himself twin brother to Peter Okoye. Peter and Paul enjoyed a successful music career singing and dancing as a group until they fell apart a few years ago on family related matters.
Since welcoming his twins, Nathan and Nadia, Paul has clearly been over the moon. The happy dad shows off his adorables every chance he gets.
There completes our list of 5 Nigerian celebrity parents who have twins.