Here's Why This Nigerian Girl Believes Married Men Are The Sweetest To Date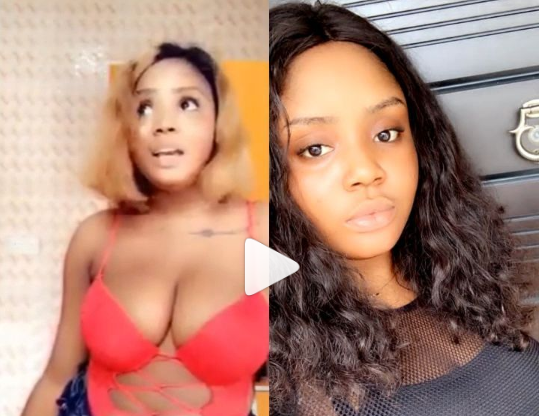 https://www.instagram.com/p/BzAlU8Dld5-/
Just when you think you have heard and seen it all about people's preferences when it comes to having a relationship, something happens and knocks you off.
In a video that has since gone viral online, a Nigerian girl reveals that she prefers dating married men to single guys because married men give her peace of mind and are more romantic.
The unnamed girl who said she cannot date any single guy, went further to say that married men do not ask silly questions like the single guys who all they know is to enter into squabbles with their partners. She further said that single guys have a lot to learn from their married counterparts because they don't know anything about romance.
In the video, the girl is seen brushing her fixed hair and she makes bold her choice of men in a way that shows what she is saying.
In her words:
"Married men are the sweetest to date because they are romantic and they are even more less stressful. Single guys and frustration are one. When you are dating a married man, you have peace of mind, and they are more caring and generous.

Single guys have to go and learn from those married men because they certainly don't know anything about romance. But when you are dating a married man, you just feel the romance, the love and the care."
READ ALSO: BBNaija Star, Ifu Ennada Airs Her Opinion On Infidelity Among Married Men… Do You Agree?
However, she has come under fire since the video went viral. Below are comments from social media users, especially single men.
One user commented:
The only reason she would prefer married men is because she is a low life, hungry, lazy, low self esteem bitch who doesn't mind being used as trash.
Another wrote:
Low self esteem, coupled with deluded way of thinking, have Nigerian women fooling themselves on a daily!!! See the rubbish this one wrote.
A third person wrote:
So single men are not sweet and romantic any longer in Nigeria? It says a lot about your self if only married men are sweet romantic to you.
READ ALSO: Lagos Commercial S*x Workers Reveal Why They Prefer Married Men to Single Men And Wives Get Blamed
Another added:
That's because these married men don't give a damn about your sorry life, as they have a loving wife/family to go home to..while you stay in you miserable single cheap hoe life. Duh!
A man commented:
I will be so ashamed of myself if I raised a nuisance like this. Smfh.
A woman added:
Sometimes I wonder if the several prayer said on the naming ceremony of some people didn't get to heaven at all…smh.
A man wrote:
This girl is a sorry excuse for a human being. She's one of those sperm that unfortunately made it by luck.
Another user wrote:
I just hope this video would b there in the next 30 years when u realize u were speaking blasphemy.
READ ALSO: Why Do Married Men Cheat? 5 Married Men Try to Explain Why
Watch the video below: