Another Former Member & Staff At COZA Narrates How Pastor Biodun Fatoyinbo Raped Her | Her Account Will Leave You Speechless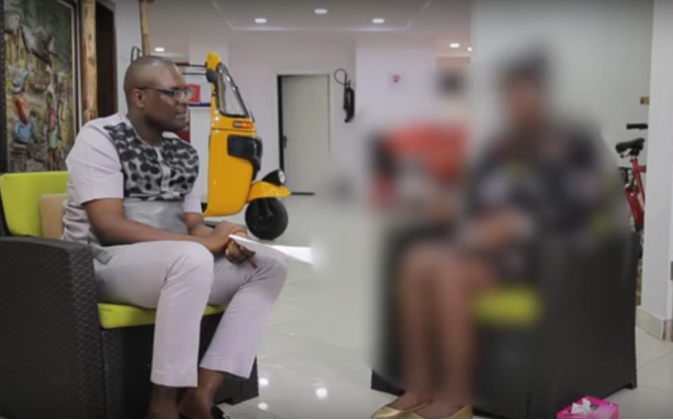 In the last few days, the Commonwealth of God Assembly, (COZA)'s Senior Pastor, Biodun Fatoyinbo has been entangled in rape scandal that has snowballed into a huge sexual scandal that many say might destabilise the church.
Barely a week after Busola Dakolo wife of popular R&B singer, Timi Dakolo publicly shared her harrowing story of rape by the flamboyant pastor, another woman is accusing the married clergy of the same thing.
The woman, who says she's a former member and staff at the church, said Fatoyinbo, who she regarded as a mentor, spiritual leader, and father figure, allegedly raped her in 2017 when he invited him to his house to discuss church issues.
She said that wasn't the first time she was going to the house, adding that things moved on really fast and Fatoyinbo in no time was all over her. She says she hopes that her story will build on the impact of Busola Dakolo's and Ese Walter's sad stories.
To The Woman's Story…
The woman said she joined COZA in 2009, and in 2013, when Ese Walter, mom-of-two shared her story, she immediately felt the weight of its implications, but dismissed it as some smear campaign. She hadn't been working closely with the pastor at the time and the church was a place of sanctuary for her.
She joined the music group and was there till 2015, when Fatoyinbo's wife, pastor Modele took an interest in her, and she began working with her on church administration duties and even taking care of the Fatoyinbos' son.
The woman said she had found out about how church members viewed their proximity to the pastor as something special and she did feel special. She went further to say women and girls who were granted access to the Fatoyinbos' children were referred to as 'choice daughters,' as the pastor was known to guard access to their kids.
READ ALSO: COZA Pastor, Biodun Fatoyinbo Finally Reacts To Allegation Of Rape Levied Against Him By Timi Dakolo's Wife, Busola
In addition, she said she took care of their kids from 2015 to 2016, and later on, she moved to another country, living in one of the cities where COZA had a branch.
While she was hired by Modele, her job also required that she worked with Fatoyinbo who visited regularly to minister to the congregation and spend time with his children who were schooling in the city.
The alleged rape took place when Fatoyinbo visited and invited her to the house to discuss church issues. As the two met, the victim said Fatoyinbo forced himself on her, removed her shirt and unbutton her trousers, telling her to "relax".
"He was my boss. I worked with him. Sometimes I had to do errands for them. So it was not the first time that I was going to be at their house. I was their sitting on the couch with him and he started addressing something that has to do with the church.

Everything moved quickly from there and then he started trying to pull me into a hug and started kissing me which I found shocking. I had known him as a spiritual leader and I was about to witness opposite of everything that I thought he stood for. I was too shocked. It was a couch.

I don't know whether I should hold on to something. I remember telling him continuously 'you can't do that, you can't do that.'

He just kept going. Took off my button and my trouser. And then he had his other hand holding me back to the couch. I remember he kept saying, relax. Just relax. He didn't flinch."
She adds that she was too shocked to react, trying to reconcile the person in front of her, with the person who she saw as a spiritual leader, father figure, and mentor. After the rape, she said he switched back to the pastor she knew, going on to apologise for what happened, saying he didn't mean to hurt her.
READ ALSO: Pastor Tony Rapu, Explains Why Church Leaders Are Unable To Address Sexual Abuse, Outlines 4 Useful Steps The Church Can Use To Combat The Malaise
She further said she stayed silent and couldn't talk to any church members about it, remembering how the church reacted to the Ese Walters' case.
She was happy Fatoyinbo lived in Nigeria, pastoring the church in Abuja, so the distance helped her re-evaluate her life. She wanted to leave the church but it would be difficult, seeing the church was responsible for her livelihood. She began saving to come back to Nigeria and continue her life.
One day, a friend called her out of the blues saying Fatoyinbo was asking for her number. She couldn't tell the friend why she refused to share her contact with the pastor, so she had to give it to the friend to share with him.
Fatoyinbo called her, she said, saying 'I know you are angry with me.' She said his apology rang of dishonesty and after the call ended, her other friends called to tell her about Busola's husband, Timi Dakolo's 2018 Instagram post accusing an Abuja pastor of sexual assault (read here).
She said she figured Fatoyinbo's call was an attempt at damage control and if she had any doubts about him being a sexual abuser, that call cleared them.
The rape occurred in the last quarter of 2017, she said, but she continued working in the church till July the next year. She said she told Fatoyinbo of her plan to leave and he insisted that they both see each other before she does so.
She adds that by the time she returned to Nigeria, Timi Dakolo had made his second post, accusing Fatoyinbo of sexual assault, although not explicitly.
One month later, Busola shared her story, accusing Fatoyinbo of raping her twice when she was 16. The woman said when she returned to Nigeria, Fatoyinbo insisted on them meeting, and he shared that Busola had seduced him and "something had happened."
He said he didn't know she was a teenager, adding that he had no idea why she was trying to "sabotage" his ministry.
The woman said she doesn't think Modele is unaware of her husband's alleged assault, adding that she either intentionally or inadvertently brought young women closer to her, setting them up for exploitation by her husband.
READ ALSO: God Will Give My Husband The Grace To Know What To Do- Pastor Modele Fatoyinbo
She added that some pastors are aware of Fatoyinbo's sexual violence but either kept quiet, or enabled it. She called them "The COZA 12," saying they are pastors within and outside the church.
The woman sits with Chude Jideonwo for a very revealing conversation on her alleged rape.
Watch below: