Surrogacy Is Now A Thing In Nigeria: Meet The Women Who Help Other Women Carry Their Pregnancies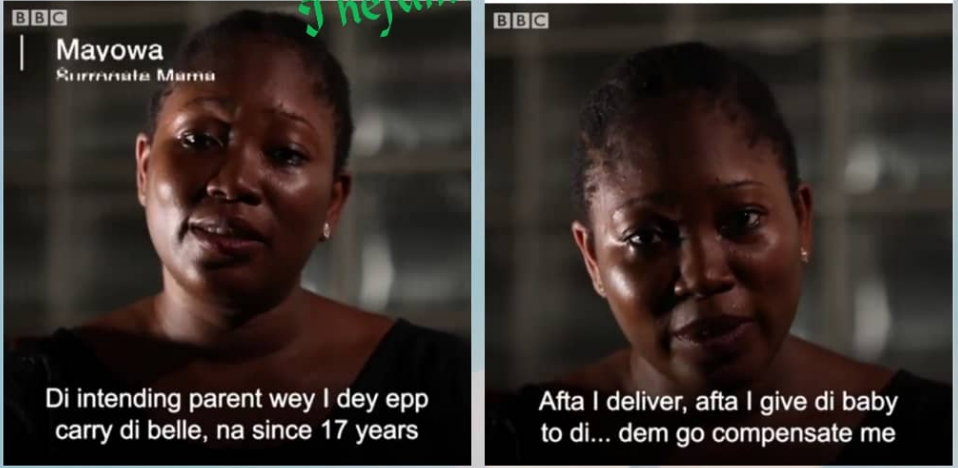 Surrogacy hardly forms a topic of public discourse in Nigeria, and studies have not documented any prevalence of surrogate motherhood in the country. However, an interesting documentary carried out by BBC Pidgin shares the experiences of some surrogate mothers, including Mayowa and Favour.
Surrogacy comes from the Latin word "subrogare", meaning to substitute. In the state of New Jersey, United States, the issue of parenthood and surrogacy came to a head in the case of Baby M in 1987. Baby M was born to a commissioning couple via surrogacy. The surrogate mother had artificial insemination with the sperm of the commissioning father, and the contract dictated that the woman hand over the baby at birth, to the commissioning couple.
READ ALSO: Gabrielle Union Wade On Why "Having My Daughter Via Surrogacy Felt Like Surrendering To Failure"
"I can carry pregnancy for anybody, as long as the person will be happy at last."
– Mayowa, surrogate mother for a couple looking for a child for the past 17 years tells BBC Pidgin.
Most surrogate mothers usually carry a pregnancy for couples who can't carry their own pregnancy for one health reason or another. During the short documentary, Mayowa says after she puts to bed, the parents of the newborn will compensate her, mostly with money, to show appreciation for her kind intervention.
Another Nigerian surrogate mother, Favour George, says to be a surrogate mother, one has to be given a clean bill of health by medical professionals and will be taken care of  throughout the pregnancy.
Olaronke Thaddeus who started the online surrogacy platform for people to connect surrogate mothers, says "surrogacy is priceless!!!" Her platform connects surrogate mothers, egg donors, sperm donors, surrogacy lawyers, agencies and fertility clinics.
Surrogacy is a big thing in other countries and popular celebrities like Kim Kardashian, Gabrielle Union used surrogacy to have their children.
Watch the video and what do you think about surrogate Mothers in Nigeria?