From Marriage, To In-Laws And How Motherhood Has Changed Her… Watch Omawumi Megbele On Episode 4 Of Mercy's Menu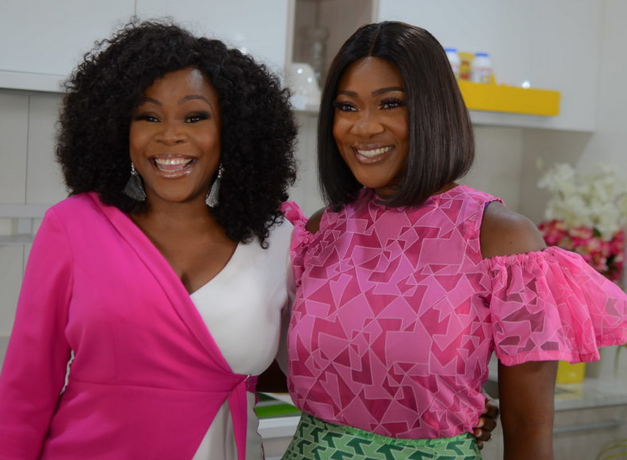 In a new episode of Mercy Johnson -Okojie's "Mercy's Menu" kitchen talk show, the actress and mom-of-three chats with music legend and songwriter Omawumi Megbele popularly known by her stage name Omawumi.
At the beginning of the show, Mercy says:
"I enjoyed making "Ukodo" with Omawumi, we talked about marriage, our in-laws and how motherhood has changed her. It was indeed an eye-opener about the marriage institution. The food is sweet but the conversations are sweeter…"
As the show continues, the two moms, while cooking a delicious meal of "Ukodo" talked about many issues from marriage, domestic violence, balancing career and motherhood, in-laws, infidelity and more.
When the host asked if she would prefer if her in-laws tell her about her cheating spouse or educate her partner, the 36-year-old mother of two explained emphatically,
READ ALSO: Omawumi Talks Marriage, Daughter, Rumours & More In New Interview
"They have to educate him about cheating, because if they tell me, I will kill him."
Omawumi who has been married for four years now revealed to Mercy Johnson that she had issues with communicating in the past and she has since then learnt how to overcome it. The award winning singer further stated about cheating:
"You will not want me to cheat on you, so why would you cheat on me? Because if you cheat on me again, you can be sure that I will cheat on you".
Omawumi further noted that she's not going to leave her marriage if her husband cheats on her. She exclaimed:
"I can't leave my marriage because of one error."
READ ALSO: Awkward Moment Omawumi Storms Off TV Interview After Being Asked, "How Does A Role Model Keep Her Drinking & Smoking Habits Away From Her Kids
Omawumi recently launched a PR firm, Hermanes Media, with partner and BFF, Waje, following their foray into movie production. The singer spoke about her career and business on this episode of Mercy's Menu.
Watch below…