After Three Failed Marriages, Jennifer Lopez, 50, Shares Marriage Plans To New Boo, Alex Rodriguez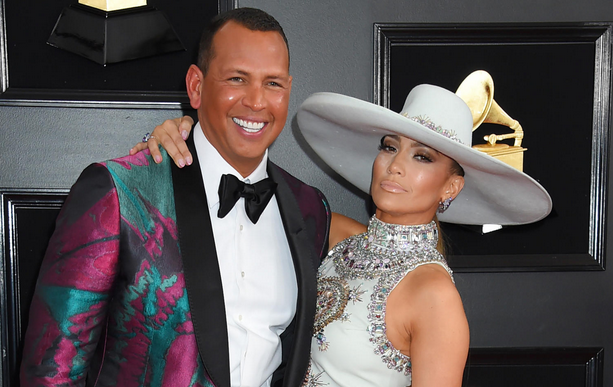 Mom-of-two, Jennifer Lopez is opening up about her marriage plans to fiancé, Alex Rodriguez! The couple is planning on tying the knot sometime in 2020, according to Lopez.
In a new interview with ES Magazine, the American singer and "Hustlers" star who has been married thrice explains why wedding planning has temporarily taken a backseat.
According to the 50-year-old mom, she and Rodriguez both have current commitments that have pushed the nuptials back a bit, but the big day is still very much on their minds. She told the Evening Standard:
"I have a movie I'm shooting in October [Marry Me] and the movie has an album that goes with it, so I'm just a little bit busy right now.

And until October, he has the World Series in baseball. We're going to have to pick a day, pick a time and block it out, but we're definitely talking about it."
Rodriguez and Lopez have been dating since February 2017. The former MLB star popped the question in March with a beautiful beach proposal at sunset. Speaking further, JLo shares why marriage is 'Important' for her and Rodriguez. She continues:
READ ALSO: Jennifer Lopez's Life With Her New Man Alex Rodriguez is a Golden Era | See Why
"[Marriage is] important for both of us. We both come from traditional Latin families and we want that. Everyone wants somebody to grow old with. At the end of the day, how much work can you do, how much money can you make, and what does it all matter? It doesn't, really."
The singer told "ET" in May that the two are in "no rush" to get to the altar. She said:
"We really see this as something that's gonna be forever, and we're gonna just take our time and do it right. And do it not rushed."
On Wednesday, August 7, the Medicine singer took to Instagram to post a couple of videos of what appeared to be a wedding spot on a beach. And now, curious minds want to know if a JLo/A-Rod wedding is happening sooner rather than later.
Lopez, who is currently on tour, walked along the beach and filmed a giant heart that was situated in the sand. The display looked like the perfect spot to exchange nuptials.
Despite the posts, it's fairly unlikely that Lopez was dropping hints. Lopez tagged her husband-to-be in her beach videos, which may have caused some fans to wonder if she was sharing the couple's wedding location, but that doesn't seem to be the case.
READ ALSO: Jennifer Lopez Opens Up on Divorce From Ex-hubby, Marc Anthony
Rodriguez recently posted his own photo on Instagram, appearing to be enjoying some time at celeb-hotspot The Polo Bar that evening. The two have been apart for a while as Lopez performs overseas.
And while a beach wedding may seem like a dream to a lot of people, JLo recently talked to E! News about what her wedding to A-Rod will be like. She said in a behind-the-scenes video from her tour:
"I'd like a big wedding and I'd like to get married in a church this time. I've never been married in a church and I've been married three times, and once was nine months and once was 11 months, so I don't really count those. But I was married to Marc for 10 years, with the kids."
Earlier in the ES interview, Lopez, who turned 50 in July, also spoke about how she's been able to "wow Hollywood" for as long as she has, as the outlet perfectly puts it. She explains:
READ ALSO: Find Out why Jennifer Lopez Never Thought She Would be a Mother
"Ambition for sure, and also toughness. This business is not for the faint-hearted — it eats people up. To survive in it for as many years as I have, you've got to have a tough skin.

"Did I think I would be doing this at 50? I didn't think I'd stop, but I didn't know that it would be the best moment of my life. We're conditioned to think, as women, that it would be over by now. And the truth is, it's not like that at all. I find myself growing and getting better every year and that's exciting."
You can watch the video below: