Reasons Those Skincare Products You Bought Might Not Work – Actress/ Skincare Expert, Biodun Okeowo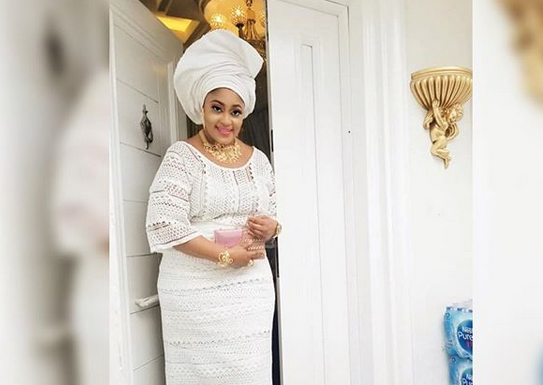 The purchase of a skincare product comes with a very high hope that it will work and also on time too. And when it doesn't work as expected and stated, the blame is placed on the seller or the brand.
However, there are some mistakes made by the buyer that may not be obvious to them but they go a long way in determining the effectiveness of the skincare product.
Popular Yoruba actress who is also a skincare expert, Biodun Okeowo A.K.A Omoborty, shared 8 things you should know about skincare and why it might not work for your.
Read the proud single mom-of-two grown ups' advice here
1). You don't need to finish a whole bottle of skincare product in 1 week hoping that it will work faster if you apply so much on your skin… it won't. As a matter of fact, you are causing havoc to the pores and over stressing it, the pores will get clogged, tired and look dull. And this will even make your skincare products not to work well because the surface is blocked…
2). Apply your creams or lotions in little quantities; rub well on your palm before rubbing on your body or face. This allows it distribute well and permeate faster.
3). Always shake your skincare products well before use. Sometimes organic products tend to settle so you need to shake before use.
4). Don't ever use a product meant for night in the day.
5). No treatment should be used under the eyelid or close to the eyes, except if they are treatment for dark circles or puffy eyes. Whatever you do, leave the eye areas out. Reason for this is because the eyes areas are very sensitive.
6). Follow all instructions on your skincare product to avoid misuse.
7). Make exfoliating a habit once or twice a week preferably at night.
8). Always wear your sunscreen.
READ ALSO: Fashion Influencer, Obisora Shares Three Ways You May Be Causing Harm To Your Skin
Biodun, a successful businesswoman is beautiful and so curvy that you would swear she went under the knife but she explains how the curves came about.
She recently completed her mansion in Ojodu, which also houses her Victoria Beauty Palace, which deals with all Skincare products.
The gorgeous recently spoke with City People Magazine where she explained why she went into skincare business. She also talked about why she was forced into taking a two year break from acting, how she survived and how she cried when her kids were thrown out of school.
How long did it take you to build this house?
To build took 6 months, then putting finishing tough and everything other things, it took 10 months in all.
SEE ALSO: 'I never cheated on my ex' – Actress, Biodun Okeowo On Rumoured Infidelity & More
What really inspired Victoria Beauty Palace?
There was a time I had a quest to do business because I was not getting movie jobs, I had issues with the marketers, so they stopped calling me for movie roles, so I was like Ah, won't I die of hunger with my two kids and my aged mother, may almighty God grant her eternal rest. Then to glory be to God.
This helper came along and he was like, what would you like to do aside acting, I don't believe in lying about anything, people who are close to me will tell you that I am always as sincere as ever.
So, when he asked me, what do I want to do apart from acting, I said I would like to go into business, this good samaritan was like okay no problem, have this.
It was not something huge but I utilised it very well, I started selling creams, wigs, makeup, clothes, jewelry and everything, so, when customers come into my shop, they are always like please what are you using, and they are always like, can't you be selling what you are using to us, so we can have your kind of skin, I always tell them, I don't know how to make cream, and they are always like, just give us, this exact thing you are using.
So I was like, am an actress and I would not want to jump into something I really know nothing about becaue any little mistake, Press will carry it, so I had to go learn it, I leant it, I trained, after that, I started producing my own skincare products, so it is not like, I just jumped into it, so I will say my customers inspired me to go into the skin care business.
I give all glory to God, in fact I was still saying it yesterday that if I have not ventured into this business what else would I have done, glory be to God, it's not something I have any regret about.
SEE ALSO: "How an unwanted pregnancy transformed my life." Actress, Biodun Okeowo Recounts on #YetIwon
So how did you survive within that two years?
As a human being, you might just do something wrong but you won't realise it. All I use to hear from movie producers back then was that, they said, we should not call you, even producers that are my very close pals, kept saying the same thing so it went on like that for two years there was no work, and it was really terrible.
Honestly, it was really tough, I had times, my kids were sent back from school I had times, I cried and my mum will be like, don't worry, all will be well. I was crying outside because we suffered a lot. Myself, my mum and my kids.
https://www.instagram.com/p/B2LyXZ0l8uR/