All You Need To Know About How To Have Safe Sex During Pregnancy As These First Time Parents, Olushola and Kike Kolawole, Share Their Experience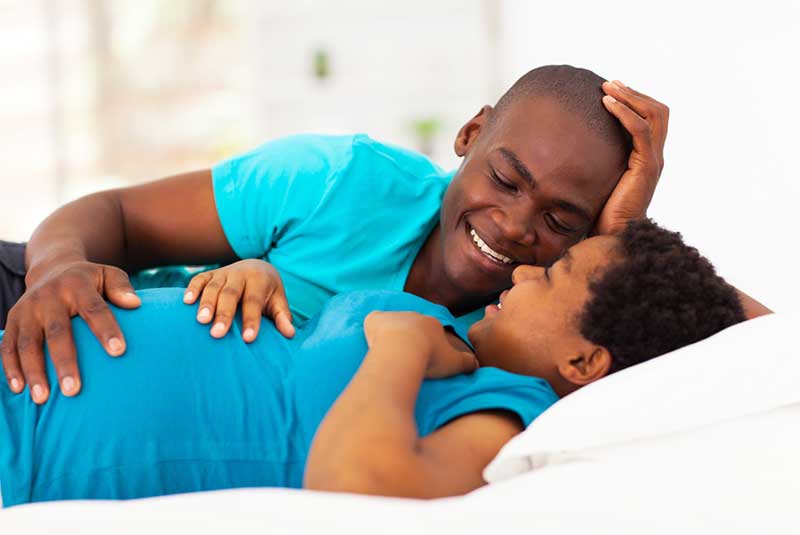 Olushola and Kike Kolawole were both ecstatic when their doctor delivered the 'best news of the year' to them last September. The news that Kike was pregnant was what the couple had been awaiting for six months after their marriage in March 2018.
Prior to the day they got the news, Kike had been complaining of slight fever, which the couple thought was a result of work stress she had been experiencing in the past couple of weeks. They never knew it wasn't stress.
On a windy Saturday morning in September 2018, Kike woke up to find herself unusually weak and sick. Before she could wake her husband up from bed, she had vomited up most of her previous dinner. Olushola grabbed his car keys and rushed her to their family doctor.
Within a few minutes, test was carried out and it was discovered Kike was six weeks pregnant. The couple couldn't hide their joy as they fell onto each other's arms and screamed excitedly.
To celebrate the news, the couple later went out that evening to the movies. By the time they returned to their residence in the Magodo area of Lagos, it was past 9 pm and Olushola thought the best way to celebrate the news was to round off the day with sex.
However, this was where he got the shocking news. The 33-year-old software developer told PUNCH during a recent chat.
"My wife said it wasn't right to have sex when pregnant, at least for the first three months."
He thought his wife was joking, so he cuddled her and laughed it off, beckoning her to join him in bed while playing some romantic songs by Nigerian contemporary artistes through his smartphone connected to a portable bluetooth speaker in their dimly lit bedroom.
Still, all the usual tricks didn't work on her. Olushola said,
"I was getting angry but curious at the same time. She insisted that sex during the first three months of pregnancy was dangerous. She said it could lead to miscarriage.

"I asked where she got her information from and she said it was her mother and friends who told her. I said I didn't believe it. She said it meant I wasn't ready to father a child in the first place. 'Sex could harm the baby,' she said.
"Because I didn't have much information on the issue that night, I avoided a long argument, I angrily turned off my songs and cuddled my bedsheets to sleep. She gave me a peck, though. 'Manage this,' she said."
Still, Olushola said he refused to believe the information that sex was harmful to the baby during the first trimester. So, he woke up in the middle of the night to do some research on the internet. In the morning, before they went to church, he also called their doctor and two other doctor friends of his to find out if her wife's 'inherited' belief was true.
"I made sure my wife was around while making the calls. I even turned on my phone's loudspeaker so she could hear clearly. The first doctor friend I called was just laughing; he couldn't contain his amazement about the information," the software developer added.
SEE ALSO: Khloé Kardashian Talks On Making Love During Pregnancy + How She Knew Tristan Was 'The One'
After calling all the three doctors, in addition to online research done by him, Olushola said his wife started changing her mind on the subject matter.
"By Monday night, she was the one who came to me while I was flipping through the social media on my phone. She was dressed in see-through underwear, snapped my phone from me and took me to the bedroom. It was an amazing night," he said bluffly.
Is sex during pregnancy safe?
Just like Kike, many couples ask if sex during pregnancy is safe, especially during the first and third trimesters. They often worry about harming the baby.
However, researchers have said if a woman has a healthy pregnancy, it is perfectly safe to have sex right up until her waters break, that is, until she is delivered of her baby. As far as they are in the right mood, having satisfying sex is good for their well-being and that of the baby.
Although many women find that their sex drive changes during pregnancy due to changing emotions, nausea and tiredness, this doesn't imply they should stay away from sex with their husbands.
Sex therapists said the key thing was for pregnant women to keep communicating with their partners and finding a balanced way to stay close and feel happy as couples.
According to Lagos-based sex therapist, Mrs Funmilola Ajayi, pregnant women won't hurt their babies during pregnancy because the amniotic sac and the strong muscles of the womb will protect the baby, while the thick mucus plug that seals the cervix helps to guard against infection. She said,
"Sex feels good during pregnancy, depending on the woman in question. The issue is that due to increased blood flow to the pelvic area during pregnancy, this can make some pregnant women feel uncomfortable. Some women also complain they can't get turned on or reach orgasm as easily while they're carrying a baby.

"But the solution is about discarding the sex positions they were used to and try new ones. The state of mind is very important. If she feels good about the pregnancy, she is likely to feel more sexual. It's when she feels insecure that sex can be the last thing on her mind."
Ajayi advised couples to try new sex positions until the woman got the most comfortable for her. She said,
"As the pregnancy progresses, the missionary position, that is when the man is on top, may not be comfortable again. At this stage, the pregnant woman can lie with her bottom on the edge of the bed, with her husband kneeling or standing in front of her.

"Doggy and spoon positions are also good. The man can also sit in a chair while the pregnant woman sits on him in order to avoid putting weight on her stomach.

"She can also sit on a table or counter or they can have sex while standing up, if it is not too tiring for the pregnant woman."
Also, according to psychologist and sex therapist based in California in the United States, Dr Stephanie Buehler, pregnant women can have sex during any period of the pregnancy as long as it is comfortable.
Buehler, who is the author of "Counselling Couples Before, During and after Pregnancy: Sexuality and Intimacy Issues," said unless a doctor or midwife expressly warned against it for health reasons, sex during pregnancy is absolutely safe for both the woman and her developing baby.
SEE ALSO: Love Making During Pregnancy: 5 Comfy Positions to Try
Even at that, she said couples could clarify if the doctor or midwife meant avoiding penetration only or all forms of sexual stimulation, adding that there were a variety of benefits for sex during pregnancy.
She wrote in the US-based health magazine, healthline.com,
"Women who have orgasms during pregnancy benefit from calming hormones and increased cardiovascular blood flow and those benefits get passed down to baby."
US-based physician assistant and sex counsellor in urology, women's health and sexual medicine, Dr Aleece Fosnight, noted that due to hormonal changes, some pregnant women might feel their vagina was less tight, thereby making penetrative sex downright uncomfortable.
For this, she recommended taking more time to warm up with foreplay or kissing before penetration. She also noted that pregnant women might feel a little extra wet and hence irritated even as the rest of the body might be more sensitive, too, especially the breasts.
She said the changes were normal and did not mean there should be an end to sex. She added,
"During penetration, the uterus may move a little bit and you will feel it. Women sometimes freak out that something is happening to the baby.

"However, the baby is super protected and has its own filter system that's really selective about what goes in and comes out. Unless you've been instructed to have pelvic rest, sex is OK."
She also said contrary to some women's belief, sex doesn't induce early labour or cause miscarriage.
"In fact, sex may even help with labour. Couples can have sex up until the woman goes into labour. Unless there is a medical reason or one or both partners are uninterested, couples can have sex as they please."
Fosnight recommended a few things pregnant women could try to calm their anxiety. She said,
"Offer yourself positive self-talk, saying statements like 'I'm beautiful' or 'I'm growing a human being.' Caress your skin and enjoy the boosted sensations.

"If your G-string no longer fits, keep looking for something that makes you feel pretty and sexy and that perhaps helps display your growing tummy. There are plenty of maternity lingerie options out there.

"Head in for a pregnancy boudoir shoot of your own. Whether you want to go lacy lingerie or pregnant pinup, there are options for every body type and trimester.

"Your partner should only avoid the belly and abdomen and any tie that could constrict blood flow."
SEE ALSO: SEX DURING PREGNANCY- HEAR OUR MEN TALK
She also recommended the following sex positions to try during pregnancy, including doggy style; the woman on top (also known as cowgirl); spooning; reverse cowgirl; standing; seated pregnancy sex; oral sex; anal sex; and side-by-side sex.
She said for extra comfort for the pregnant woman, couples could invest in extra pillows for support, lubricants and sex toys.
"Sex doesn't require penetration for maximum pleasure. Focus on stimulating the clit instead with toys or your fingers," she said, warning that the missionary position should be avoided as it compresses blood flow to the pregnant woman and her baby, particularly after the 20th week.
Another sex therapist based in the US, Dr Rosara Torrisi, said pregnancy didn't have to make the bedroom boring for couples.
"The only constant factor throughout pregnancy and a relationship is change. When a position is no longer pleasurable, begin your expedition to find what is now," she said.
When to avoid sex during pregnancy
While sex during pregnancy is safe, the sex therapists have also warned against it in the following instances.
When women experience bleeding during pregnancy
When there is an increased risk of miscarriage
When the woman has a history of cervical weakness or giving birth prematurely
When the placenta is low-lying (known as placenta praevia)
When the water breaks
If the husband has sexually transmitted infection (Note that if your partner has an STI, talk to your doctor or midwife for specific advice on managing this).
Source: PUNCH