Mixed Reactions Trail Video of Mum and Daughter Who Was Turned Back By Staff of Queens College For Wearing False Eyelashes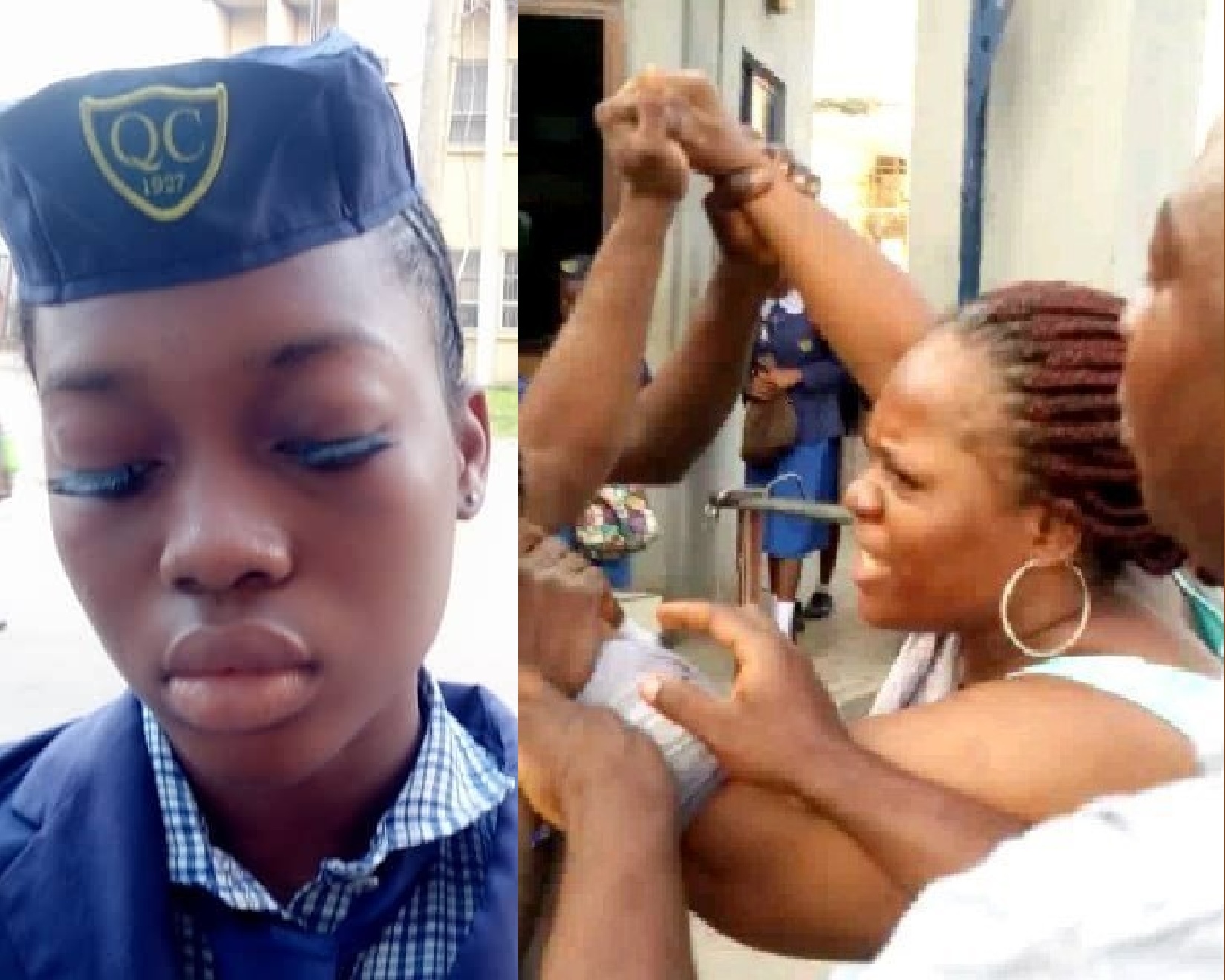 A Nigerian mum and her teenage daughter are trending after a viral video showed the protective mother in a fight with security guards at her daughter's school. The incident happened at the famous Queens College school, Yaba. At the centre of the crisis was a young girl who showed up at school wearing prominently false eyelashes and nail varnish, both acts clearly against the school's approved behaviour for students.
Opinions are divided as the footage clearly showed the school staff harrassing and poking at the teenager, after they had turned her back. The school staff hurled harsh words at the student and repeatedly forced her head to face the phone camera with which she was been recorded. The student's agitated mum could obviously not bear to stand by the sides and watch her child humiliated further, so she grabbed and engaged the security men in a fight.
READ ALSO: Homeschooled By Her Mum, Nigerian Math prodigy, Esther Okade Set to Earn Her PhD At 14, But What She Plans To Achieve At Age 15 Is A Whole New Dream
While opinions are divided on who is to blame for how the matter degenerated, most people agree that all parties involved badly handled the situation.
The yet-to-be identified woman did not only engage the security guards in a fight, she tried to take on anyone else who she perceived to not be on her side in the matter, even though, that much is not obvious from the footage.
Seun Oloketuyi who originally shared the video wrote:
"Queens College student being supported by her mother for indecent dressing. You can see her eye lashes, the security men stopped her and the mother resorted to manhandling the security man and others that didn't support her."
Celebrities who have reacted to the viral video include ace comedian, Ali Baba who sarcastically wished the 'Slay Queen' student a Happy Mother's day, while stating that there are rules. He added that he will use the comments passed off over the viral video to weed out people he described as "senseless" from his timeline.
Alibaba wrote :
"happy Mother's Day… slay queen… from queens' college. Not Queens' College ooo. Because there are rules. (Let me come use this video to weed out some senseless people from my timeline)"
Daddy Showkey also reacted to the video blaming the school staff for humiliating the young girl and having no decorum in how they handled the situation.
Watch the video below:
Mother of Queen's College student fights school's security guards for turning back her daughter who fixed eyelashes.

?: Seun Oloketuyi pic.twitter.com/tOwzh3y4JN

— Lailasnews.com (@Lailasnews_com) November 19, 2019