'If most ladies think about their future very well…' -Aisha Yesufu, OAP Ogbolor And BBNaija Khafi Kareem Give Sterling Advice To Women Participating In The #Silhouettechallenge
The Nigerian social media space seems to have lured people to exposing things about themselves that they are better off keeping private.
There's a new challenge called #Silhouettechallenge which is currently trending on all social media platforms which has amassed more than 100 million videos as women all over the world are participating in the challenge.
The challenge, which has caused mixed reactions on social media sees ladies stripping unclad while dancing in a dimly-lit room. The dance routine starts off by casually dressed ladies dancing to Paul Anka's song, 'Put Your Head On My Shoulder' released in 1987 in front of the camera and then they suddenly go unclad when Doja Cats' 2019 song, 'Streets' comes on.
As Nigerians including celebrities participate in the ongoing challenge, OAP and actor, Uba Michael popularly known as Ogbolor has shared his sentiments regarding the latest online craze.
The actor stated that ladies, who are deeply concerned about their future would be careful about the type of content that they put on social media as it can come back years after to haunt them. He gave the warning on his Instastories.
In his words;
"If most ladies think about their future very well, they would avoid most things they post on social media today.

One day you may be married to an important personality, an aspiring governor or even president, and a post from today (photo or video) would be used to drag you or your husbands name to the mud.
TOMORROW IS VERY BIG, BE WISE TODAY."
READ ALSO: Wife Of Nigeria's Vice President, Dolapo Osinbajo Gives Sterling Advice To Youths About Social Media Etiquette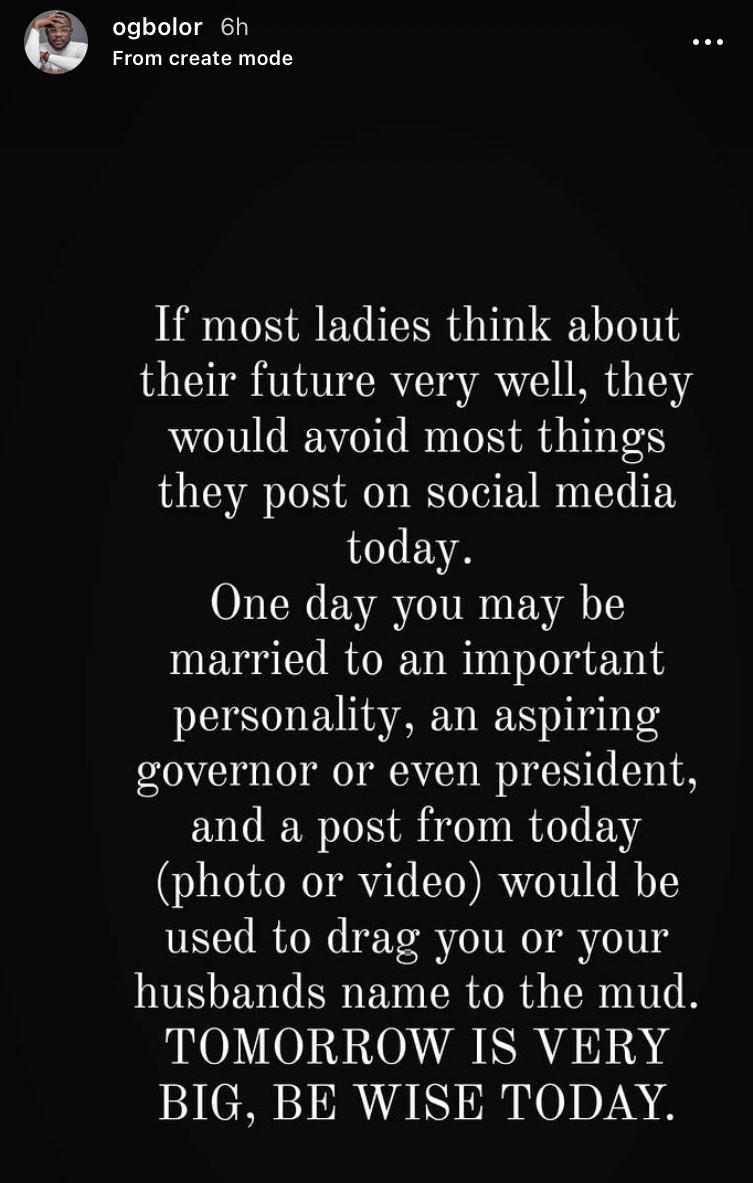 Also taking to social media to warn ladies against the challenge is BBOG convener, mom and activist, Aisha Yesufu.
The Human right activist took to her official Twitter page to advised young women not to allow themselves to be influenced and pressured to participate in the challenge because they are the challenge. She tweeted;
"Hello Dear! You don't have to do any challenge. Don't allow the pressure. You are the challenge. Let them do you!"
Hello Dear!
You don't have to do any challenge. Don't allow the pressure. You are the challenge. Let them do you!?

— Aisha Yesufu (@AishaYesufu) January 28, 2021
Ex-BBNaija housemate, Khafi Kareem -Ekpata also issued a piece of advice to ladies taking part in the new online craze.
Taking to Twitter, Khafi educated ladies on the negative effects of social media. She explained further by adding that the society is harder on women and what they share online would remain there forever.
SEE ALSO: Why Mum-of-One, OAP Toolz Is Asking Women To Be Mindful Of The Footprints They Leave On Social Media
Khafi continued that a man can decide to do the same thing the woman did but not get the same level of backlash. The BBNaija star said she wasn't against people having fun but that it was just the fact. She also added that people were free to do whatever they wanted as long as they were fully aware of the consequences.
The reality TV star wrote;
"The fact is society is harder on women. I should know this from personal experience. What you put out into the Internet space remains there. A male can post the exact same thing or similar and not get the same heat/consequences that a female would.

"This is not me being anti fun this is just facts. As long as you are fully aware and fully conscious of this by all means do what you want, but do not cry when it gets into the wrong hands or your future is affected because of what has been posted on the Internet in the past."
The fact is society is harder on women. I should know this from personal experience. What you put out into the Internet space remains there. A male can post the exact same thing or similar and not get the same heat/consequences that a female would.

— A Cup of Khafi ☕️?? #EndSARS (@acupofkhafi) January 28, 2021
Beware!!!
The #silhouettechallenge challenge is not good and it is very Devilish. It originated in 1814 Edo, Nigeria. It is a demon that possesses the mind of whoever sees her dancing. She was locked in the shadows of the night by some powerful Men of God.? pic.twitter.com/2o66ozXdCw

— Giddy??? (@giddywillz) January 28, 2021