Nigerians Come For Marriage Coach, Pastor Bisi Adeyemi For His Advice To Married Women On How To Protect Their Husbands From Their Maids
Nigerian marriage coach and clergy, Bisi Adewale is receiving some stick on social media after sharing five points for women to protect their husbands from their house maids.
As we know, the menace of men going into indiscriminate romantic relationships with their housemaids is common place in our society, and Bisi Adewale who is the President of College of Marital Success (Africa's Premier Marriage Institute), Publishers of Family Booster Magazine, took to social media to advice women on how they can protect their husband from the maids.
The married pastor and life coach, tweets:
"3 WAYS TO PROTECT YOUR HUSBAND FROM YOUR HOUSE MAID

1: If your husband is a Hunter don't get maid

2: Don't get full breasted house maid

3: If your husband start defending the maid retire her

4: Never employ a maid more beautiful than you

5: Remember Hagar&Sarah"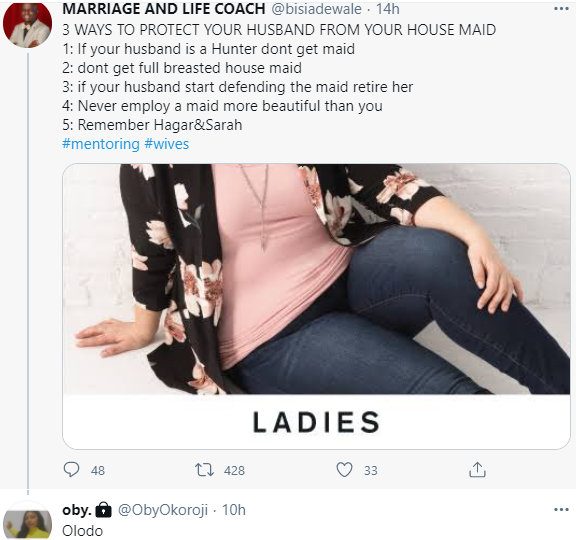 READ ALSO: Georgina Onuoha Comes Down Hard On Clergyman, Mike Bamiloye Over His Admonishment To Single And Married Women On Feminism
Social media users weren't pleased with this, as they berated the marriage coach for shifting the blame from the erring husbands to their wives, and he was called out by many.
Taking to the reply section, many Nigerians expressed frustration at the post, as they said it didn't solve the problem.
See some reactions gathered below;
@geelayo: The lengths y'all would go to excuse predatory men and not hold them accountable for their actions is something else. So what next will you advice the wife to do? Hide her daughters? Marriage and life coach my a**.
@temitope852: Lmao. I'll die, be born, die again and be born again before I "protect" a man from another woman. Imagine taking all these precautions just because some guy won't keep his d*k in his pants. Must be ment. Hagar and Sarah ko, Potiphar and Joseph ni. Mtschww
@iam_darmiebest: All these half-baked Bible scholars, what about Hagar and Sarah? Abraham never thought about her until Sarah persistently told him to go lay with her
@olatundeh_: No single advice for the cheating husband? How convenient for you!
READ ALSO: Marriage Killers Every Couple MUST AVOID! | Marriage Counsellor, Pastor Bisi Adewale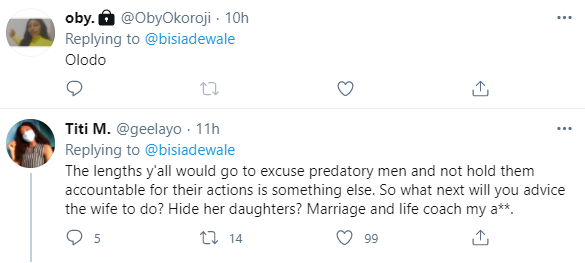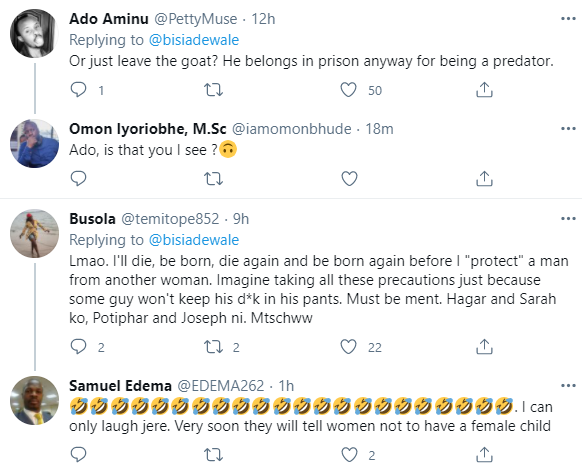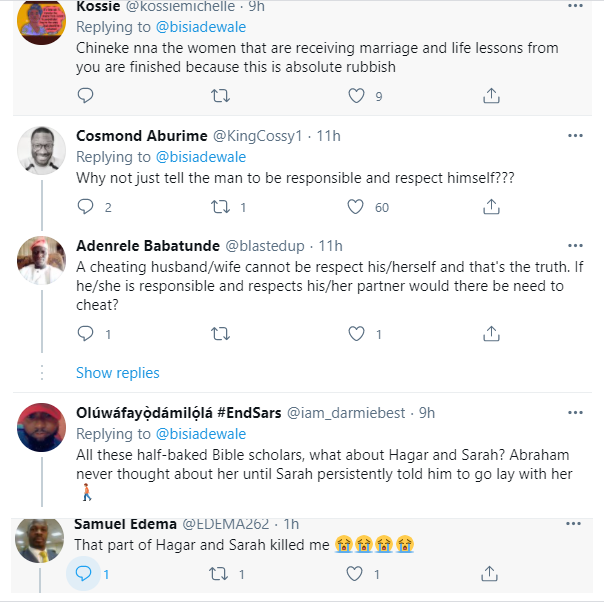 https://twitter.com/bisiadewale/status/1363532117913796608?ref_src=twsrc%5Etfw%7Ctwcamp%5Etweetembed%7Ctwterm%5E1363532117913796608%7Ctwgr%5E%7Ctwcon%5Es1_&ref_url=https%3A%2F%2Flailasnews.com%2Fmarriage-coach-slammed-for-teaching-women-to-protect-their-husbands-from-their-maids%2F